The Area of Phang Nga
Use the first day in Phang Nga to become familiar with the surroundings. Phang Nga Bay and Phang Nga National Park offer many destinations and activities worth pursuing. Speedboats and longboats are great ways to navigate Phang Nga, so lining up reservations for trips around the bay may be helpful. Boats can be hired at reasonable prices. Adventurous types may prefer to secure private vessels.
Khai Island, Khai Nok Island, and Koh Yao Island are worth visiting for a day or an afternoon. The clear waters of Phang Nga Bay make snorkelling a great activity when visiting islands throughout the bay. There is an impressive array of marine life on display, and islands throughout the bay house diverse populations of birds.
Phang Nga Bay held a claim to fame long before movies showcased this unique area. James Bond Island is named after the lead character in the movie it was featured in. This limestone, needle shaped rock jutting out of the water appeared in the feature film The Man with the Golden Gun. The bay also appeared in Star Wars: Episode lll – Revenge of the Sith. Its distinctive look was used as the backdrop for planet Kashyyyk.
Which Islands to Visit
Only a small number of the islands are open to the public, so if you have time, you might want to stop at all of them. Here are some of the highlights of each of the islands to help you determine which ones to visit.
Koh Similan
The largest and the main island, Koh Similan or Island no. 9 has the most visitors. With great dive and snorkel sites, nature trails, rock formations, beaches, wildlife, and the tallest mountain, this island has a lot to offer.
You should be sure to check out Donald Duck Bay, where you will see this famous and oddly shaped rock, the huge boulders on the western and southern shores, the white coral-sandy beaches, and the jungle where ironwood and gum trees, jack fruit, rattan, bamboo, and dense bushes grow. The jungle is home to monkeys, squirrels, bats, lizards, birds, and more.
The island provides diving opportunities for divers of all abilities. With an average water depth of 25 meters, divers will spot boulders, sea fans, plume worms, and corals. For hiking, there are nature trails on the west side and from Nguang Chang Bay to Horseshoe Bay. One trail leads to the Donald Duck Rock and another takes you to two beaches. At the northern tip of the island are the breathtaking rock formations of Sail Rock.
If you would like to stay overnight on Koh Similan, there is an outdoor campsite with tents for rent. The tents are set back from the main beach. You will also find a visitors' centre and a restaurant on the island.
Koh Miang
Reachable by boat or sail charter, Koh Miang is where you will find the Park headquarters, two beaches, and Hideaway Bay, a huge bay that is a safe haven during storms and high waves.
The local coast guard, medical rescue, a first aid centre, and a small Navy station are found at Honeymoon Beach. The main beach, on the north side of the island, has white sand in the centre and rocks on both ends. A dirt path leads to a small beach where you can snorkel or hike on nature paths.
Koh Tachai
Located at the northernmost tip of the Similan National Park, between Surin Islands and the main archipelago, this is one of the two new islands to be added to the park. It is 54 kilometres from Baan Nam Khem Pier and known for its white sand, clear water, and pristine diving for all levels.
It has shallow bays that are good for training, while the rougher east coast offers chances for spotting leopard sharks and manta rays. In the south, you will find "The Pinnacle," one of the best diving sites in Thailand, where you can see whale sharks, leopard sharks, napoleon wrasse, barracudas, and more.
Open for tourism from November through April, Koh Tachai can be reached by sailboat or speedboat. In addition to diving and snorkelling, it offers overnight camping, a small restaurant, hiking on nature trails, and an ancient rain forest.
The island's 800 meter beach faces east and is shaded by the rain forest. A small jungle trail leads from the beach to the western side of the island, where you will see rocks and beautiful views. A guide can lead you on a hiking trail and teach you about the island and its wildlife.
Originally named Koh Bua after a unique Lotus flower that used to grow there before the tsunami of 2004, the island was renamed after one of the first fishermen to come there after the tsunami. The fastest way to get to Koh Tachai is from Koh Phra Thong, Baan Nam Khem Pier, Khao Lak, or Phuket. Day trips can be booked, and it makes a great trip for kids of all ages.
Koh Bon
Koh Bon, also known as Talu or Island no. 11, is the other one of latest additions and is found at the far north west of the park, one hour from the main island. A small island with stretches of white sandy beaches and multiple dive sites, it is great for advanced divers who can expect to see manta rays, underwater stone pinnacles, shark species, corals, morey eels, and more. Koh Bon is best to visit in April or May. With no accommodations on the island, it is only for day trips
Spa & Wellness Experiences at Aleenta Phuket
When guests arrive at the Ayurah Spa Wellness Centre, they are encouraged to start their stay by being treated to a thorough assessment of their health and wellness. This health & wellness assessment comes in the form of a head-to-toe checkup and detailed discussion of a guest's wellness goals.
The factors included in this assessment range from determining blood pressure and blood sugar health to skin analysis and assessing visceral fat. They also take into account alternative approaches such as chakra analysis and Thai element analysis. When the meeting is complete, guests are presented with a summary of their current health and wellness so that they can both cater their stay to meet their goals and return home equipped to live a healthier, fuller life moving forward.
Detoxification is another essential experience of any stay at the Aleenta Phuket Resort & Spa. While ridding the body of unnatural and unhealthy elements plays a significant factor in detoxification at the Ayurah Spa Wellness Centre, they believe in a more comprehensive approach that takes all areas of well being into account, including the body and mind.
Guests who are interested in exploring the full Ayurah Wellness detoxification experience might find just what they are looking for in the spa's Total Purifying retreat. These retreats are available in a few different forms depending on the length of one's stay, but they are all focused on providing an integrated approach to purify the mind, body, and soul.
The Total Purifying experience begins with their signature health and wellness assessment to establish a baseline for a guest's overall well-being. From there, guests are invited to relax into the complete detoxification experience for the rest of their stay. On the physical front, this involves daily spa cuisine breakfasts, lunches and dinners complimented by detox juices in between meals, along with oxygen therapy and access to all of the spa's fitness activities. For the mind and soul, guests enjoy daily holistic spa treatments and private sessions with an Ayurah Yoga instructor twice a day. Ayurah Yoga involves a combination of meditation, breathing and flexibility exercises designed to integrate balance and awareness into all areas of one's being.
Guests who are in search of an experience that's focused more exclusively on mindfulness and balance during their stay at the Aleenta Phuket Resort are encouraged to explore what the Mind Treasured package has to offer. This package is a signature retreat presented by the Ayurah Spa Wellness Centre that is centred around using nature to experience total wellness and mindfulness. Their unique approach involves using ancient eastern wisdom involving the four life elements and Thai holistic medicine.
When it comes to balancing the mind, the Mind Treasured package focuses on eliminating anxiety, stress, and tension with a combination of meditation, yoga and other exercises that can address physical health issues as well. These sessions are coupled with a focus on balancing one's physical health during their stay through nourishing meals that meet the needs identified during the health and wellness assessment. Finally, the body and mind are further rejuvenated through a spa program that revitalises each of the four essential life elements, including Earth, Wind, Fire, and Water.
The Ayurah Spa Wellness Centre also has packages for female visitors looking for a more custom experience. The Deluxe Doyenne Female Traveller Package includes four days and three nights centred around creating memories and learning skills designed to improve women's lives. On Day 1, guests check-in to be greeted in their room by customised aromatherapy, nutritional snacks, and a tasty beverage. Day 2 is dedicated to the art of hospitality with lessons on entertaining that range from floral arranging to cooking classes and cocktails. Guests can customise Day 3 to participate in whichever option calls to them the most: Thai boxing, massage training or yoga. Day 4 is geared toward checking out and returning home ready to put what guests have learned during their stay to work in their own lives.
It can be challenging to decide which package to choose with so many custom experiences available at the Ayurah Spa Wellness Centre. However, no matter what type of retreat guests decide on for their stay at the Aleenta Phuket Resort, they can expect a luxurious and life-giving experience that will leave their mind, body, and soul thoroughly nourished.
Related Articles
Reasons to Choose a Wellness Retreat
Stress Management Retreat
Mindful Retreats for Life Healing
Spa Retreat Programs
Rejuvenation and Detoxifying Spa
No Ordinary Spa Experience
Konuk değerlendirmeleri
Yer durumuna bak
Kategoriler:
Çalışanlar9,1

Olanaklar8,6

Temizlik8,9

Rahatlık8,9

Fiyat/fayda dengesi7,7

Konum8,0

Ücretsiz WiFi 10
Natai Plajı için yüksek puan
Konukların en çok neleri sevdiğine göz atın:

ZubyrPakistan

"Breakfast was excellent. Staff was outstanding and very attentive and helpful. They provided some very comfortable fine cotton tops and loose trousers and these were ideal for use throughout the facility.""0" 

Çevriliyor…

–

Daha fazla

MaritaAvustralya

"We booked a room for 4 nights with a private pool to end a 6 week trip overseas. The room was generous sized and the bed super comfortable. The breakfast was superb with a la carte and buffet options and the setting is overlooking the beach.
Free shuttle service to and from the sister resort nearby – with alternate (cheaper) food options.
""0" 

Çevriliyor…

–

Daha fazla

PeterYeni Zelanda

"The staff at this property are wonderful, friendly and helpful, from Ms Aeuy on check in to Ms Ying at the restaurant and many others who made this such a pleasant stay.
The sea view pool villas are worth the upgrade, well located ""0" 

Çevriliyor…

–

Daha fazla

SurajSingapur

"Ying, tbe Floor Manager, was very quick to action the leak issue, and within 30 mins we were allocated a new room that we would be able to move into the next morning. She handled the situation really well, and made me feel like a valued guest, and that our comfort was of utmost importance – it was very much appreciated. ""0" 

Çevriliyor…

–

Daha fazla

DianaSingapur

"It was beautiful, clean, private. They had everything you need from pillow menu to everything. Service is excellent, food is nice and we loved the privacy and luxury offered.""0" 

Çevriliyor…

–

Daha fazla

KnapornTayland

"Property is excellent view with huge facilities .. we enjoy the Swimming pool with the view ""0" 

Çevriliyor…

–

Daha fazla

NicoleHong Kong

"The atmosphere and the view of the villa were really amazing and relaxing.
""0" 

Çevriliyor…

–

Daha fazla

Skdey70Birleşik Krallık

"This is one of the most beautiful boutique hotels that I have stayed at in Thailand. Personally I love peace and quiet at the beach so the location suited me perfectly. The staff are attentive and friendly without being over bearing. The food and is gorgeous and breakfast is better than most places I have stayed at in the world. My room ( pool villa) was private and luxurious. I had an amazing nights sleep there .""0" 

Çevriliyor…

–

Daha fazla

ThomasBirleşik Krallık

"Property is very well kept and the staff go above and beyond for service. ""0" 

Çevriliyor…

–

Daha fazla

AntonBirleşik Krallık

"Amazing family friendly hotel, our little one was always welcome and enjoyed special treatment and attention. Everyone knew his name. You get what you pay for, it's expensive but worth every penny. Amazing beach and sand, the best we saw in Thailand.""0" 

Çevriliyor…

–

Daha fazla
Nasıl işliyor?
1

Her şey bir rezervasyonla başlıyor

Değerlendirme yapmanın tek yolu önce bir rezervasyon yapmak. Böylece değerlendirmelerimizin tesiste konaklamış gerçek konuklardan geldiğini anlıyoruz.

2

Ardından seyahat

Konuklarımız tesise gidiyor ve odaların ne kadar sessiz olduğuna, yemeğin ne kadar lezzetli olduğuna, çalışanların ne kadar iyi olduklarına ve daha pek çok şeye bakıyor.

3

Ve son olarak da değerlendirme

Ve son olarak da değerlendirme

Seyahatlerinden sonra konuklar konaklamalarıyla ilgili görüş bildiriyor. Yersiz ifadeleri ayırmak ve gerçekliklerinden emin olmak için tüm değerlendirmeleri okuduktan sonra bu değerlendirmeleri sitemize ekliyoruz.
Resorts in Phang Nga Phuket
Two amazing beach resorts situated on the pristine Natai beach in Phang Nga, Phuket
Aleenta Phuket Resort & Spa
The beauty of our Phang Nga Resort will take your breath away! Our Ocean View Lofts have a unique 2-floor design. High ceilings and glass walls give a sense of spaciousness. Pool Suites are bungalows directly on the beach. Each is complete with a private jacuzzi and terrace. Pool Villas are within steps of the beach.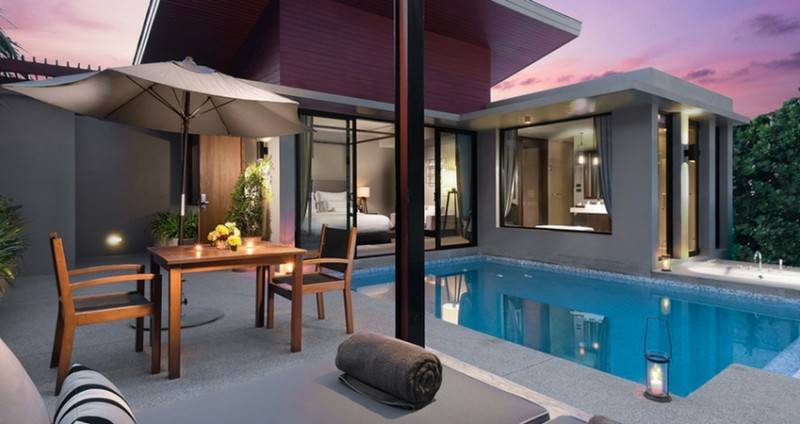 This romantic setting features a bedroom, living room, terrace, and sundeck. Beachfront Suites accommodate a large group, with 3 private quarters that share a pool, lounge, dining room, and kitchen. Pool Residences are large, with a separate dining and living room, jacuzzi, and sundeck.
We offer both 1 and 2 bedroom residences, with the latter including a kitchen. Our Beachfront Villas feature 3 bedrooms, a modern kitchen, and a large dining and living area. All the above accommodations include a private swimming pool with stunning views of the sea.
Our Grand Villa Natai has 3 bedrooms, 2 swimming pools, a kitchen, and large living room. A home theatre system provides access to movies-on-demand. Its indoor/outdoor sound system can be controlled from any room. You'll also have your own private chef, 24-hour butler, and chauffeur.
The Grand Villa Satis is a 4-bedroom complex. The quarters span 2 floors. In addition to a fully-equipped, modern kitchen, this villa has an extensive outdoor entertainment area. The large deck holds loungers and umbrellas. A spacious pavilion provides a serene place to relax. A vast lawn invites sports and games. The Satis also features a private chef, 24-hour butler, and chauffeur.
akyra Beach Club Phuket
akyra Beach Club Phuket offers boutique rooms, suites and unique villas featuring generous living spaces, state-of-the-art facilities and branded amenities, with the powder white sand of Natai Beach literally on your doorstep and Phuket's most alluring beach club close at hand.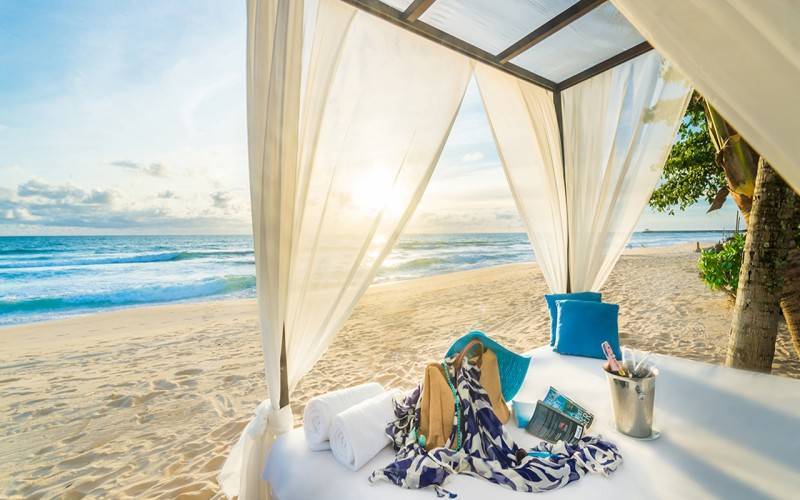 The ideal resort for romantic escapes for couples and beachfront weddings where guests can party the night away in each others arms with the soft sands of Natai between their toes.
Situated on the sunset side of the Andaman Sea, akyra Beach Club Phuket is a world away from the well trodden southern beaches of Phuket island. Here an unspoiled coastline stretches as far as the eye can see with the resort sitting comfortably between million dollar private homes and local fishing communities.
akyra Beach Club Phuket offers 42 rooms and suites, and 17 unique villas, in contemporary Thai design. Rooms range from 40sqm Garden Rooms to 46-50sqm Deluxe Suites and 50-60sqm Garden Villas, up to 53sqm Seaview Villas with the showpiece Beachfront Two Bedroom Villas boasting 125 sqm of indoor-outdoor living room at the height of style. All have extensive balconies or garden terraces.
In-room features include individually adjusted air-conditioning, natural cotton bathrobes and slippers, LCD large-screen TV with cable TV, hair dryers and in-room safe, big plush luxury towels, complimentary WiFi internet throughout the resort, all natural Ayurah amenities with essential oil extracts, fully stocked mini-bar, and tea and coffee making facilities.
Khao Sok National Park
The world's oldest evergreen forest can be found in the Khao Sok National Park. You can find the park by heading approximately 50km to the northeast of Khao Lak. The park is part of the Surat Thani province. This is considered a low mountainous area with the highest peak at roughly 950m. The oldest evergreen rain forest on the globe covers this point beautifully. One of the most breathtaking areas of southern Thailand is located in the centre of this park. This is the Cheow Lan Lake. Ratchaprapha Dam contains this man-made lake.
Cheow Lan Lake encompasses 165km of the sea. The characteristics are identical to Phang Nga Bay. This world-famous bay can be found about 100km to the south. The karst formations are tall and made of limestone. The formations reach out from the lake's emerald waters, and are surrounded by mudstone and sandstone hills. The vegetation covering the area has more diversity than the Amazon forest. This is an incredibly popular area to visit that you do not want to miss.
Khao Sok National Park offers an incredible variety of flora and fauna. More than five percent of the animal species found all over the world live here. This includes tapirs, wild boars, tigers, elephants and white-handed gibbons. You will also discover exceptionally rare plants including the Rafflesia. In Thailand, the flower is called bua phut or the extremely big stinky flower. Due to the topography, this is one of the wettest areas you fill find in Thailand. During the high monsoon season from November to April, monsoons come from the Bay of Thailand.
During the low season from May until October, monsoons reach the area from the Bay of Bengal. You should still come to visit because you will always see the sun shining in between the downpours. You can visit the Khao Sok National Park all year long.
Surin Islands Marine National Park
The park is located 5km from the marine border of Thailand and Myanmar, just 60 km offshore. This is where you will find the five magnificent islands of the marine national park. The granite-outcrop islands are characterised by areas of sandy white beaches, rocky headlands making their way into the ocean, sheltered bays and a healthy and beautiful rain forest. You can easily spot marine life due to the crystal clear waters. Outside of the monsoon season, the visibility underwater is a maximum of 30m. If you are a snorkeler or a diver, you will have the time of your life here.
This is considered one of the best spots in Thailand for both activities. Due to the shielded waters, small numbers of sea gypsies or chow lair are attracted to the area. This is an ethnic group living on Ko Surin Tai during the monsoon season from May until November. The sea gypsies are referred to as Moken locally. The word oken translates to saltwater. The flaxen sand is breathtaking, the depths a gorgeous purple, with shimmering bays in shades of both turquoise and jade. The peninsulas are sheer granite, creating a never ending geological avalanche.
The result is the formation of points resembling arrows in addition to natural breakwaters. The scenery of this park is exquisite. The two biggest of the islands are Ko Surin Neua to the north and Ko Surin Tai to the south. You will find all of the visitor facilities, the information office and the park headquarters at Ao Chang Khad. This is located on Ko Surin Neua, to the southwest. The starting point of this park is Khuraburi, Go northwest 9km from the town to see the pier. You can even arrange to stay overnight or take a spectacular day trip.
Ko Tachai
One of the islands located in the Similan National Park is called Ko Tachai. Twin Peaks is considered one of the most fantastic dive sites on the islands. The site is usually reserved specifically for experienced divers due to the strong currents. You will see big fish including leopard sharks and manta rays in addition to turtles. Due to environmental concerns, Ko Tachai is sometimes closed to tourists. You can still dive from offshore dive boats. Both Ko Bon and Ko Tachi were included in the Similan Islands in 1998 during the expansion of this beautiful park.
Ko Bon
Prior to the 1998 expansion, Ko Bon was an uninhabited island. The west ridge of the island is considered the best place in Thailand for viewing manta rays. The good condition of the coral is attractive to a lot of different fish. If you are an experienced diver, Ko Bon is a good choice. The currents here are often very strong.
Phang Nga Bay Tour
An early departure from Aleenta Phuket Resort will allow you to enjoy the peaceful marine surroundings of your Phang Nga Bay Tour and take photos before other visitors arrive.
After enjoying the island sights, you are whisked away to Hong Island where you can kayak on a stunning emerald green lagoon at your leisure. As you gently paddle around, you'll witness beautiful birds and sleek, silver fish in their natural habitat. The Phang Nga Bay tour then continues with a visit to spectacular Lagoon Cave and Diamond Cave on Panak Island before returning you to the resort to enjoy the rest of your day and evening.
Phang Nga Bay
Phang Nga Bay is filled with small islands and caves that can be reached by boat. Speedboats promise short trips to islands throughout the bay. Speedboats are also an affordable way to get around Phang Nga Bay. Khai Island, Khai Nok Island, and Koh Yao Island are worth visiting for a day or an afternoon. The clear waters of Phang Nga Bay make snorkeling a great activity when visiting islands throughout the bay. There is an impressive array of marine life on display, and islands throughout the bay house diverse populations of birds.
Ten thousand years ago the sea levels were so low that one could actually walk from Phuket to Kabi. Today the area is a spectacular bay that offers visitors a multitude of natural wonders to explore, beaches to relax on, and several activities to fulfill one's adventurous side.
In addition to Hollywood's touch and the natural beauty found in Phang Nga Bay, the area is well-known for numerous diverse cultures that co-exist in the local communities. These people harvest Nypa palm fronds to use in thatching, practice fishing, and play host to the many international tourists who are drawn to the bay each year.
Phang Nga Private Beach Resort
Natai beach lies along the shore of Andaman Sea on the west coast of Thailand. Its coral reefs are considered some of the best preserved in the world. Just ten minutes north of Phuket, Natai is more than quiet and peaceful, you can literally walks for hours without seeing anyone. It is a ten kilometer strip of pristine beach, whose government protection ensures that it will retain its isolation from the hustle and bustle of Phuket's beaches.
It is not always easy to protect the environment while creating a five-start boutique hotel, but Aleenta has found the perfect balance. Its innovative design is a perfect marriage of modern technology and classical Thai styling.
Aleenta's suites and villas features striking and original room designs that range from spacious lofts to grand villas with five bedroom, each very different from the last. Many of their accommodations come with a private pool or a beach front view, all will give you the ultimate feeling of privacy. While the diamond studded beaches and crystal blue waters are the perfect remedy for the tension of modern life, you will also find that Aleenta spa facilities are second to none.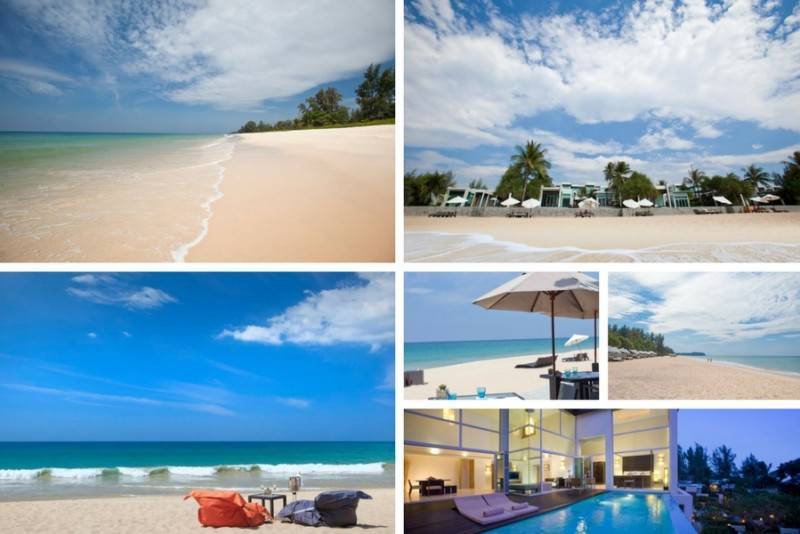 Similan Islands Marine National Park
This national park encompasses 740 sq-km. Divers from all over the world are familiar with this marine park. The park is located 70km from the province of Phang Nga. The smoothness of the granite islands is just as impressive as the beautiful aqua waters flowing below. The area is covered with lush rain forests, coral reefs and startlingly white beaches. Unfortunately, a lot of the hard corals have been killed due to coral bleaching, but you can still enjoy the beautiful soft corals. This is one of the most popular parks for diving.
The park was expanded in 1998 from the initial nine islands. Both Ko Tachai and Ko Bon are now included. These islands have not been touched by coral bleaching. If you are interested in snorkelling or diving, these islands are an exceptional choice. Of the 11 islands, there are ranger stations on two, Ko Similan and Ko Miang. You will find the majority of activity centres and the park visitor centre on Ko Miang. The word Similan was taken from sembilan, a Malay word. The actual translation is nine. This refers to the islands commonly referred to by numbers despite the actual names.
You will find most of the dive schools based on Hat Khao Lak. This is the starting point for the park. Just 12km to the south, you will find the mainland national headquarters for the park and the pier on Thap Lamu. To see the visitors centre, go to Ko Miang. The national park has avoided the masses of tourists coming to the snorkel and dive sites or the beaches. This can result in long waits to enjoy the numerous viewpoints. As of 2018, tourists were no longer allowed to spend the night in the Similans. You can spend the night on a live-aboard if you are a diver.
During specific periods, Ko Tachai is closed to tourists. This is a part of the yearly environmental review. The number of tourists allowed to visit the islands has been restricted with a new quota system. To make certain you are able to get on a boat, you should book in advance.