Events and Festivals
Thap Ba – Po Nagar Festival
The Sea Festival
Tết Festival
The most important and busiest festival in Vietnam, everyone returns home to be with their family. For visitors, it is a colorful time, as streets are decorated with lanterns and lights. The celebratory meal consists of four dishes, giò (Vietnamese sausage), ninh (stew), nem (spring rolls), and mọc (meat balls).
Tết Trung Thu
On the 15th day of the eighth lunar month, many celebrate the harvest by worshipping the Moon genie. It is one of the most impressive festivals in Vietnam and is particularly exiting for children, as they get plenty of toys. Square moon cakes are eaten by all, while children light lanterns and participate in a procession. Lion dancers accompanied by gongs and bells roam the streets.
Tet Doan Ngo
Tet Doan Ngo (Killing insects) or Dragon Boat Festival in Chinese is one of the oldest festival of Vietnam, occurred around June or July in Lunisolar Calendar and May in Lunar calendar. This festival is to celebrate a new section of the year and erase all the illnesses and worms in the body by using glutinous rice wine and lotus seed sweetened porridge in northern Vietnam or sticky rice dumplings in the south. Tet Doan Ngo often occurs from the breakfast to the noon, Vietnamese people eat this festival's specialties before they take the meal whom believed that it's the most suitable time to cleanse the body. The origin of this festival was started when people were celebrating for having a good crop and then the pest suddenly destroyed all of what they have been worked on, people couldn't find a way to overcome this disaster so a man called Doi Truan appeared and guide the farmers to started a simple feast which included lime-water dumplings, fruits and doing exercises. The after day people realized that all the insects have been wiped out, Doi Truan reminded people that the pest was dominating at this month and must do what they've been guided to keep the crops away from the pest.
Tet Han Thuc
Tet Han Thuc or Cold Food festival at the end of the spring season, commonly in March 3rd (Lunar Calendar) and April or May (Lunisolar calendar), the festival was originated from China's classic reference which is about the exile time of Duke Wen of Ji when he was so hungry that his royal advisor Jie Zhitui cut a part of his thigh to cook a soup for the duke, after he found out what Jie did, he was so grateful and promise that he'll repay the favour. By the time Duke Wen regained his throne, Jie Zhitui had resigned and taken care of his mother at home hill, after many failed attempts to repay him, Duke Wen set fire to the hill and hoped that Jie would come out but he and his mother died in the firestorm. Duke Wen felt regret about what he had done so he created Cold Food Festival and named that mountain as Jie to pay tribute his advisor. The main specialties that Vietnamese people eat in this occasion are: floating cakes and glutinous rice dumplings. Vietnamese marked this day as the change from cold weather to hot so the name Cold Food Festival is to celebrate this season-changing time of the year.
The 5 best things to do in Nha Trang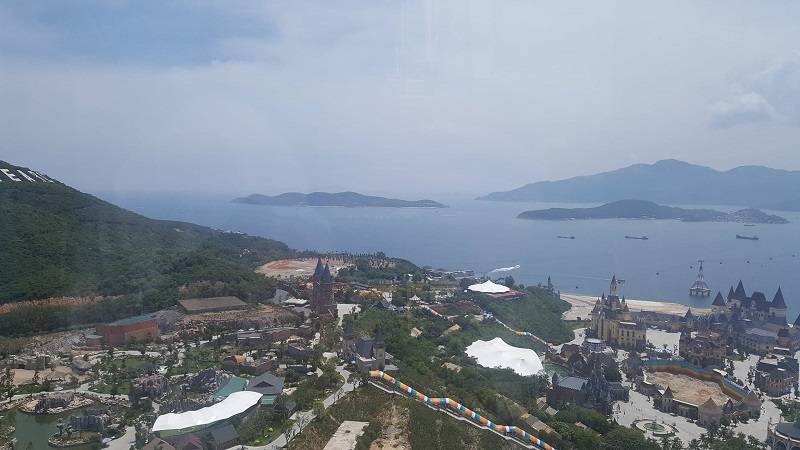 View from the carousel in Vinpearl Amusement Park
1. The Vinpearl Land Amusement Park
If you haven't been to the Vinpearl Amusement Park before then you are missing out!
The park that was built by the billionaire Vietnamese businessman Pham Nhat Vuong.
It is situated on its own island and is surrounded by crystal blue seas and luxury private resorts.
Best of all, you get to it either by catching a speedboat or a cable car over the ocean.
They have plenty of high-octane rides as well as an on-site water park.
If you get the chance to visit Nha Trang, then you must go here. It's very cheap as well.
Oh, and here's something funny about the amusement park. Check out the picture below.
According to them, anyone over 50 is old and decrepit and needs assistance when using the rides! My parents would not be happy about this!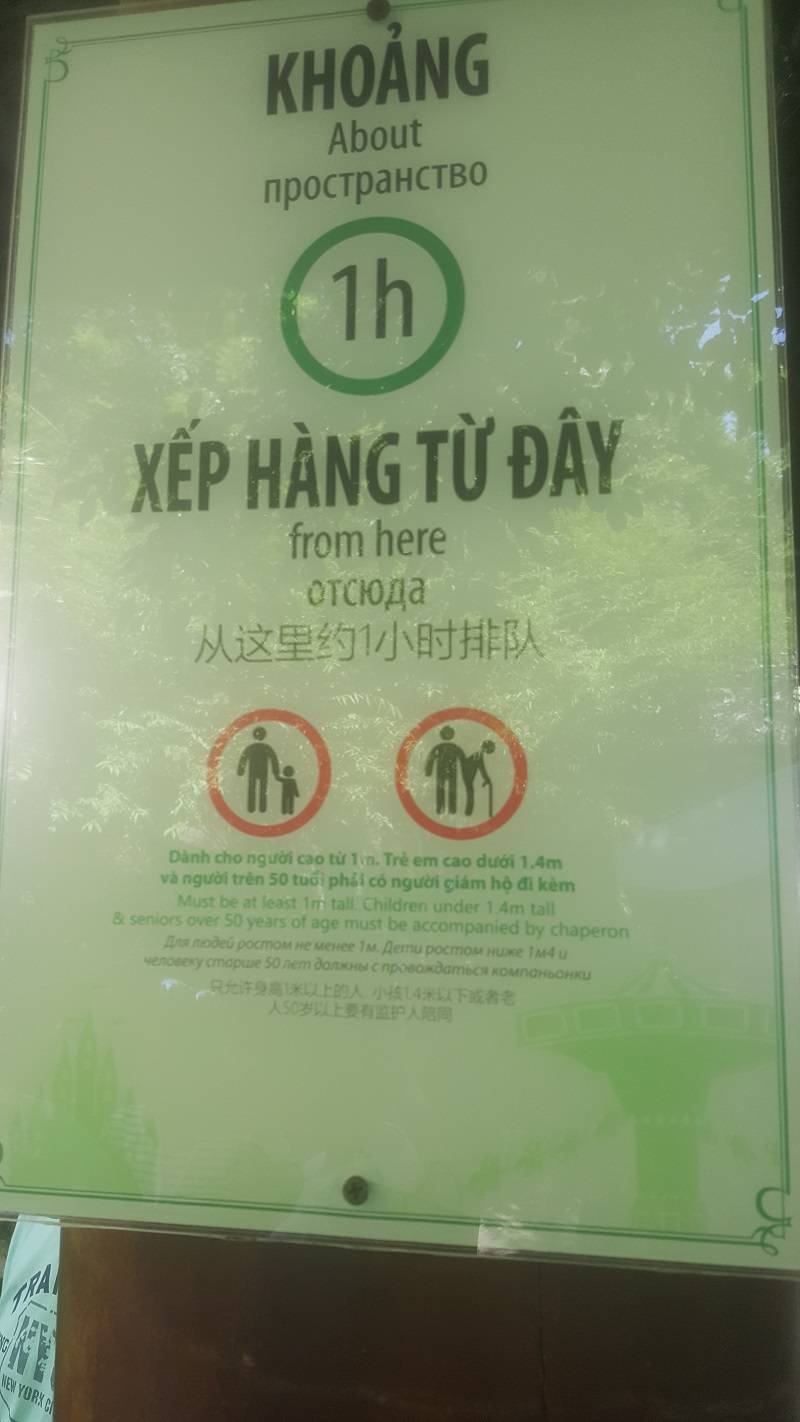 The Vietnamese must age a lot worse than us Brits!
2. Yang Bay Falls Park
Yang Bay falls really is a must-do thing in Vietnam! 
Sadly, however, it seems that no one else we spoke to had been, or even heard of it.
It seems this is because it is less of a backpacker destination and more of a place that families go on day trips.
Admittedly, it was about an hour and a half moped ride from the city. But in fact, the drive there is just as good as the park itself.
You get to spend hours driving through breathtaking scenery and waving to the locals as you go past.
Anyway … back to the falls …
So at the park, you get the waterfalls themselves (which you can swim in), but you also get to do plenty of other things, like bathe in natural hot springs.
There's also a zoo and alligators to see and ostriches to ride. It really is well worth a visit and was our biggest surprise during our stay in Nha Trang.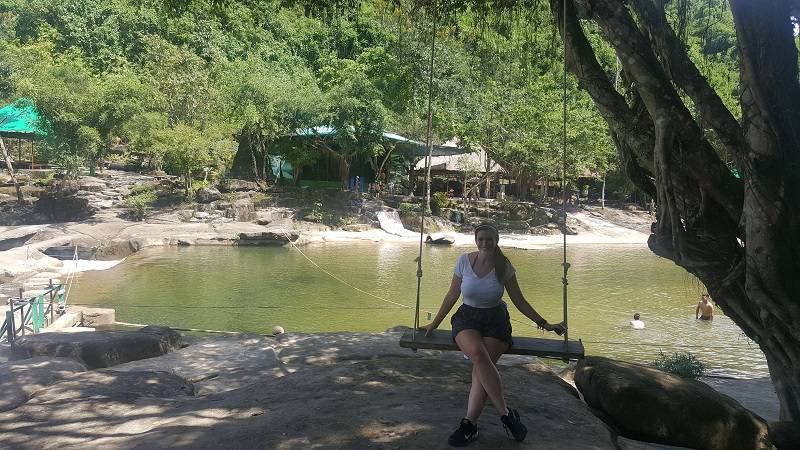 Cazzy can't resist a good swing
3. Tháp Bà Spa
Visiting a mud bath is certainly one of the best things to do in Nha Trang.
We visited Tháp Bà Spa as it was highly recommended, and was luckily still open after our long day trip to the Yang Bay Falls.
Spending a couple of hours soaking in a mud bath and then cleaning off in a large well-heated pool was the perfect thing after 3 hours sat on a moped.
It costs just 180,000 VND for the mud bath itself, and then you can spend as long as you want to spend in the heated pools and jacuzzis.
For the equivalent of about £6GBP, you get to spend hours relaxing in a luxury mud bath and spa resort! I really do miss Vietnam!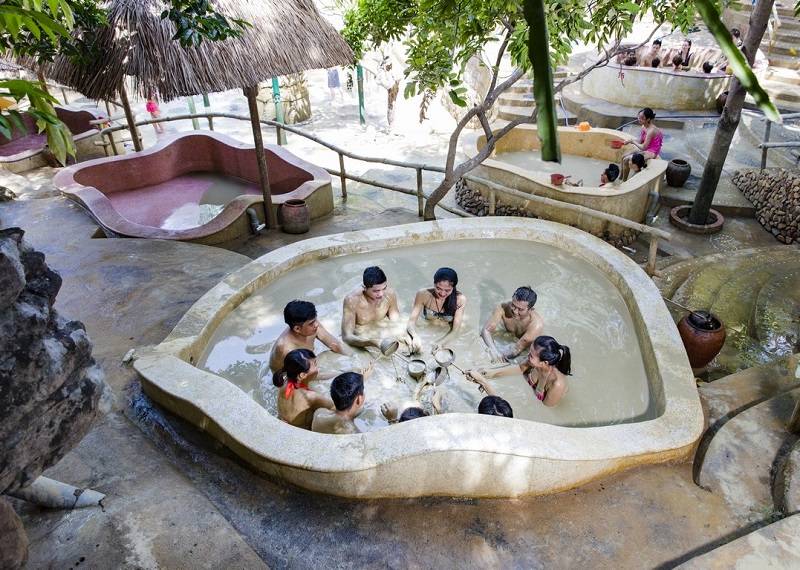 Image courtesy of the Tháp Bà official website
4. Sample the cuisine
Even though Nha Trang is much more geared towards tourists than some other places in Vietnam, the food is still very reasonable.
In fact, you get an even more diverse array of dining options, in particular, Russian cuisine.
One place that we visited, and would highly recommend, is the Pita GR Restaurant.
They sell Greek food, and it really is to die for! Better yet, they give you great portion sizes and it is massively underpriced.
Just check them out here, it's no wonder they are number 2 for best cheap eats in Nha Trang.
Afterwards, you can do what we did and slowly walk back along the beachfront taking in the sights and sounds of the ocean lapping against the sand.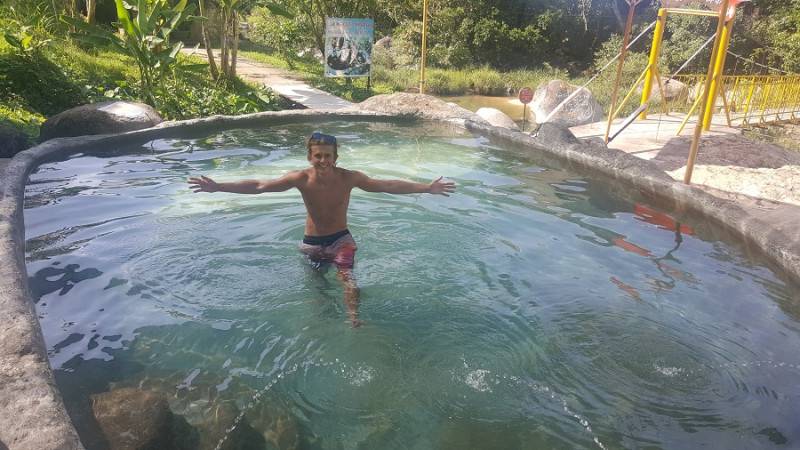 Gotta love a hot spring!
5. Relax on the beach
It seemed that Nha Trang has become primarily a family and travelling couples getaway destination for Russian and Vietnamese holidaymakers.
There are endless stretches of golden beaches to relax on and crystal blue waters to cool off in.
You can lay there and read a book, listen to music or watch the rides go round and round at the distant Vinpearl Amusement Park.
Ah, bliss.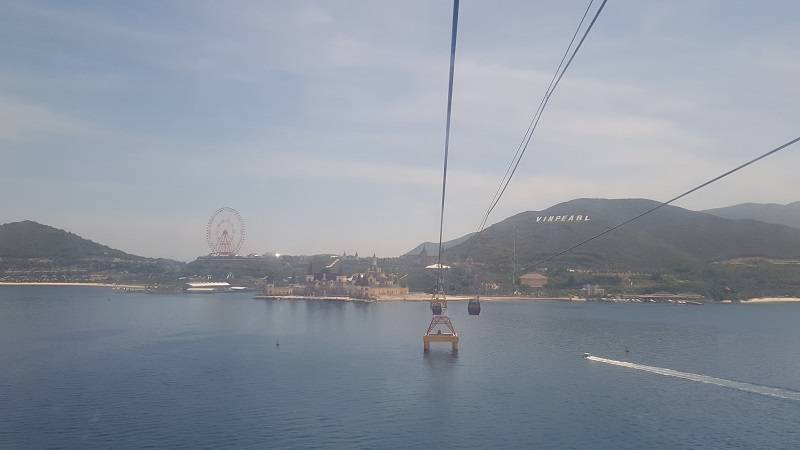 On our way to Vinpearl Amusement Park by cable car
P.S. If you're interested in getting a cooking class in Vietnam, then check out this post here: Nha Trang Cooking Class And Cultural Journey In Vietnam
How to Arrive to Nha Trang ?
Nha Trang is located 320 Km north-east of Saigon (line distance) and 85 Km from Dalat.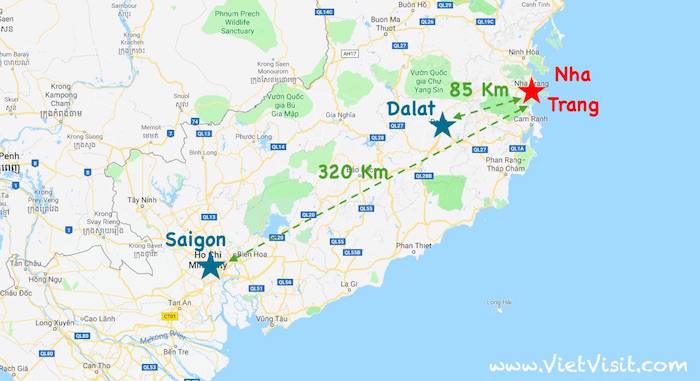 By Bus
Although it is relatively a short distance, If you arrive from Saigon, a bus ride may take 11 hours. From Dalat 4 hours. There are many buses operating in Vietnam. There are private bus companies and there are national buses going from the central stations. Ask your hotel or one of the many travel agencies  and they will offer you a bus ticket.
You can book Flights, Trains and Buses inside Vietnam with the site Baolau or  12Go Asia.  Choose the Origin city and Destination city and it will show you All the available Transports to destination.
See the .
See about the Transport in Saigon city.
By Flight
The preferred way to arrive to Nha-Trang (if you don't want to be hours inside a bus). Flights from Saigon are very cheap if you catch it at the right moment (could be 50 dollars) and the flight time is very short (less than 1 hour). There are flights also from the rest of Vietnam, of course.
You can book Flights, Trains and Buses inside Vietnam with the site Baolau or  12Go Asia.  Choose the Origin city and Destination city and it will show you All the available Transports to destination.
See the .
See about the Transport in Saigon city.
The airport of Nha Trang (Cam Ranh airport) is located 30 Km, south from the center (see it ).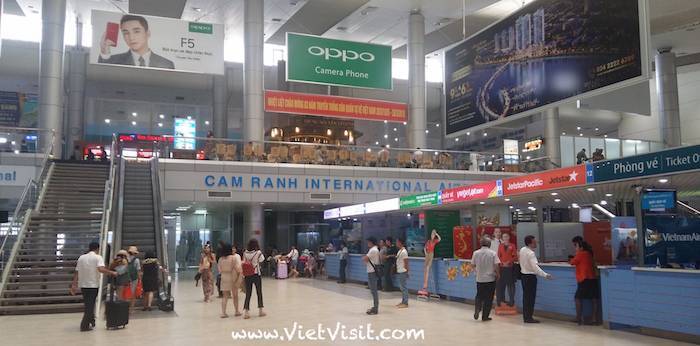 A taxi from and to the airport costs around 300,000 Dong. There is also an airport bus, but it is much easier to catch it from the airport, than from the city.
From the airport, the bus goes when there are flights, which is very clever, but unpredictable.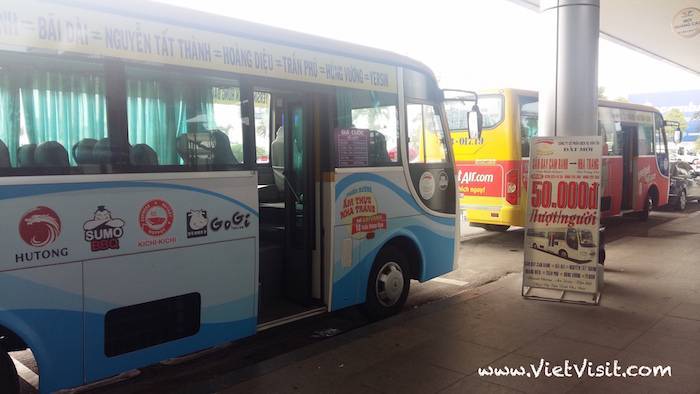 From the city to the airport, the bus passes through the city centre, but since there are no fix schedules and no clear stops, I personally didn't feel safe enough to wait for it and took a Taxi. Things may change, so inform yourself.
By Train
Yes, there is a train station in Nha-Trang and it is located quite in the center.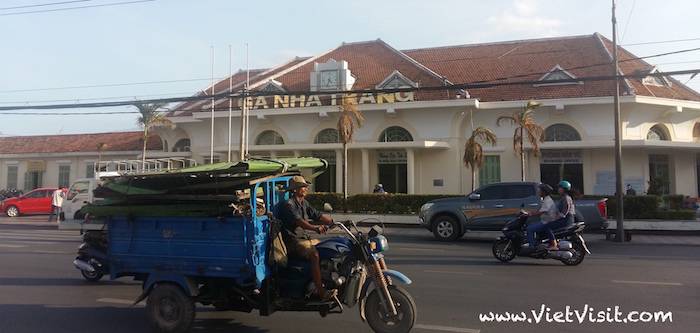 A train travel between Nha-Trang and Saigon takes about 8 hours. There are trains during the day and during the night. Usually, you take a bed, also during the day.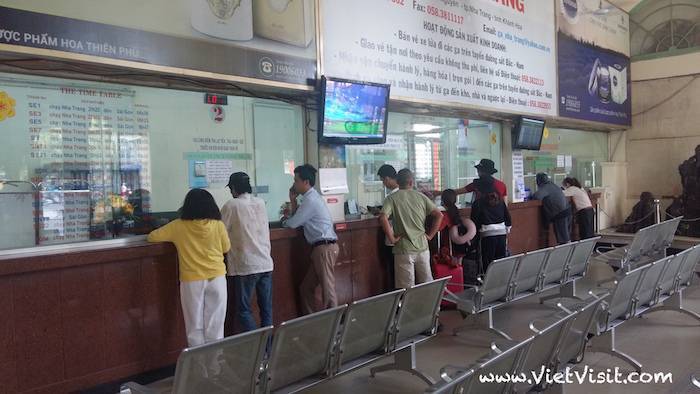 It is not expensive to travel with the train and it is a better option than the bus, in my opinion.
You can book Flights, Trains and Buses inside Vietnam with the site Baolau or  12Go Asia.  Choose the Origin city and Destination city and it will show you All the available Transports to destination.
See the .
See about the Transport in Saigon city.
What to Eat in Nha-Trang ?
Russian food. There are so many Russian restaurants and the menu is written in Russian and English. For me, being a vegetarian, I can eat in these restaurants only the mashed potatoes, apparently a very popular dish in Russia.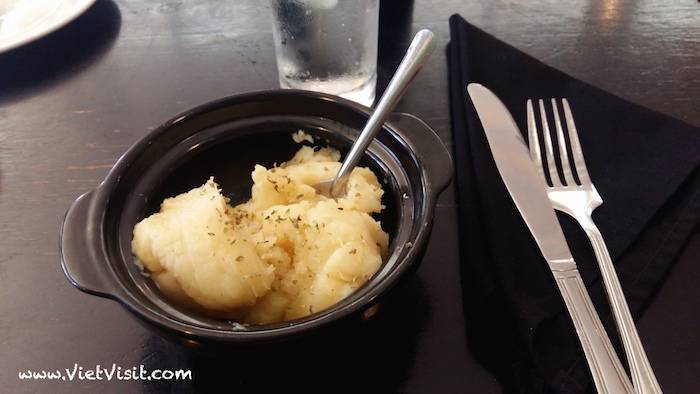 There are also Russian Pancakes sold in every corner of the streets (they call it French pancakes but they are more Russian style)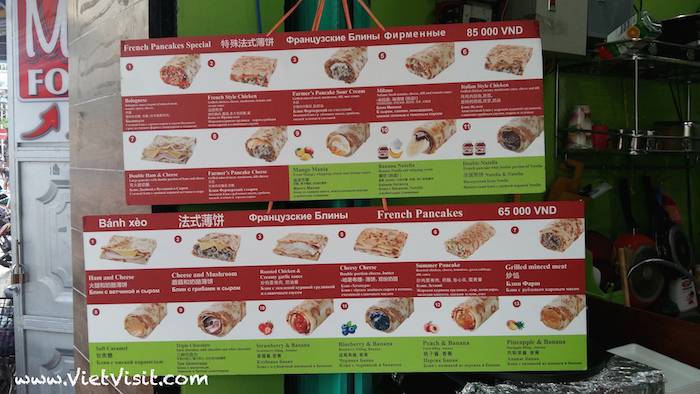 The Pancakes are good, and different from the ones usually found in Asia.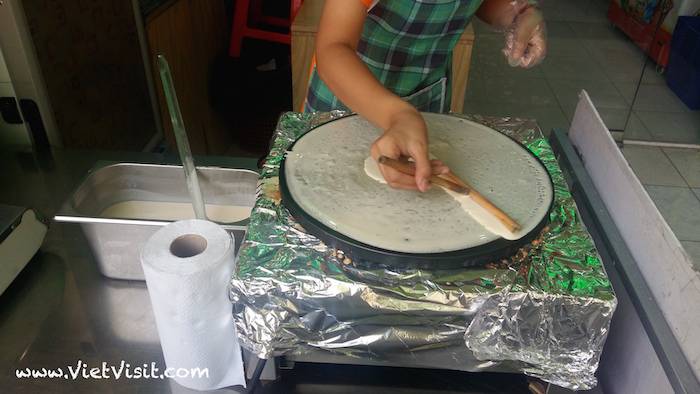 There is corn, sold on the streets. An excellent solution if you don't feel like sitting in a restaurant.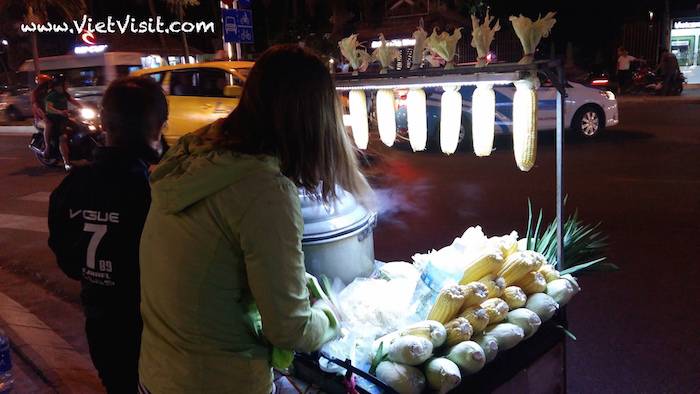 There is of course, a lot of Vietnamese food in Nha Trang. Here in the photo a Vegetarian rice noodles, from the food court at Vincom mall.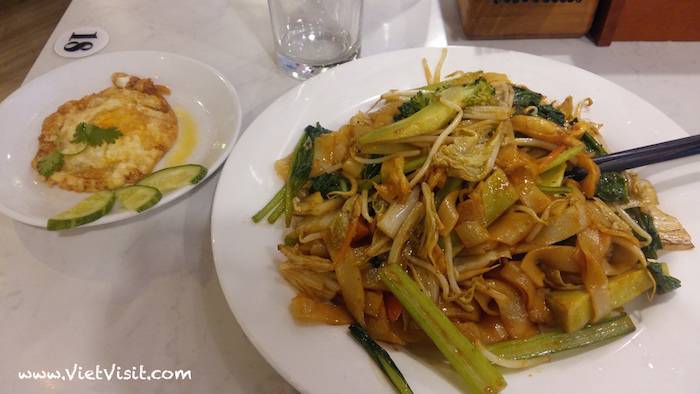 In every city that I visit, I search for the authentic Italian restaurant, and in Nha Trang it happens to be Da Fernando. Very good food, including the pizzas.
You will receive here a real Minestrone Soup, not an Asiatic one.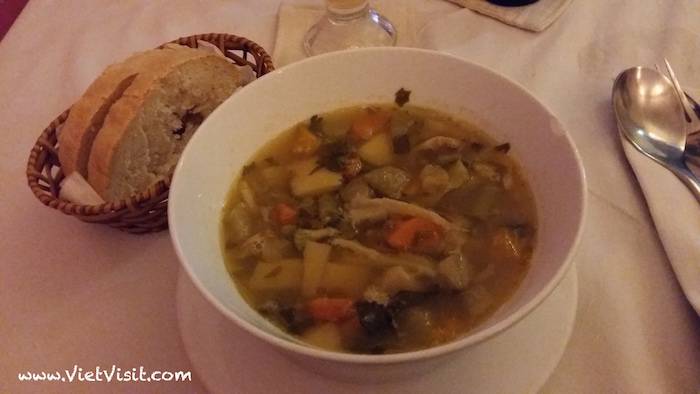 If you are vegetarian, use the application Happy Cow, there are vegetarian options in town. For all restaurants, you can use the restaurant guide of Tripadvisor, it has opinions of travellers for each place.
More on Vietnam :
How to Visit Vietnam ? – Transport, Best Time, Priorities…  
How to Reserve :  Trains, Buses and Flights in Vietnam ?
How much does it Cost to Visit Vietnam? Common Prices
How to get a Visa for Vietnam ?
Where to Stay, What to Visit, How to Arrive to :

Saigon     Hanoi  Mui-Ne  Dalat  Nha-Trang Hoi-An  Danang  Hue  Sapa  Halong-Bay  Phu Quoc island  Can-Tho (Delta)

How is the Internet in Vietnam ?
Is it Safe to visit Vietnam?
What to Pack for the trip to Vietnam ?
  On Thailand :

Bangkok – What to Visit, Where to Stay, Transport…
The Islands in Thailand – Which one to choose, Where to stay, How to arrive ?
Chiang Mai – What to Visit, Where to Stay, Transport…
Pattaya city – What to Visit, Where to Stay, Transport…
Other Stuff :
What to Pack ? the visual list that will help you prepare the suitcase.
Visit my Vegetarian Page. Why be Vegetarian ? What to eat ?
Visit my Salsa Dance Page. Salsa main Styles. Why Dance Salsa ?
See City Information about 2 more cool cities: Barcelona and Tel-Aviv.
Listen to nice Songs with translation in French, Spanish, Italian, Hebrew.
Listen to basic Words In Spanish, French, Hebrew
If you find incorrect data on this page, like a restaurant that has closed or a big river that has moved or you want to tell me something, please write me to contact.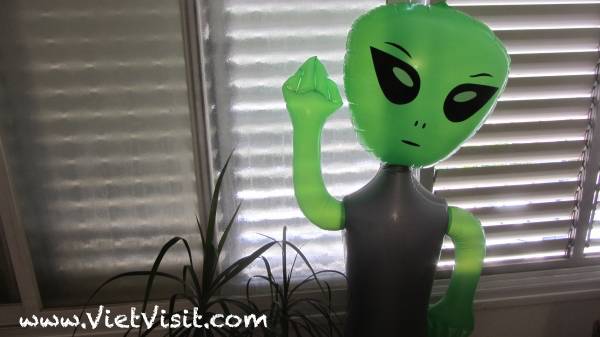 Where to stay
Travelers have a bunch of accommodation options from budget to luxury, from homestays, hotels to world-class resorts, inside the lively city, or along the peaceful beaches. Depending on your preference and travel style, you can choose the best for you.
For party-goers and those who want to discover dynamic Nha Trang nightlife, hotels and resorts along Tran Phu Boulevard are always recommended because of the beachside location, the centerpiece of the city, and a myriad of recreational activities, restaurants, and bars available. However, if you are privacy-seekers, accommodation on Nha Trang Bay & Islands with off-the-beaten-track beaches and stunning ocean view giving the most quietness suits you much better.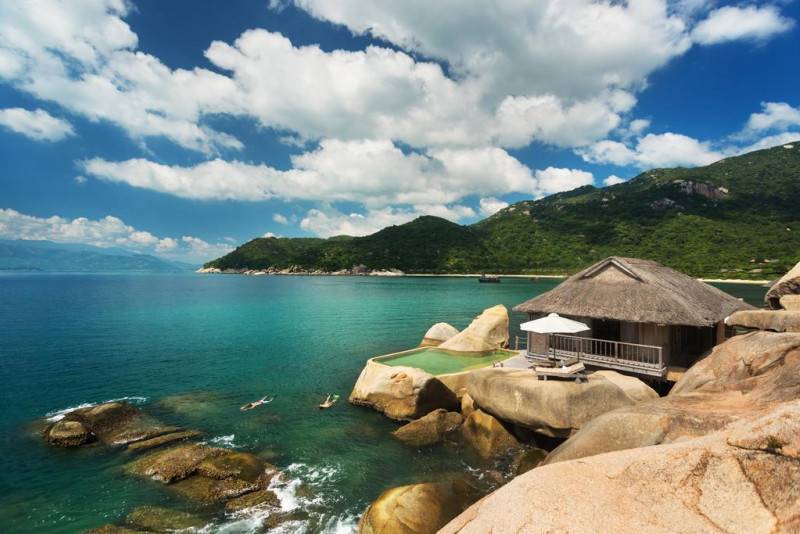 Six Senses Ninh Van Bay – One of Vietnam's best resorts in Nha Trang
For budget travelers, choosing hotels and homestays inside the city which are reasonably priced, well equipped, easy to access city spots, and just a short driving distance to get to the beach would be a great choice.
WHAT TO EAT IN NHA TRANG
Bo Nuong (BBQ Beef) Lac Canh – grill your own food at the table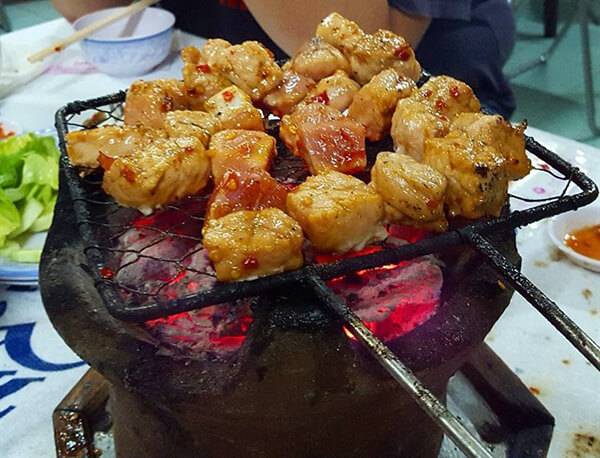 Hours: 10 AM – 11 PMAddress: 44 Nguyen Binh Khiem, Huong XuanPrice: VND 35,000 – VND 275,000 ($1.5 – $13.5)
Nem Nuong (Grilled Sausage Wraps) Vu Thanh An or Dang Van Quyen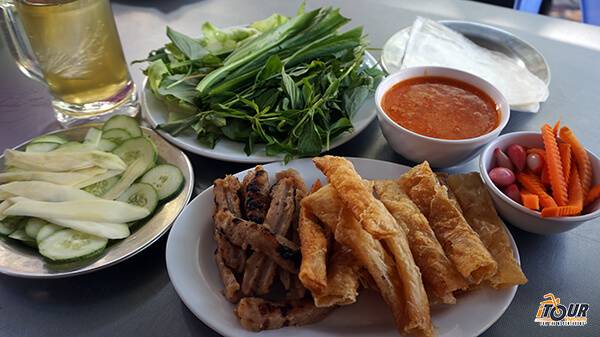 Hours: 4 PM – 10 PMAddress: 15 Le Loi, Nha TrangPrice: VND 40,000 – VND 55,000 ($2 – $2.5)
Bun Sua (Jellyfish Noodle)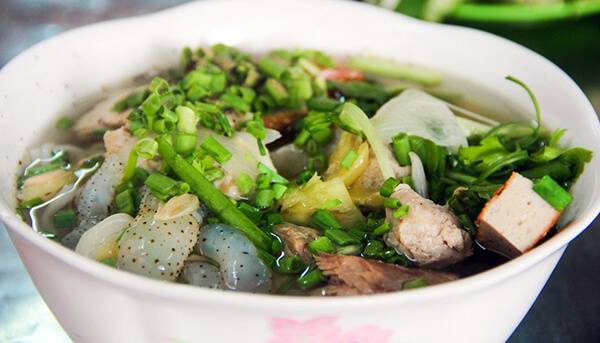 Hours: 3 PM – 10 MAddress: Bun Ca Nguyen Loan, 123 Ngo Gia Tu, Nha TrangPrice: VND 15,000 – VND 40,000 ($0.7 – $2)
Banh Trang Xoai (Mango Rice Paper)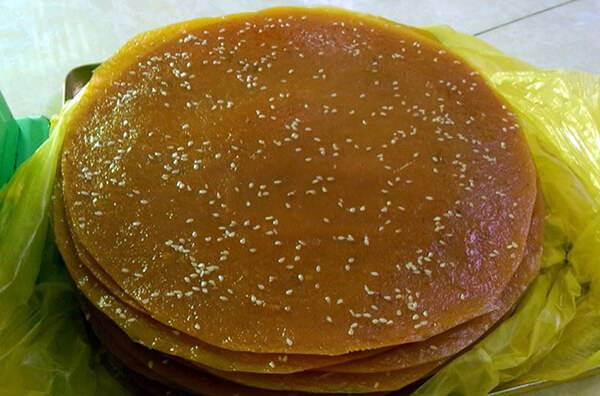 Address: Dam MarketPrice: VND 25,000 – VND 100,000 ($1 – $5)
Assorted snails and seafood on Thap Ba Street in the evening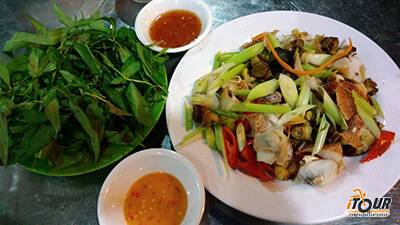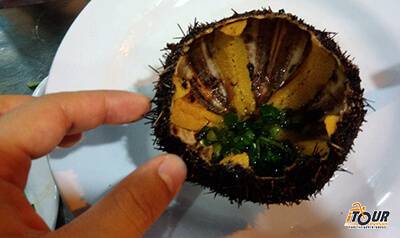 Assorted snails steamed with lemongrass & sea urchin with green onions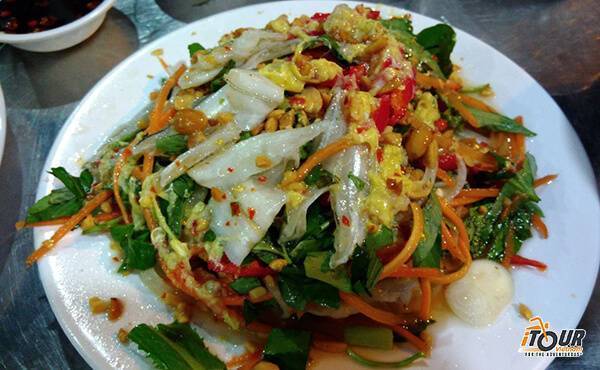 White sardines salad
Address: Thap Ba Street, Nha Trang (Near the Ponagar Cham Towers)
Go diving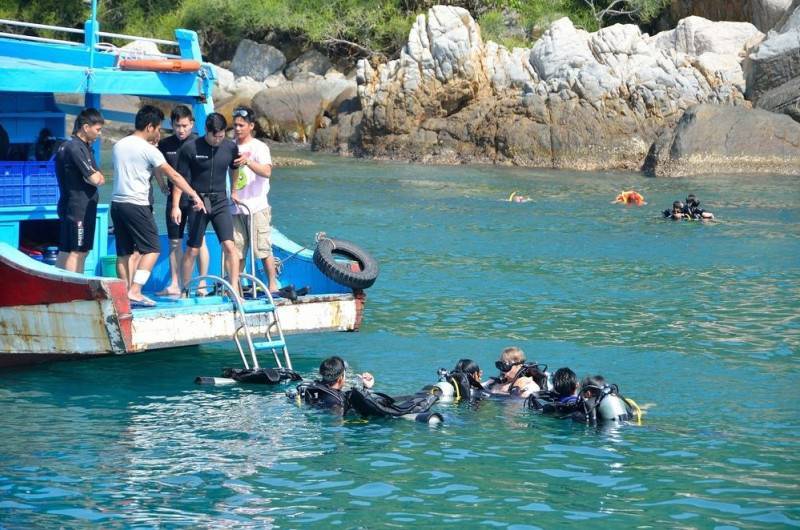 Source: Ovchinnikova Irina / shutterstockScuba Diving, Nha Trang
By far the most popular thing to do in Nha Trang go diving or snorkeling and there are a variety of options on offer if you want to do this.
You can either opt to swim offshore, or you can take a boat to some of the idyllic islands that encircle Nha Trang which have crystal clear waters and a vast array of sea life.
If you want to get PADI certified then there are around 10 dive shops in Nha Trang where you can take classes, although you may want to skip the period from October to December as the weather can make diving difficult and the visibility is poor.
Suggested tours:
Nha Trang: Hòn Mun and Mot Island Scuba Diving
Nha Trang: Islands Tour and Snorkeling
Share new pricing information in Vietnam and report bugs:
Globalprice.info on Facebook
| | |
| --- | --- |
| Mr. Myrat Atayevich 2022-06-16I am a supplier of different kinds of ice cream. I am interested in Vietnam ice cream market | |
| | |
| --- | --- |
| DEEPAK GUPTA 2022-03-17HIII MY SELF DEEPAK GUPTA I AM FROM INDIA I WILL PROVIDE YOU VEGETABLES FRUITS AND SO ON ON YOUR REQUIREMENT MY whatsapp and contact no +91 8140520758thank & regards DEEPAK GUPTA | |
| | |
| --- | --- |
| Sajjad Mustafa 2022-01-26Hi Dear All,we are are providing fruits & Vegetables all over the world kindly contact with me if you have any query related fruits & vegetable rates. +923004679482 (Whatsapp)Sajjad Mustafa | |
| | |
| --- | --- |
| Idriss 2021-11-28I'm from Morocco USA | |
| | |
| --- | --- |
| Dolphin 2021-09-14+967552631 my phone numberI am from Maldives I need a good supplier vegetables and fruits | |
| | |
| --- | --- |
| Valentin 2021-10-13Hello … I come from Central Europe..are you interested in canned fruits and vegetables … wawo70@gmail.com | |
| | |
| --- | --- |
| Jega 2021-07-13I.m malaysia,i want to know market price in viatnamVegetables,fruit and meeat | |
| | |
| --- | --- |
| Bhimapoa 2021-04-05ಶಾಖಾಹಾರ್ ಸಿಗುವುದೇ ವಿವೇಟ್ಟನಾಮ್ ದೇಶದಲ್ಲಿ ಸಿಗುವುದೆ | |
| | |
| --- | --- |
| boymaga 2021-09-03i am from kenya, i want to know how much is cost of one kilogram of sugar in viatnam | |
| | |
| --- | --- |
| DEEPAK sharma 2019-10-28Please send me the details Indian rupey convert to viyatnam dong as pr Indian currency sapose I am taking taxi burger how many rupey Indian currency and viyatnam dog | |
| | |
| --- | --- |
| Surya 2021-04-26You devied that Vietnam cost by value of 1 rupey equal value e.g your taxi pair 20000 is devied to 1 rupey value to 20000/306 = indian currency | |
Tran Phu Beach
Located in one of the most bustling districts of Nha Trang, Tran Phu Beach is a perfect place for those who enjoy the city atmosphere. The nightlife around the area attracts many tourists and the locals come to relax with friends or socializing with others.
Early morning at Tran Phu beach @ Trung Huynh / Vnexpress
There is a myriad of hotels, resorts, restaurants, bars, and seafood restaurants across the shoreline of the beach. The recommended bars include The Altitude Rooftop Bar, The Sailing Club, The Skylight Rooftop Bar, and the Cheers Sports Club.
Many sports activities are also available at Tran Phu Beach. Scuba-diving, snorkeling, surfing, and playing beach volleyball are beloved activities at the beach by tourists. You can also please yourself by having a spa session, meditating, or doing yoga in Tran Phu Beach.
The full Nha Trang travel guide for all tourists
For your best preparation, below are some useful information that you need to know:
5.1. How to get around in Nhatrang?
Nha Trang is a famous tourist city so there are many means of transportation for you to get around:
By rental motorbike: The cost of renting a motorbike in Nha Trang is relatively low, from 80,000 to 180,000 VND/day, depending on the type of motorbike. For renting purposes, you need to show your identity card and pay a deposit.
By taxi: As a developed tourist city, Nha Trang has many taxi companies to choose from. The taxi fare ranges from 5,000 to 16,000 VND/kilometer, depending on how far you go.
By bus: Traveling by bus is also extremely convenient because there are many bus routes going around the city. The hours of operation of Nha Trang buses is from 5 a.m. to 6 p.m daily. The bus fare is around 4,000 –  8,000 VND/trip.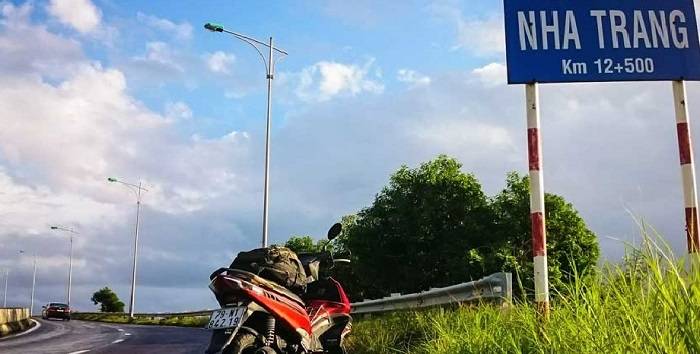 5.2. What to eat in Nha Trang?
Without enjoying the delicious and famous specialties, your Nha Trang day trip will not be complete. The seafood here is extremely diverse and the locals take advantage of it to process many tasty dishes to serve tourists. Some famous foods you should try once when visiting Nha Trang are deep herring salad, jellyfish noodles, squid pancakes, grilled chopped fish, grilled pork rolls,…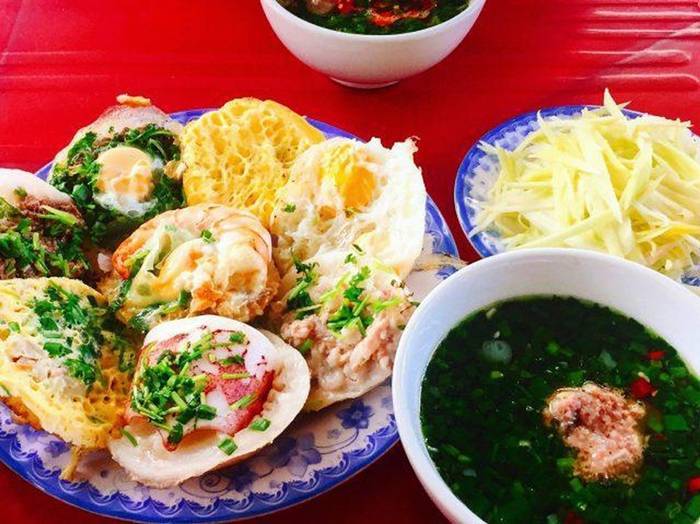 5.3. Where to stay during your Nha Trang travel?
There are many kinds of accommodation for your trip to Nha Trang including homestays, motels, hostels, hotels, Nha Trang resorts,… Based on where you are going to visit, you can choose where to stay during your tour. One of the excellent suggestions for you is Vinpearl Nha Trang.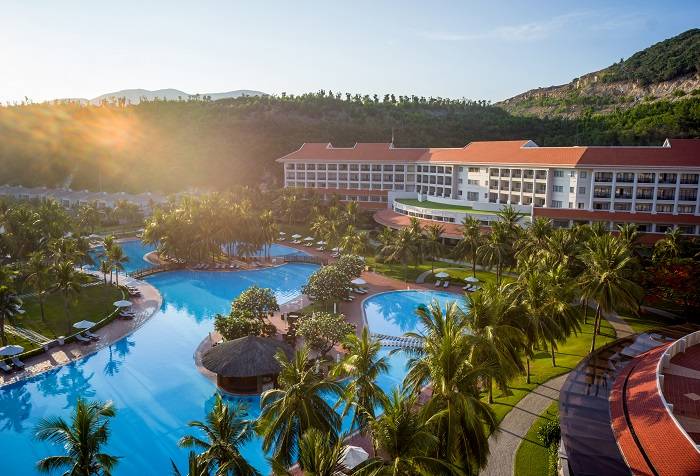 Vinpearl Nha Trang includes 3 hotels and resorts on the mainland, 5 hotels and resorts in Hon Tre island, the amusement theme park VinWonders Nha Trang and the golf course Vinpearl Golf Nha Trang. Along with that is a luxurious and synchronized system of restaurants, shops, spas,… All of these factors will fully meet all the needs of tourists.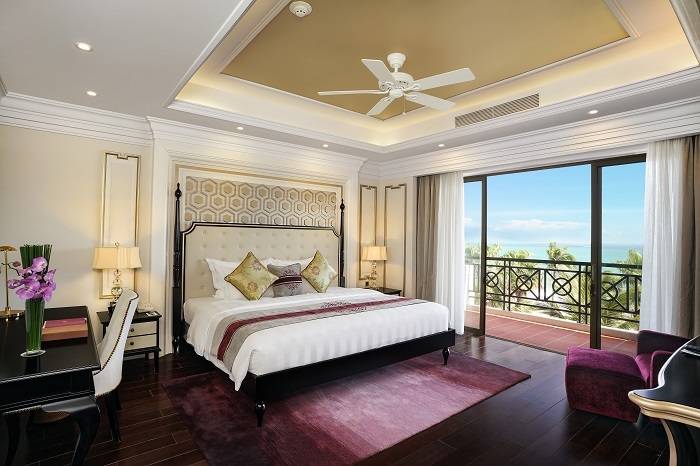 >>> Book rooms in Vinpearl Nha Trang to get the all-inclusive experience!
Nha Trang makes a great impression for those who have come there. This beautiful coastal city deserves to be a promised land for travel enthusiasts from everywhere. Now, let's set a plan for your trip to Nha Trang to satisfy your wanderlust and enjoy relaxing moments after a long time of hard work.
Getting There
By Plane
Cam Ranh International Airport. (IATA: CXR) serves Nha Trang and is located 30 kilometres south at Cam Ranh. It is the 4th busiest airport in Vietnam. There are lots of domestic flights from Ho Chi Minh City, Vinh, Da Nang, Hanoi, Haiphong, with prices starting at 250,000 dong. Internationally the city is connected to Seoul, South Korea and to a decent amount of cities in China.
By Train
Nha Trang is a stop on the main railway line connecting Hanoi and Ho Chi Minh City. If you want a soft-sleeper (the highest class available on Vietnamese trains), book your train ticket directly at the train station as far in advance as you can. Having a private travel agent book this ticket will quite often result in you paying the agent for a soft-sleeper – the agent will book a hard-sleeper and you will not know until you board the train and it is too late to make changes. This is one of the most common scams in Vietnam. Soft sleeper rooms are 4 berth, hard sleepers are 6 berth. You can sit comfortably on a lower bed in a 4 berth room but in a 6 berth you will have to be very short in order to sit up straight. SNT trains (meaning Saigon to Nha Trang) have similar quality cars, but are slower than the SE trains. The TN trains have the oldest and dirtiest cars and are the slowest so therefore are not recommended.
The journey to Nha Trang from Ho Chi Minh City takes between 6-8 hours on SE trains (often delayed), so a sleeper is not really necessary, a cushioned seat in the air-con car costs 190,000 dong, soft seats are 310,000 dong, soft sleeper about 500,000 dong. There are 2 overnight and 2 daily SE trains. The SNT trains take over 9 hours and travel overnight only, departs Ho Chi Minh City at 19:40 and arrives in Nha Trang at 05:20, 535,000 dong. The scenery on this journey is not that great compared to further north, so you are not missing out too much by travelling overnight.
By Car
Private car rental with a driver are usually modern air-con cars and can be rented for about 1,000,000 dong per day. Car rental prices (as mostly anything in Vietnam) usually increase during holiday seasons especially around Tet (Vietnamese New Year). Make sure to avoid high prices by booking it beforehand with the car rental services.
By Bus
Nearly all long distance sleeper buses stop in Nha Trang. They come from Ho Chi Minh City (10-12 hours, 200,000 dong, both morning and overnight buses available, both are sleeper buses), Hoi An (12 hours). Sleeper buses usually drop off passengers on the side of the street somewhat near the tourist areas. From where it's only a short walk or $2 taxi ride to the required hotel.
Visit the Buddha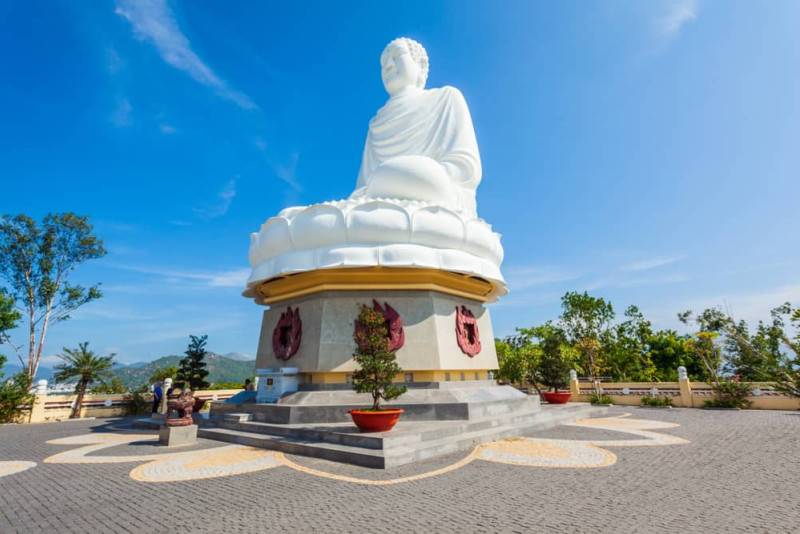 Source: saiko3p / shutterstockBuddha Statue, Bha Trang
Located at the summit of a hill behind the Long Son Pagoda is large statue of a white Buddha who is sitting on a pretty lotus blossom and measures an impressive 14 meters in height.
You can see the statue from all over Nha Trang and it is one of the main landmarks in the city.
At the base of the statue you will find some the statues of Thich Quang Duc and six other monks who set fire to themselves in protest in 1963. To pay tribute to the self-immolations of the monks, the statues are ringed with fire.
One of the reasons to come here, apart from the chance to see the statues, is to take in the views from the top of the platform.
Introduction about Nha Trang Vietnam
Here are some basic information about Nha Trang City that you should know:
1.1. Where is Nha Trang in Vietnam? 
Nha Trang is a coastal city of Khanh Hoa and plays an important role in the politics, economy, culture and tourism of the province. It borders Ninh Hoa Town to the North, the East Sea to the East and adjoins Cam Lam District to the South. In the West, it is adjacent to Dien Khanh District.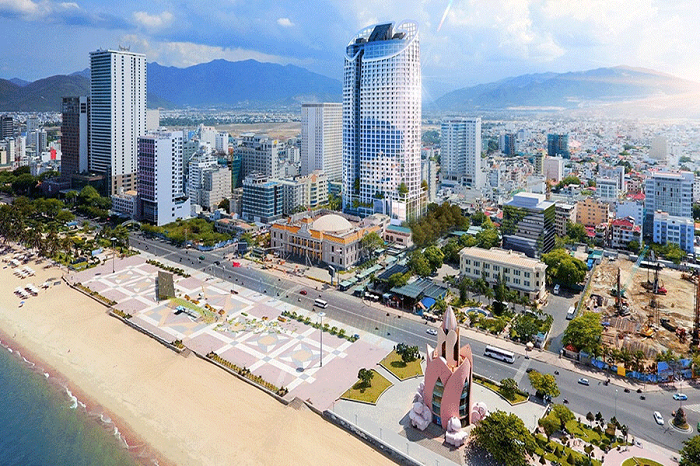 Located at the gateway of the South Central Coast and the Central Highlands, Nha Trang has all the advantages of geographical location, climate and natural scenery to become a paradise in terms of tourism and resort of Vietnam. In particular, it was voted by Travel and Leisure magazine as one of the 29 most beautiful bays in the world.
In addition, Nha Trang has an extremely diverse system of large and small islands, in which there are a lot of stunning landscapes on the shore and under the water with wild and rustic features. Therefore, it has become an ideal destination for both domestic and foreign tourists.

1.2. How is Nha Trang weather?
Due to the characteristic location, Nha Trang has a tropical savanna climate influenced by an oceanic climate. Its weather is relatively mild, which is not as harsh as in the North and not as erratic as in the South of Vietnam.
The annual average temperature Nha Trang Vietnam is around 26 degrees Celsius. In this city, winters are less cold and rainy seasons are long. The rainy season usually deviates to winter, which starts from September and ends in December.