Buddha Chay
Buddha Chay is an excellent place to eat vegetarian food in Ho Chi Minh.
Right from the name, this vegetarian restaurant has been impressed by the sophistication from the restaurant's name, the layout style, to the menu.
Not only having a relaxed space and meaningful sutras, but the food here also receives many compliments.
There's a variety in dish selection at Buddha Chay. You can choose tofu, vegetables, noodles, fried rice, stock items, salad, or soup.
If you're in a big group, mushroom hotpot is a great choice. I also love their Crispy rice with mushroom sauce.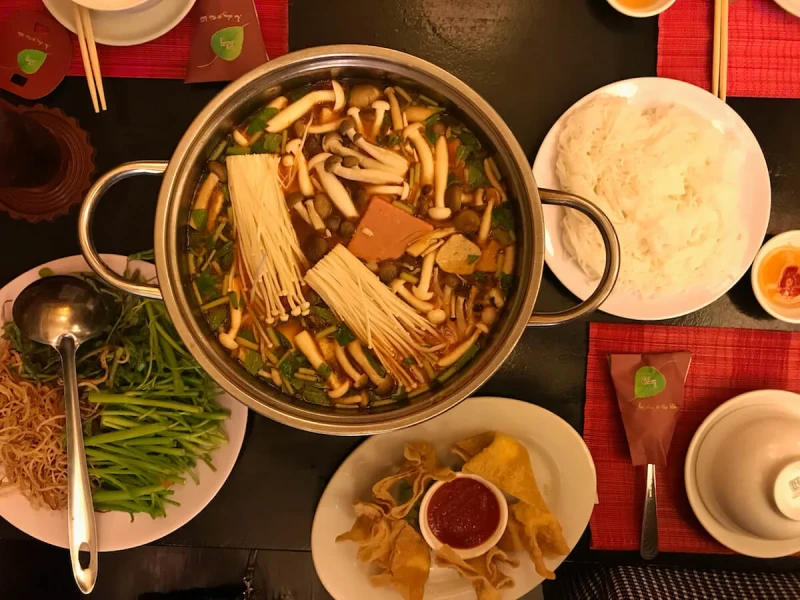 Restaurant review
Good points:
The price is ok, not too expensive.
The service is quick, and the dishes are served within 10 minutes after ordering.
Friendly staff, enthusiastic consultants
The food is delicious with a large selection
Good location, the shop is easy to find
The restaurant is spacious with a warm and cozy design
Bad points:
It can be quite noisy due to the crowded guests
Restaurant information
Cost: ~70,000 VND per dish
Address:
This restaurant has 2 locations:
District 1: 31 Đặng Tất, Phường Tân Định, Quận 1, TP. HCM
District 5: 5 Nguyễn Chí Thanh, Phường 9, Quận 5, TP. HCM
Opening hours: 10:30 am – 9 pm daily
Note: You can't reserve a table on full moon days at this restaurant.
The Organic
Located in District 1, The Organic is a familiar name for vegetarian lovers in Ho Chi Minh.
With the slogan "Stay Green – Stay Good," the restaurant offers delicious dishes made from natural vegetable and fruit ingredients.
Vegetarian dish suggestions
Don't forget to try Quang Noodles and Organic rolls at this restaurant!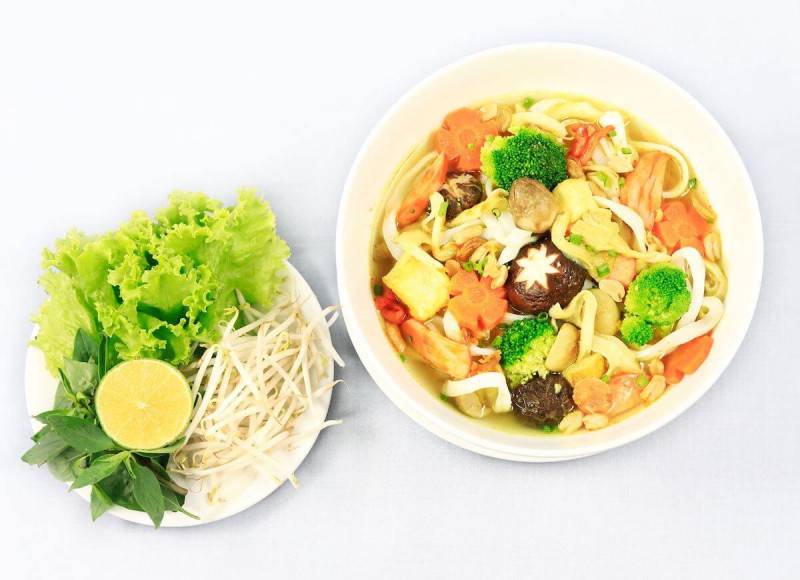 Quang Noodle is one of the most popular dishes in The Organic restaurant.
Restaurant review
Good points:
Delicious food
The dishes are made entirely from organic plants without the usage of chemical fertilizers.
Good service
Affordable price
Bad points:
You may need to wait because the restaurant can be crowded
Cost: 75,000 ~ 100,000 VND per dish
Address: 54 Lý Văn Phức, P. Tân Định, Quận 1
Opening hours: 7 am to 9 pm
Bollywood Indian Bar & Restaurant
If you're craving tasty vegetarian Indian food in Saigon, go to Bollywood!
Bollywood is my favorite Indian vegetarian restaurant in Ho Chi Minh city. As it's located on Bui Vien street, it can be convenient to get a drink after having a meal here.
Vegetarian dish suggestions
The restaurant has a large selection of vegetarian food. I love the Paneer Butter Masala and Mix Veg. Pakora. Palak Paneer is also yummy!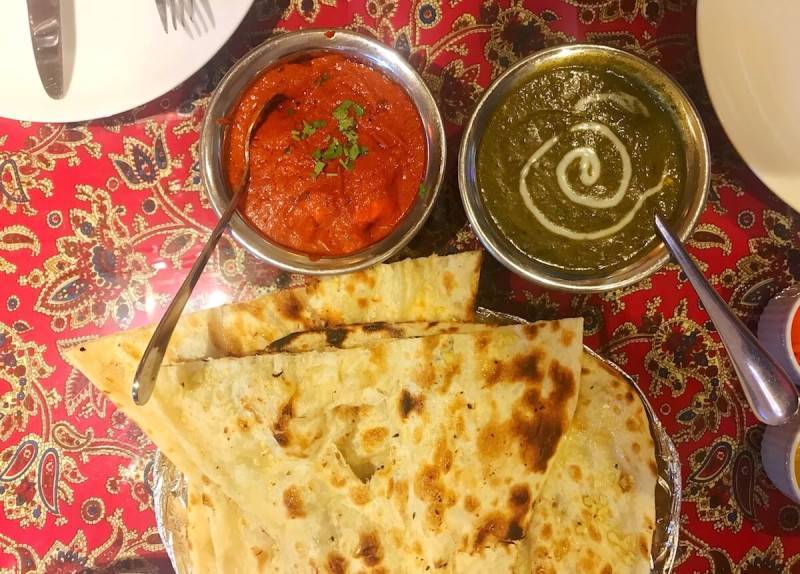 For drinks, I recommend trying Indian Masala Tea.
Good points:
It has a tiny bar serving cocktails and drinks
Tasty food at a good price
Good location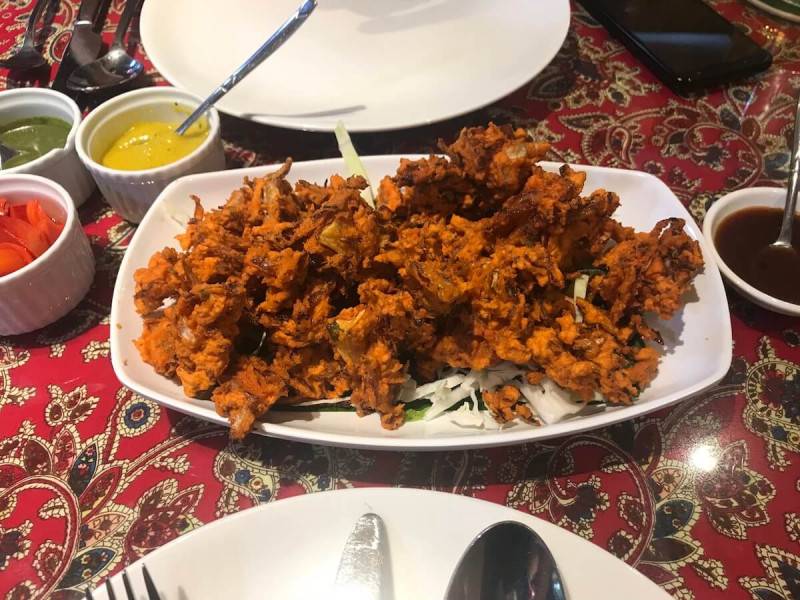 Cost: 40,000 ~ 95,000 VND per dish
Address: 207 Bùi Viện, Phường Phạm Ngũ Lão, Quận 1, Hồ Chí Minh
Opening hours: 10:30 am – 12 pm daily
Amigos Whisky Bar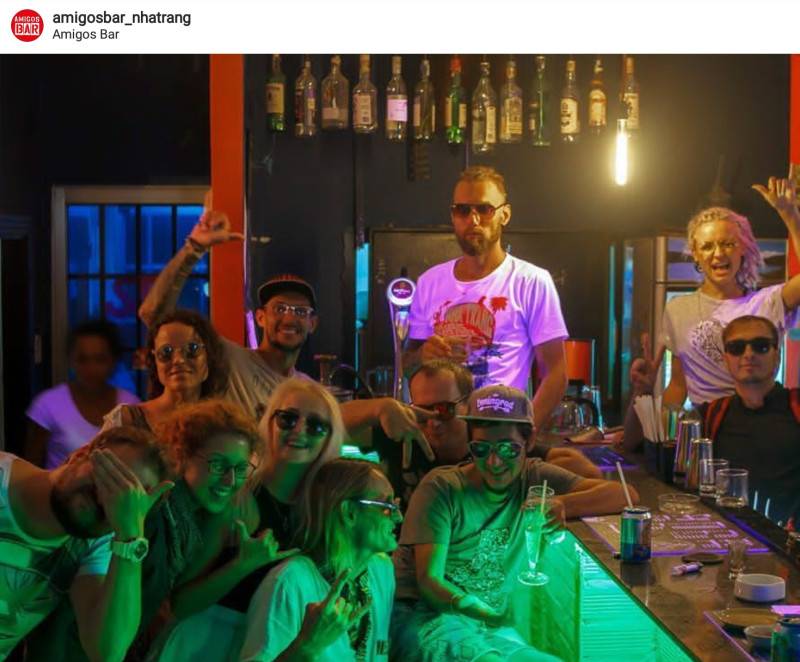 Image: @amigosbar_nhatrang.  If a picture is worth a thousand words, then I think this photo of friends hanging out at Amigos says it all. The place is so cool, yea gotta wear shades.
Amigos Whisky Bar: Need a night off from heavy house and places packed full of tipsy tourists? Amigos Whisky Bar is like your local at home pub with pints in a pleasant atmosphere. As the name might suggest, they are well-known for their selection of whiskys. If premium spirits born from aged-oak casks aren't your thing, they can get you into another party beverage, no problems at all.  
This is a great place to enjoy the Nha Trang nightlife and relax, especially if you've just come from Dalat to Nha Trang by motorbike and want to put your feet up and chill for the night. That, and you'll probably run into other travelers who you can swap some of your stories about the Chi Tunnels or Hai Van Pass with.
    Amigos regularly hosts live music like rock, blues, and jazz. For your trips in Vietnam, the cheap beers and for your cool atmosphere couldn't be more welcoming. If you're looking for a night out with your Amigos, or to make new ones. Make your way over to the next whiskey bar. Oh, don't ask why…
Vibe: Like your favorite local pub back home. All styles of dress are welcome.
Price: $$
Drink: Try the whiskey naturally. Maybe you're feeling like a Chivas night?
Bep Xanh An Duyen
Imagine sitting in a peaceful space with melodious music, drinking a warm cup of tea, and having a delicious vegetarian meal made from fresh ingredients. It is indeed the experience you will have at Bep Xanh An Duyen.
Located in District 5, this restaurant has a Chinese decoration and serves Vietnamese and Chinese vegetarian dishes.
Vegetarian dish suggestions
Cheesy Rolls, Pad Thai, Pineapple Rice, Fermented Beancurd Hotpot, and Miso Hot Pot are highly recommended! You can also try out the recommended dishes with logos on the menu.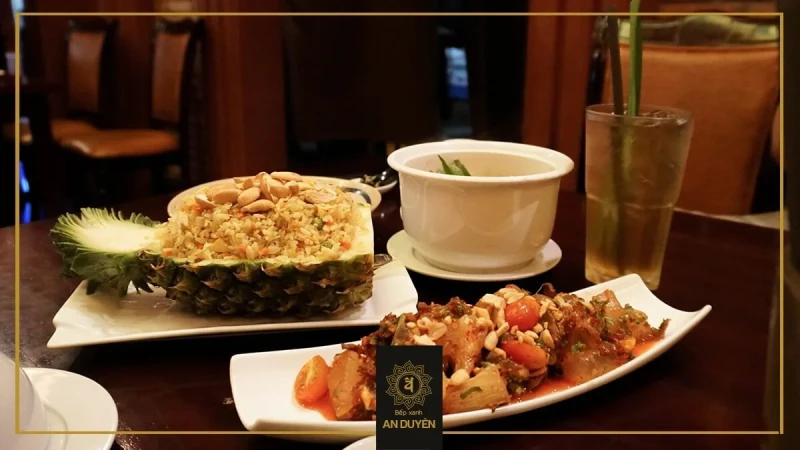 Restaurant review
Bad points:
As the restaurant is located at Nguyen Tri Phuong Bridge's foot and is slightly hidden, it isn't easy to find.
Restaurant information
Cost:  From 50,000 VND per dish
Address: 10 Nguyễn Tri Phương, Phường 6, Quận 5, Hồ Chí Minh
Opening hours:
Monday to Friday: 10 am to 2:30 pm; 5 pm to 10 pm
Weekend: 10 am to 10 pm
Note: You can order online on the restaurant's website.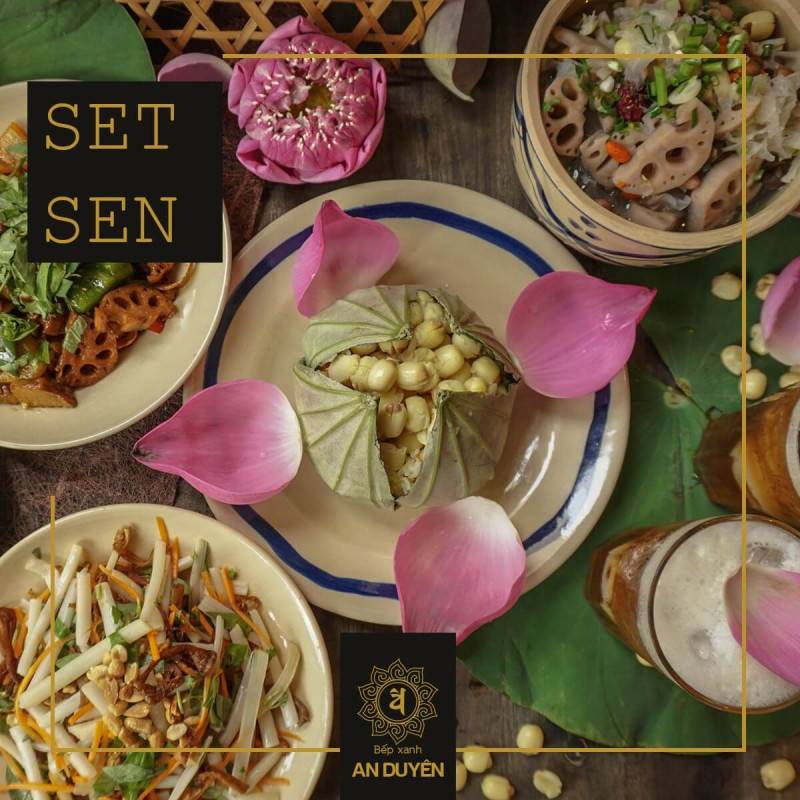 You can also order a set of vegetarian dishes at An Duyen restaurant.
La Mancha – расположен – 78 Nguyen Thien Thuat
Время функционирования с шести утра и до часу ночи. Гастрономическая приверженность –  традиционная испанская. Гостей встретит неповторимый дизайн, кулинарные изыски, вкуснейшие коктейли, пиво на розлив, прекрасный выбор винных напитков, домашняя обстановка, живая музыка и вечерняя дискотека.
Из списка блюд гости могут заказать многие испанские блюда – паэлья, острый чоризо и мясо на вертелах, фаршированное перцем. Подают виноградных улиток в масле с добавлением чеснока. Маленький бар порадует хорошим испанским винцом и сангрией.
Ценовая политика будет чуть выше, по сравнению с предыдущими заведениями. Обеденная трапеза для пары обойдется в пределах двадцати долларов. Территориально ресторанчик расположен в центральной части города. Сотрудники дружелюбные, желто-ультрамариновое оформление интерьера перенесет гостей в испанскую обстановку.
Story Beach Club & Restaurant
Among all the cafes and restaurants of Nha Trang (Vietnam), the restaurant located at the club stands out in a special way.
Tourists note delicious dishes, a large selection on the menu, which is more focused on tourists from Russia. The waiters are professionals, perfectly understand the guests and fulfill any request with lightning speed. The restaurant has a pleasant, relaxing atmosphere, live music in the evenings. On weekends, animators work to entertain the kids while their parents enjoy delicious meals.
The restaurant has a swimming pool, so you can not only eat delicious food here, but also fully relax. The institution is rightfully considered one of the best in Nha Trang, at the European level, it is clean and well maintained. If you have a Russian Information Center card, you will be given a discount. The restaurant often hosts show programs.
If you plan to visit this restaurant, keep in mind that on the second floor it can be a little stuffy, unfortunately, there is no separate hall for non-smokers. Any dish can be prepared independently. After ordering, the waiter will be sure to take an interest – bring the finished order or you want to cook it yourself. A huge advantage of the restaurant is that you can safely feed your child.
Eating in a restaurant on average will cost from $ 12 to $ 17, one dish of sea food costs $ 3-7, a delicious hot pot with seafood (for 2-3 people) – $ 13.
The restaurant is open from 7-00 to 00-00.
Address: B4 Tran Phu Street | Phu Dong Park. Between Evason Ana Mandara and Louisiane Brewhouse, Nha Trang.
Check out the National Oceanographic Museum of Vietnam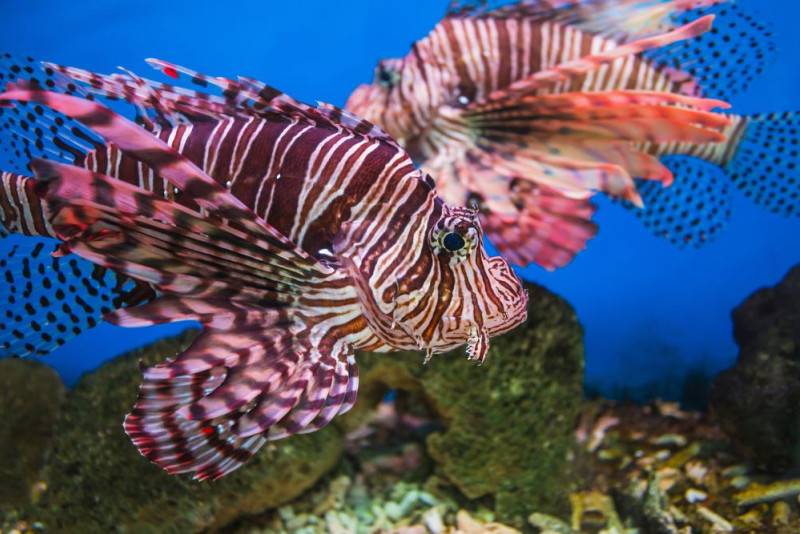 Source: Zhukov Oleg / shutterstockNational Oceanographic Museum Of Vietnam
You won't find a huge number of museums in Nha Trang, but one that you can visit is the National Oceanographic Museum of Vietnam.
Like almost everything else in the region, the museum has a maritime theme as well as a large aquarium.
Here you will find a wide variety of colorful fish and there are also some rare indigenous underwater creatures here that are worth the visit alone.
Some of the resident marine life that you can see here includes sea horses, sharks and turtles and this is a great choice if you are travelling with younger visitors.
Explore Po Nagar Cham Towers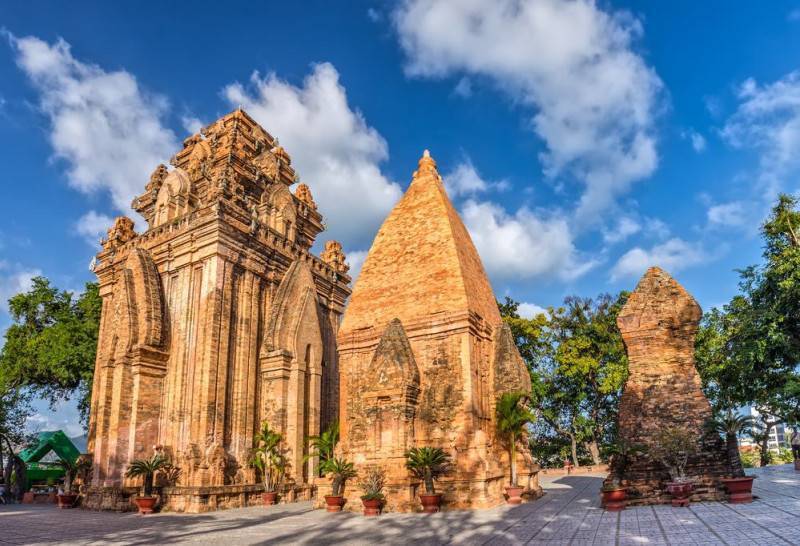 Source: Thoai / shutterstockPo Nagar Cham Towers
Po Nagar Cham Towers were built from the 7th to the 12th centuries and there are four separate buildings that are used as a place of worship by Cham, Chinese, Vietnam and Buddhist worshippers.
There would originally have been around eight towers here in the days of old but now only four are still standing.
One of these is called the North Tower (or Thap Chinh in Vietnamese) which stands at a height of 28 meters and was built in 817 AD. The tower is remarkable as it has a pyramidal roof which is also terraced and the interior is made up of a vaulted ceiling and a grand foyer.
All of the towers are located on the banks of the scenic Cai River and if you like history and architecture then this is one spot not to miss in Nha Trang.
Included in: Nha Trang Half-Day City Tour
Pool Pub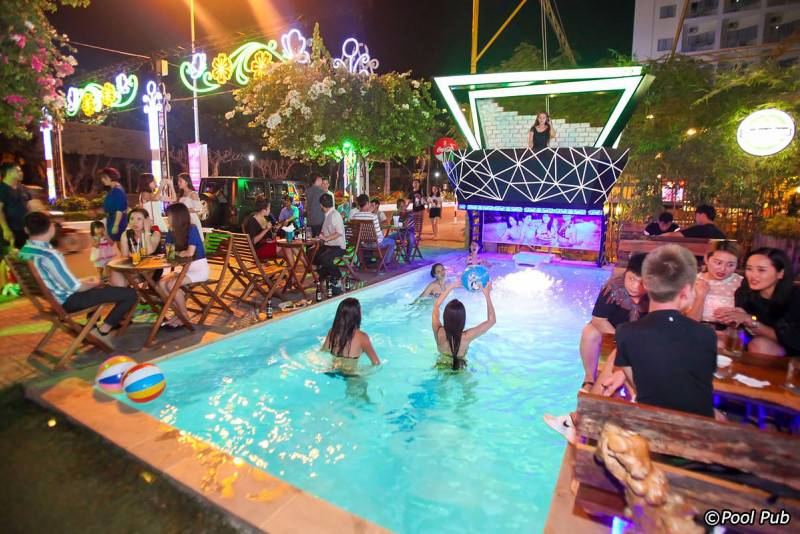 Pool Pub is a laidback two-storey nightlife spot that's entirely al fresco, featuring a rooftop terrace, wooden communal tables, neon lighting, and good quality audio systems. While the best seats in the house are up at the spacious pool-side bar, its central swimming pool is great for warm evenings in Nha Trang. Just make sure you bring swimming gear if you fancy a dip. Pool Pubs also offers an extensive drinks menu that's also good value for money, comprising of the usual array of beers, wines, cocktails, and spirits. The music policy here is mostly EDM, deep house, and techno music, but you can still easily converse with fellow companions on the rooftop terrace.
Opening Hours: Daily 17:00 – 02:00Address: 40 Tran Phu Street, Nha TrangTel: +84 90 511 6356
Riveria Bar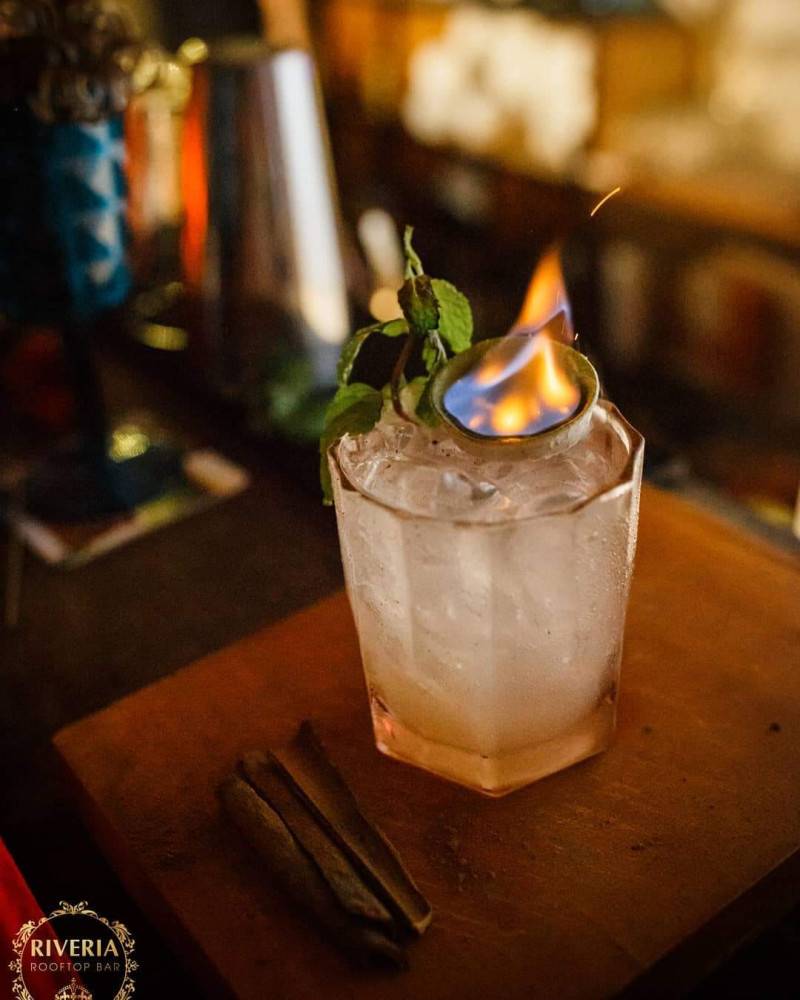 Image: Riveria FB   When you're looking to be on the receiving end of the people watching in Nha Trang. Order up a flaming cocktail and try to get it down without lighting your lips on fire. Full marks for presentation here.
Riveria Rooftop Bar and Lounge: Before making your way down to one of the beach parties, make your way up to the intimate Riveria Rooftop Bar and Lounge. The place is super chill before 8pm where you can sip and mingle with friends, they even have a PS4 if you're feeling ultra-chill. Or, come after 8 when the action gets started with d.j.'s and party balloons.
Sticking with the theme of Russian owned bars, Vietnamese entertainment, and a reasonable take on western food. The culture of Nha Trang and its mix of Eastern immigration and Western travellers is worlds away from other cities like Danang, that are likely on your Vietnam motorcycle route. Check our realated post on top things to do in Danang before heading that way.
Riveria helps open the door, and the heavens, towards the best places to party in Nha Trang. You'll want to get your hands on a Sangria paired with a fruity hookah – then exhale and let the good times flow. Feeling peckish – they've got Asian inspired bites like the spring roll, or western food like mainstream pastas and burgers. For rooftop party fun, this is a great place to get started.
Vibe: Smart casual, with the option for a chill or party night.
Price: $$
Drink: They have plenty to choose from. Check out the Blood Orange Mojito if you're looking for refreshment. Try one of their signature cocktails that are lite on fire if you're feeling risky.
Vajra
Located opposite Vietnam Quoc Tu Pagoda in District 10, Vajra is an excellent choice for Saigon's affordable vegetarian food.
Although it usually takes a while to prepare the food, it's worth the wait. Arriving at the restaurant, you will be served a free cup of delicious milk tea first while waiting for your serving.
Vegetarian dish suggestions
My favorite dishes at Vajra are Lotus leaf rice and Fruit spring rolls.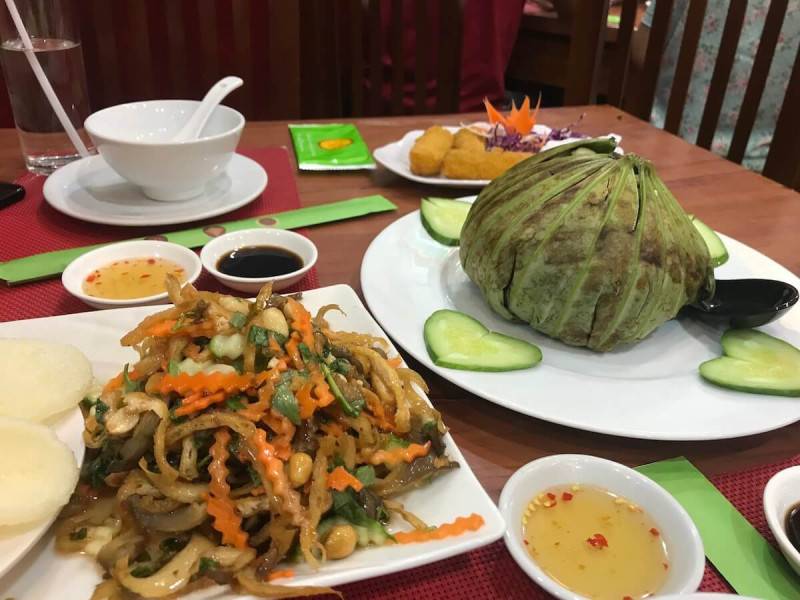 Vajra Mushroom Salad is also brilliant! The salad is sweet and sour, similar to Lotus salad, served with prawn crackers and sweet and sour fish sauce.
Restaurant review
Good points:
The restaurant has Tibetan music and decoration, creating a pleasant and quiet atmosphere to enjoy vegetarian food.
The food here is delicious!
Bad points:
It costs 5000 VND for the parking fee
The restaurant is not large, so you may need to wait for a table
Restaurant information
Cost: 50,000 ~ 70,000 VND per dish.
Address: 711 Lê Hồng Phong, Phường 12, Quận 10, Hồ Chí Minh
Opening hours: 7 am – 9 pm daily
Note: The ground floor is a Buddhist shop, so you need to enter the shop, following the stairs to the upper floor to find the restaurant.
Booze Cruise Sports Bar & Gril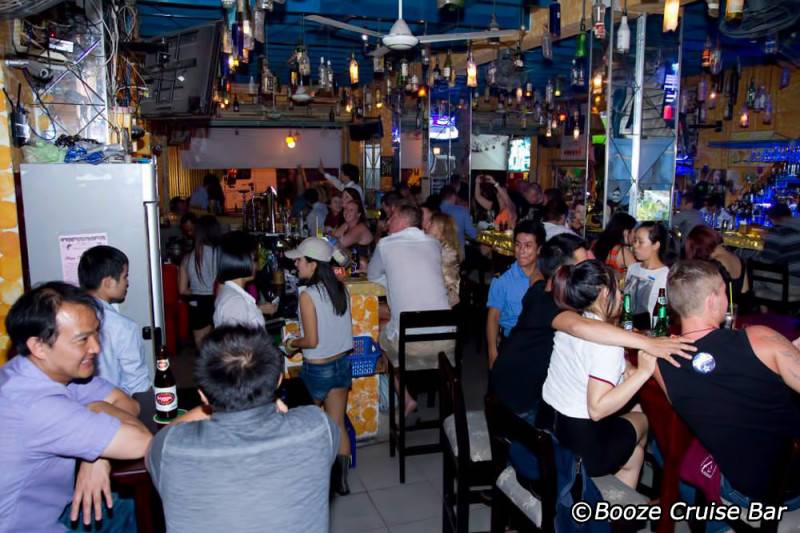 Great for catching the latest sports events from all over the world, Booze Cruise Sports Bar & Grill is popular with 20-somethings, with a very cosmopolitan feel. The bar is a 10-minute stroll from Tran Phu Beach, making it a good place for drinks and snacks after all the beachfront clubs are closed at 02:00. Open daily, Booze Cruise Sports Bar & Grill also hosts live music performances every Wednesday and Thursday at 20:00 onwards. Drinks served here include imported beers, wines and whiskies; they may not be the cheapest in town, but cocktail promos are available at two for the price of one.
Opening Hours: Daily 06:00 – 03:00Address: 110 Nguyen Thien Thuat, Nha TrangTel: +84 90 571 9519
Hum Vegetarian
Hum Vegetarian is one of the most popular stops for vegetarian food in Ho Chi Minh city.
At Hum Vegetarian, diners can find many vegetarian dishes made from mushrooms, tofu, bean, etc.
Although the ingredients are 100% veggies, the variation in choices is attractive and unique. Also, the dishes are presented quite meticulously and beautifully.
Brown rice in lotus leaf, Pineapple fried rice, and Square deep-fried spring rolls are signature dishes at Hum.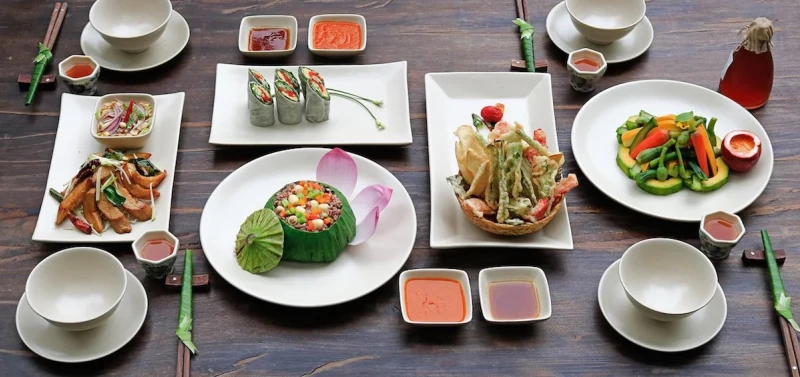 Restaurant review
Good points:
It has a bar!!!
Well-decorated and quiet space, suitable for relaxing
The service is excellent, and the staff is always willing to give recommendations
Bad points:
The price is quite high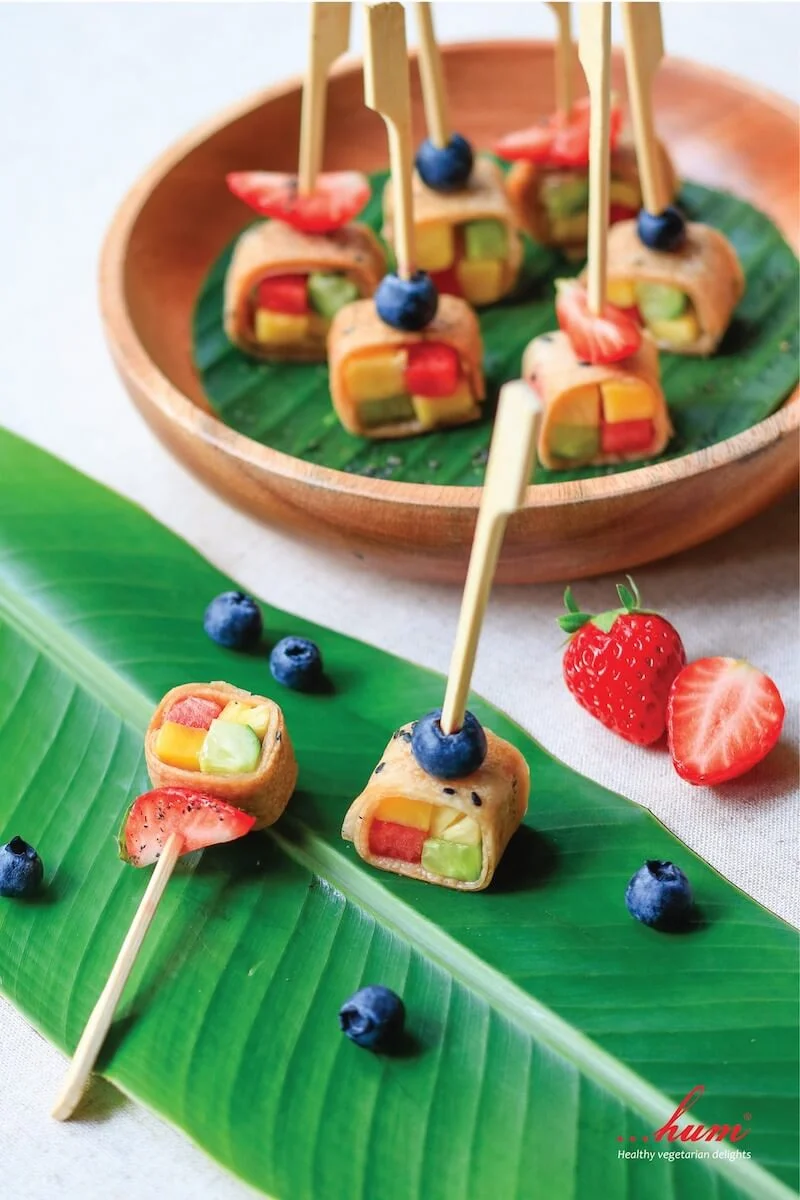 Restaurant information
Hum Vegetarian currently has 2 locations in Ho Chi Minh city.
Address:
2 Thi Sách, Bến Nghé, Quận 1, Hồ Chí Minh
32 Võ Văn Tần, Phường 6, Quận 3, Hồ Chí Minh
Opening hours: 10 am – 10 pm daily
Note:
The Thi Sach branch is more spacious, so even if you do not make a reservation, there will be a table after 5 ~ 10 minutes of waiting.
Vo Van Tan branch has a smaller space, and 50% is outdoor, so it is slightly hot in the evening, and there may be mosquitoes.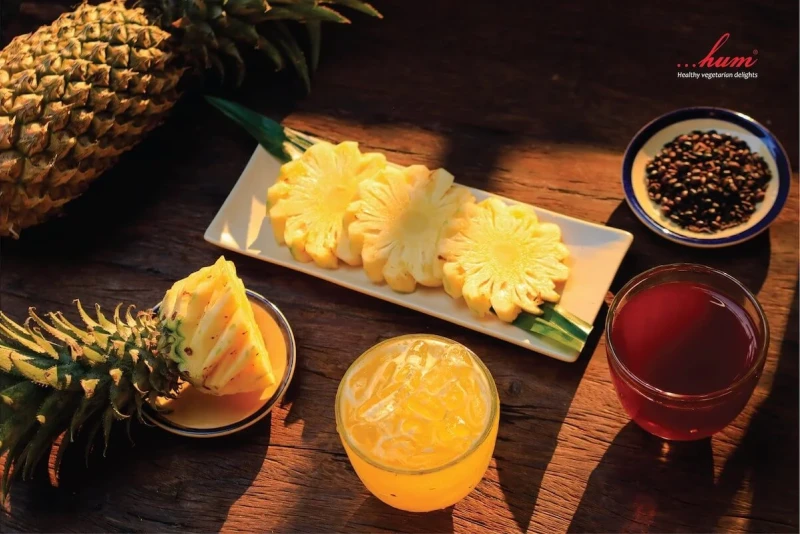 Pizza 4P's
Although Pizza 4P's is not specialized in vegetarian or vegan food, you can find excellent vegetarian options in this famous pizza chain.
Vegetarian dish suggestions
I love the Margherita pizza here. Mushroom pizza is also an excellent choice for those who love the combination of mushroom and cheese.
Cheese fondue here is a must-try too!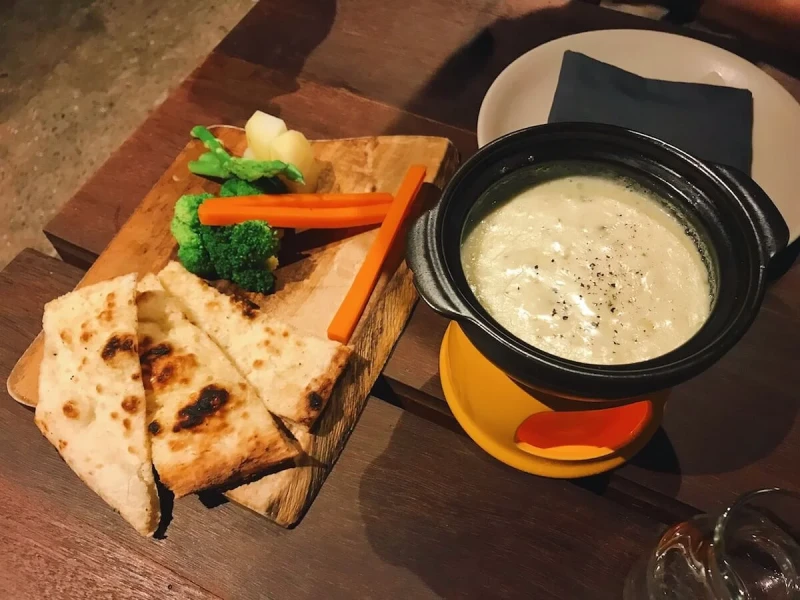 Restaurant review
Good points:
The kitchen is an open space, so customers can witness firsthand the chef's process of making a pizza.
The decoration at this pizza restaurant is high-end, with a beautiful and romantic space.
The service is professional and friendly
Note:
You will have to make a reservation before going. Phone number: 028 3622 0500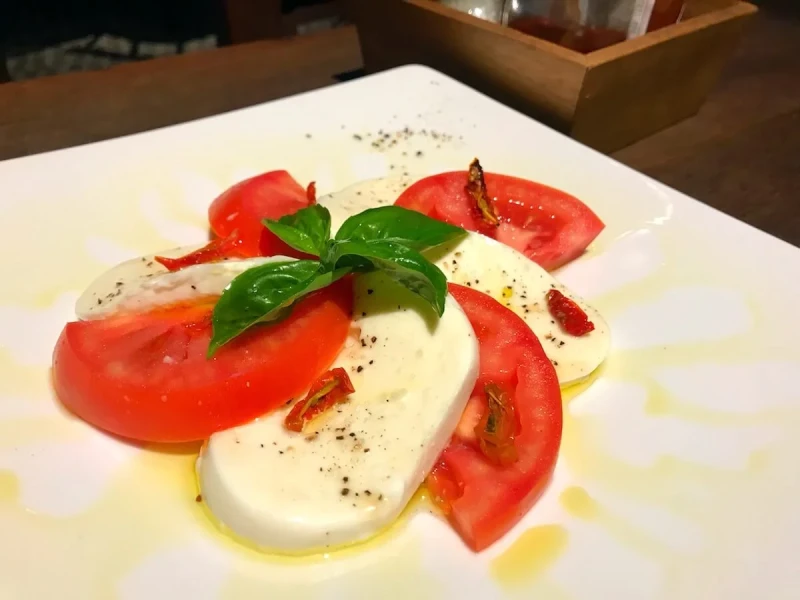 Restaurant information
The restaurant chain currently has 6 locations in Ho Chi Minh city.
a) Pizza 4P's Ben Thanh
Address: 8 Thủ Khoa Huân, Phường Bến Thành, Quận 1, Hồ Chí Minh
Opening hours:
10 am – 2 pm from Monday to Saturday
10 am – 11 pm on Sunday
b) Pizza 4P's Hai Ba Trung
Address: 151b Hai Bà Trưng, Phường 6, Quận 3, Hồ Chí Minh (You'll see a small sign saying 151b alley)
Opening hours: 10 am – 11 pm daily
c) Pizza 4P's Le Thanh Ton
Address: 8/15 Lê Thánh Tôn, Bến Nghé, Quận 1, Hồ Chí Minh
Opening hours: 10 am – 10:30 pm daily
d) Pizza 4P's Saigon Centre
Address: 01-02, 6th Floor, Saigon Centre Shopping Mall, 65 Lê Lợi, Bến Nghé, Quận 1, Hồ Chí Minh
Opening hours: 10 am – 11 pm daily
e) Pizza 4P's Vo Van Kiet
Address: 608 Võ Văn Kiệt, Cầu Kho, Quận 1, Hồ Chí Minh
Opening hours: 10 am – 11 pm daily
f) Pizza 4P's Phu My Hung
Same Same But Different Cafe
At first glance, the cafe seems completely ordinary and does not stand out among other similar institutions. But it's worth going inside, and you understand how much everything is thought out and done here with soul and love. In hot weather, guests are served a watermelon shake – it is incredibly cool and refreshing.
The room is tastefully and beautifully decorated. I would also like to say about the menu – it is printed on high-quality, good paper, there are no errors in the text, the design is nice. The cafe sounds background, unobtrusive music. Everywhere is clean, cleaned, perfect cleanliness even in the restroom.
The owner of the cafe is called Lan, a very welcoming woman, she is happy to introduce each dish, and recommends a choice. The taste, quality and design of the dishes are respectful and surprising. Serving sizes are decent. In this cafe you can relax, retire and step back from the bustle of Asian streets. It's cool and pleasant here, believe me, you won't want to leave here for a very long time.
The menu includes dishes of Vietnamese, Italian, Thai cuisines. By the way, Thai dishes are prepared excellently. Pay special attention to papaya salad and tomato soup (it is very spicy, but you can always ask to add less pepper to the dish). Be sure to order a signature fruit shake. Two soups you should definitely try are Tom Yam and Tom Ka Kai. It is very interesting to cook squid in banana leaves, and rice is served for each dish. The quality of the dishes is exclusively restaurant.
Here you can eat tightly for one person for $ 7-10.
Address: 111 Nguyen Thien Thuat, Nha Trang.
Find out RATES or book any accommodation using this form
As you can see, the cafes and restaurants of Nha Trang are diverse and authentic, as is the city itself. European and Asian cuisines are widely represented here, you can find an institution for any wallet. Relax and enjoy the richness of taste and culinary delights.
You might be wondering: what to see in Nha Trang on your own . And de Nha Trang has the best beaches – find out here .
How do the prices for local and for tourists differ, as well as some interesting nuances of living in Nha Trang – find out from the video.
Alpaca Homestyle Cafe
If Asian cuisine does not impress you, visit the Alpaca Café, which serves European dishes. It is this restaurant that opens our rating of the best restaurants in Nha Trang. A small, cozy cafe with 7-8 tables, decorated in a home style. The menu is dominated by Mediterranean cuisine, as well as many vegetarian dishes with herbs and spices. Cafe chefs are constantly experimenting, trying to make Alpaca guests enjoy the atmosphere, food and drinks.
European serving of dishes is captivating, they work on each of them, put skill and soul. An ordinary cup of tea is served with a small cupcake, which is undoubtedly pleasant. Small, but very cute handmade interior decorations give the restaurant special sophistication. It's nice to be here, eat deliciously and just relax.
The owners of the restaurant are a Russian couple who care for their business with great love. Children receive special attention – they always receive small gifts in the form of stickers, etc.
Be sure to try the latte and chocolate pancakes. The most delicious salads are Nicoise, Greek and, of course, there is great seafood that you can order fresh.
An incredibly tasty dish is bread with tomatoes and olives in a sauce, the recipe of which is kept secret.
But finding this eatery is not so simple. As a guide, you can use Lotus or the Night Market. To get inside, you need to climb the stairs.
Eating in a cafe on average will cost 500,000 VND or ($20) for two.
Alpaca works daily (except Sunday) from 8-00 to 21-00.
Address: 10 / 1B Nguyen Thien Thuat, Nha Trang.
For a detailed overview of Nha Trang read here.
The Rabbit Hole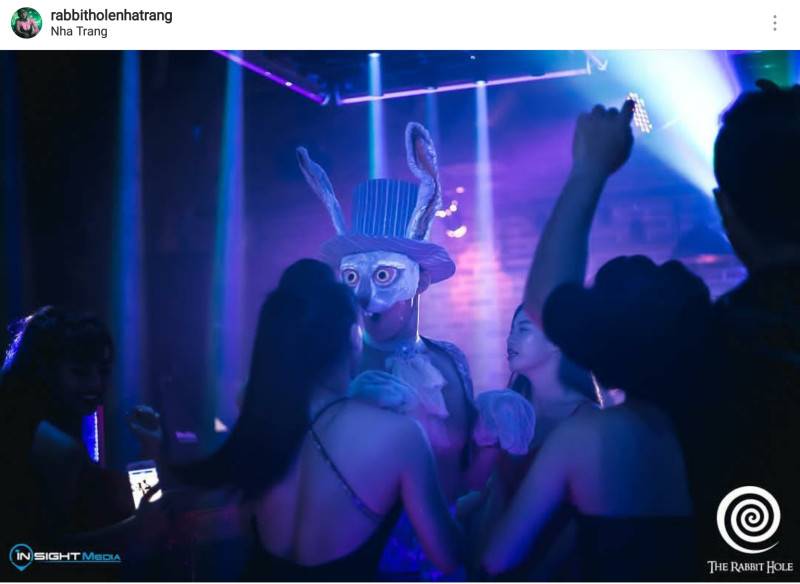 Image: @rabbitholenhatrang   Anyone looking to animal or people watch in Nha Trang, should find their way through the deep passage into the otherworldly Rabbit Hole. Fuzzy bunnies and fun fur are welcomed with open arms.  
The Rabbit Hole: For those who like to witness off the wall experiences at off the beaten path locations, hop on over to The Rabbit Hole. It's weird, it's a bazaar, it'll rival most of your Saigon adventure nights. You might see someone dressed up like a nursery rhyme character. You might see a go-go dancer who moves her feet to an entirely different beat. Or, maybe you'll feel at home at one of the best places to party in Nha Trang in this rave-like setting.
Even on a dare, The Rabbit Hole should be visited. Once you're inside, you can amp-up the dares to include "I dare you to challenge that Russian guy to a vodka-drinking contest." To slightly more risky dares like; "I dare you to ask that Russian guys' girlfriend if she's looking for a new bunny?"
Whatever happens, it's probably going to be camera worthy – don't forget to #wtfisgoingonhere – as others will need to see it to believe it. As far as Nha Trang is concerned, this is a top place to people watch the drinks are reasonably priced. Then, for those who don't have a curfew, it's one of a small number of places that's open after midnight. A morning after the Rabbit Hole will welcome a sizeable Vietnamese coffee. Just remember, whatever happens in The Rabbit Hole, stays in The Rabbit Hole.
Vibe: Indie-budget Dr. Seuss movie set, meets available basement rental suite. You'll get in so long as you're heart is beating.
Price: $$
Drink: Girls should try the cocktails on Sunday, they're free!
Greek Restaurant Pita Gr
Another popular and most visited restaurant in Nha Trang. The institution positions itself as a Greek restaurant serving Mediterranean cuisine. Great for lovers of vegetarian cuisine.
Of the nice little things I would like to note:
large portions;
friendly and quick service;
A compliment from the establishment is a small dessert.
The popularity of the restaurant is so great that a table needs to be booked in advance. In the evenings, all seats in the restaurant are occupied.
The menu is served in Russian, the hostess of the restaurant is a Russian woman who hospitably welcomes guests and is always ready to tell what choice is best to make.
Be sure to try the exclusive Pita Special cocktail. The recipe, of course, will not be told to you, this is the secret of the restaurant. Also delicious juices and seafood dishes. You are unlikely to master the incredibly tasty salad with tuna, so feel free to take what you don't eat home. Among meat dishes, you need to highlight cutlets, sausages. They are ordered with french fries (it is served generously, with a mountain). Of course, you can't go to a restaurant called Pita and not eat pita. The dish is tasty, with an original sauce and is inexpensive.
In the evenings, live music is played here – a guitarist from America. If you have a card, you can get a discount.
The price level is lower than the average in the city, eating for two will cost $ 10-15 (cheaper than in the Mix restaurant).
The restaurant is open daily from 8-00 to 23-00.
Address: 7G / 3 Hung Vuong, Nha Trang.
If you still do not know which hotel in Nha Trang is the best, check out this post.
Cheers Sports Pub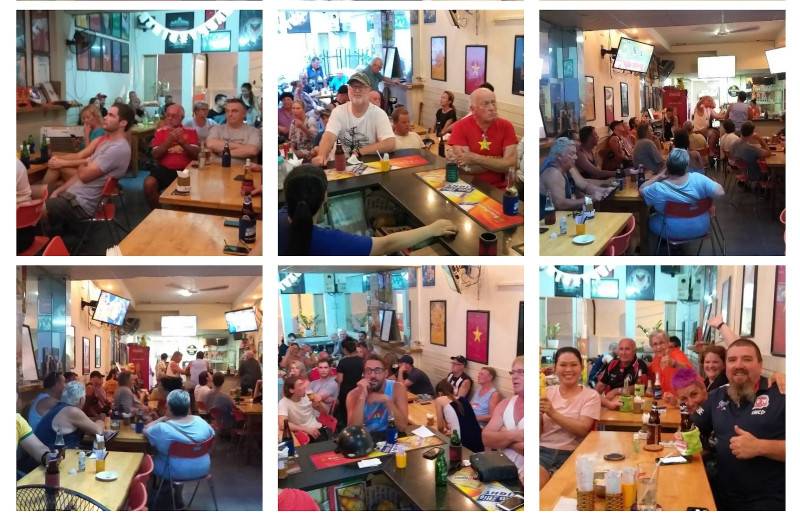 Image: Cheers Sports Pub        Aside from the fact that the price of your pint is going to be considerably less than back home. You'd have no idea you were not in your own neighbourhood.
Cheers Sports Pub: Just like "Cheers" pubs that can be found in every expat community the world over. This too will satisfy your pub food needs in a standard sports pub setting. If you've taken on one too many top party spots in Nha Trang, and just need to watch some rugby and toss back a couple of cold ones. There are enough televisions here to keep your focus bouncing from one Premier League Championship to another all at once, it's one of the top places in Nha Trang to watch sports.
    Settling down for a feed, the portions on fish & chips, bangers & mash, and their killer Sunday roast are food-coma worthy. That should help soak up the layer of flaming shooters you so proudly consumed at Sailing Club the night before.
Owned by an authentic Englishmen, you'll feel right at home here as you settle in for a night of beers and ciders with your football friends. Located right in the heart of the Nha Trang action, and stumbling distance to the beach. Park your motorbike rental at the hostel for the night and test the promise of everyone knowing your name as this home away from home.
Vibe: I think you get it. The place could not be more of an English pub.
Price: $$
Drink: If you've had it at home you can probably get it here. Newcastle anyone?
Kiwami
Kiwami Cafe serves authentic Japanese rolls prepared according to the classic recipe. The most delicious and original rolls are prepared here, as the owner of the restaurant is Japanese. Dreaming of being in an oasis of peace and quiet, the Kiwami Cafe is waiting for you. By the way, here you can observe the work of the master and see how the Japanese prepare the dish. True, for this you need to get into the cafe when there are few visitors, but it is not so simple.
To be guaranteed to get into Kiwami, book a table in advance. And remember that the portion of rolls here is huge, so do not rush to order a lot at once. Rice is almost not felt, but the taste of the fish is incredibly tasty and fresh. Any order, regardless of quantity and complexity, is served quickly. A nice bonus – green tea is served in unlimited quantities and completely free.
If you plan to order Philadelphia, be prepared for the fact that the manner of preparation and ingredients are slightly different from those used in our country. The inner filling is raw fish, the rice layer is on top, and the noria seaweed is on top, the rolls are additionally fried in batter. Shrimp Slayer rolls are also very tasty, but can be slightly islet.
The average check in a restaurant is $ 15-22.
The cafe is open daily (except Wednesday) from 17-00 to 22-00 and from 23-30 to 13-30.
Address: 136 Bach Dang St., Nha Trang.
Z-Club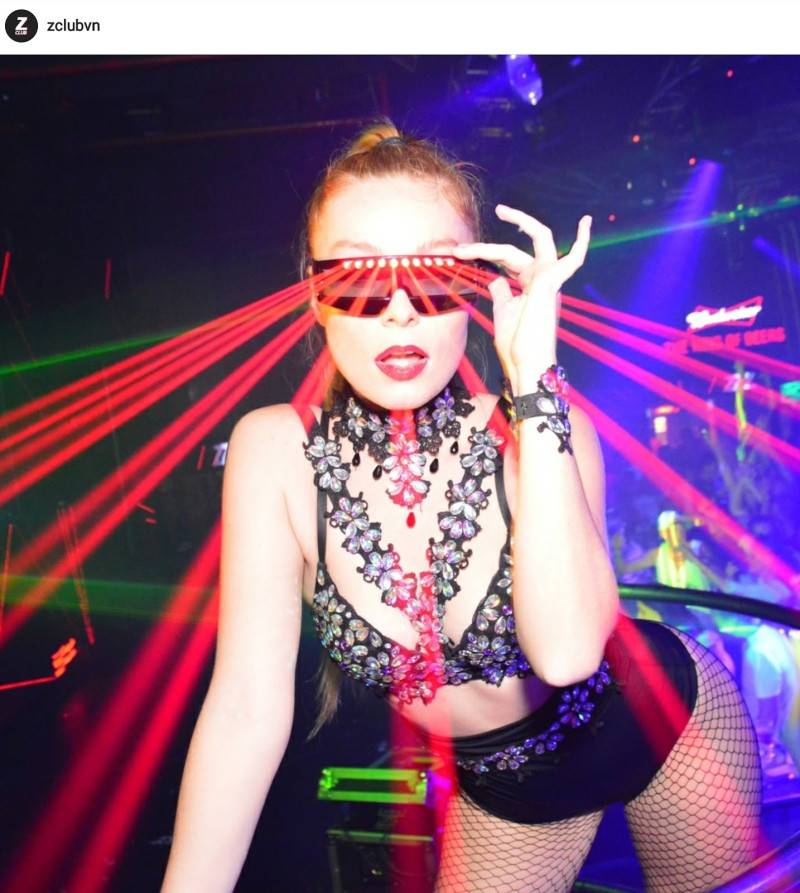 Image:@zclubvn       Z Club, the place to literally let loose and party like you've got two livers. The place isn't for amateur partiers, come prepared to have a good time!
Z Club: Those of you who have never had the opportunity to watch people get blindingly wasted to the point of talking in tongues. A variety of Russian pros smoking hookah at Z Club can check that off the list for you. Not the place you come for a casual cocktail, Z or Zima Club, pops tops until the music stops and you are sure to wind up spilling vodka on the dance floor.
    Catering heavily to the newly found wealth of post-Soviet holidaymakers looking for some Russian fun in the sun. You may wonder if you're still backpacking Vietnam or have fallen into a Ruski-vortex. Fear not, you'll also see a few locals and some other tourists here to mix and mingle with.
If you like Shisha or just want to look like you like Shisha, you can even practice your hookah smoking alongside a bottle of champagne bubbly. The 100,000vnd entrance for this stop includes a free drink. You're likely to skip the road trip to Da Nang in the morning, but you'll get there eventually.
Vibe: Casual, with sexy or Studley always earning extra points
Price: $$
Drink: Try the Boyarsky Shot. Russian vodka, grenadine & Tabasco. You won't forget it, or will you?
Skylight Rooftop Club
Contents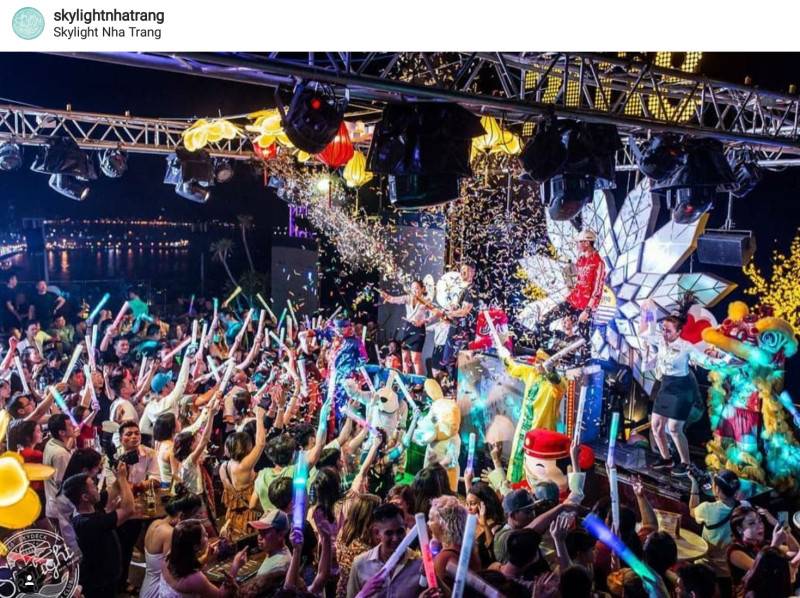 Image: @skylightnhatrang      People waving their hands in the air like they just don't care, people dressed up like cartoon characters, confetti falling into your cocktail. This is what the top places to party in Nha Trang look like when they are going off!
Skylight: If you're looking to get as high as possible when you're out partying, then this rooftop bar 43-stories in the air is the place for you. Skylight Nha Trang was one of the first rooftop club spots to open in the city, and they have been pumping up the party action with their 360o views ever since.
    The place has out of control music, exceptional party lighting, obnoxiously expensive drinks – but hey – you'll finally be able to use those studded heels or that dapper, white dress shirt you've been backpacking Vietnam with for the last 3-months. Bust out your fancy party clothes and start dropping Dong like your parents are picking up the tab, it's party night in Nha Trang
The highest restaurant in the city also has some of the dearest dining prices. Eat elsewhere then show up for drinks before 8pm and ask for a table near the window. The views here are unreal, and so are those that come here to let loose. After 8pm entrance is around 250,000vnd and includes a free drink. Park your Vietnam motorcycle rental, and come and watch the night turn from dining to dancing along with a revolving host of d.j.'s spinning tracks until midnight.
Tour the Alexandre Yersin Museum
Alexandre Yersin Museum
This museum is dedicated to Dr. Alexandre Yersin who lived from 1863 to 1943 and who was a popular scientist in Vietnam.
He founded the Pasteur Institute in 1895 and although he originally came from Switzerland, he could also speak fluent Vietnamese.
Some of the things that he did in his lifetime included bringing rubber and quinine trees to Vietnam and he also discovered the microbe that causes bubonic plague.
When you visit the museum you can tour Yerson's office and you can also see some of his laboratory equipment.
There is also a film about his life shown at the museum.
The Sailing Club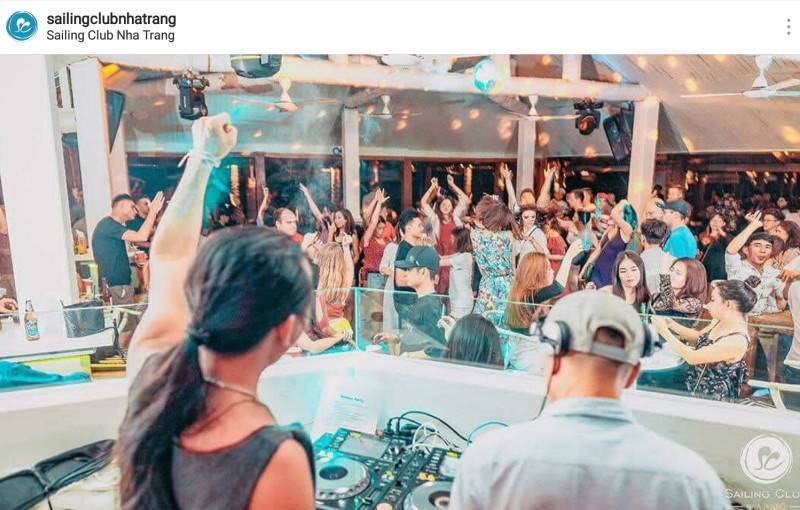 Image: @sailingclubnhatrang   The Sailing Club serves up just about every angle for Nha Trang people watching. Whether they're in smart dinner attire or dancing in the sand, you'll see it all at the Sailing Club.    
Sailing Club: Disguised as a posh eatery in the daylight, if you wait out the diners you'll find yourself setting sail for one of the best parties in central Vietnam. Come here on Saturday night to watch the sweaty dancing action kicking up sand on the beach. If the sandstorm isn't your thing, just bounce back and forth between one of their four bars for party beverages until you change your mind. One of the best places to party in Nha Trang all happens to the throbbing beats of their live d.j's.  
Anyone who hasn't made it to a Thailand full moon party yet, Sailing Club has you covered. Every month they host a Full Moon Party dubbed "Insomnia" that won't exactly leave you sleepless but does go until 2am. Add Sailing Club to your list of , and anchor yourself here for one hell of a party.
During some of their all-out party nights, you can expect live dance shows, fire displays, and a high-decibel music mix of dance, house, and EDM. The beach-side property for these parties can't be beat, but you'll pay for the luxurious location of this top place to party in Nha Trang.
Vibe: Smart casual, but less is more once the beach party begins.
Price: $$$
Drink: Try the Sailing Glow cocktail under blue light for a vibrant looking elixir.
Louisiane Brewhouse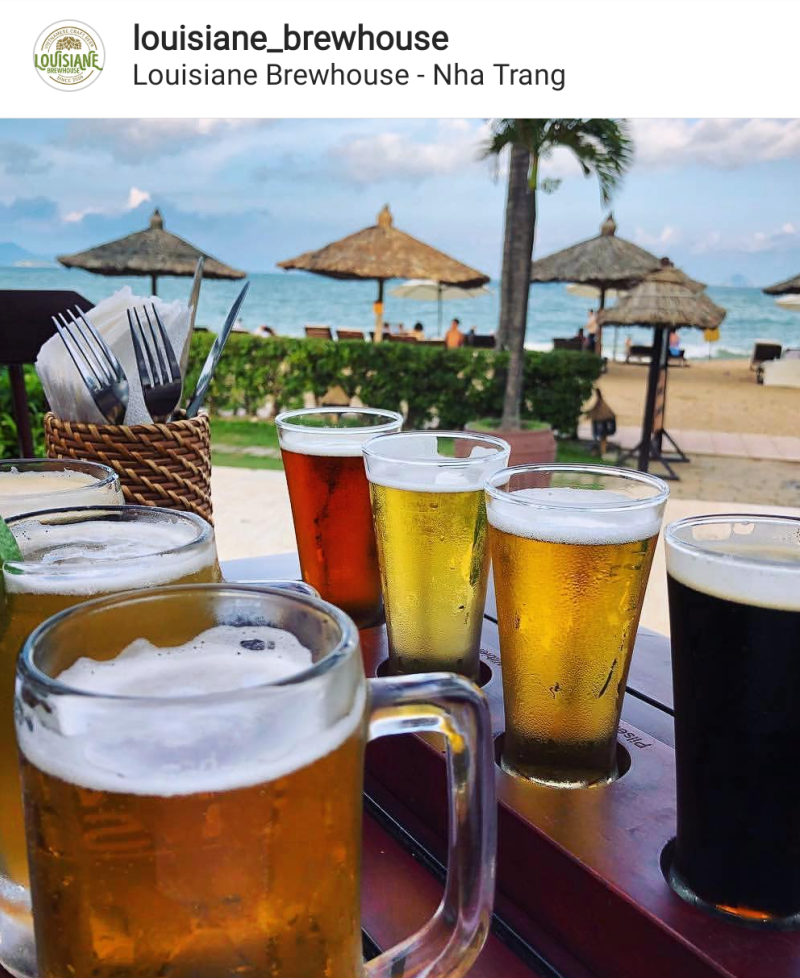 Image: @louisiane_brewhouse    This is what a vacation should look like. The beach, a cold selection of beers, and immaculate ocean as far as the eye can see. For places to people watch in Nha Trang, by the beach is one of the best.
Louisiane Brewhouse: With people playing in the pool, sunbathing on the beach, live music nightly, and the bustle of a busy brewhouse. Bookmark this spot on your Nha Trang nightlife scene map as they can fulfill your every party distraction need. Like the name might suggest, they brew their own beers, and you can sample a tasty beverage beach-side.
    Not all microbreweries are created equal though. You'll need to get good and drunk at them before offering up an opinion, or even think about reviewing the place. There might not be enough music to make you hops taste good. Maybe the server was more than funny enough to make up for a warm pint. Or maybe after an evening here, you'll forget what it was you were judging a good beer by. Was it the alcohol content? You can think about it as you fall face first into your dorm bed to the delight of 9-other travelers.
Check out the Louisiane Brewhouse after 5pm for the music. They feature Asian, Japanese and European food, with a focus on seafood. The Brewhouse makes for a comfortable spot to enjoy your Vietnamese culture trip. As well as an excellent location to plan out your future Hai Van Pass route over a few cold ones. Try the passion fruit beer for a citrus squeeze into your personal pint, then you'll have something to remember.  
Vibe: It's not fancy, but you know, maybe don't wear the stained singlet.
Price: $$$
Drink: The beer of course. A fruity melon or passion fruit beer will please your palate.
Pita Gr
Без сомнений можем рекомендовать данный ресторан нашим читателям. Заведение позиционирует себя как греческий ресторан со средиземноморской кухней. Является одним из самых любимых мест для вегетарианцев.
Посетители ресторана отмечают невероятно вкусный салат с тунцом и мясные блюда, из которых выделяют сардельки и котлеты. Среди фирменных блюд отмечают пииту и эксклюзивный коктейль «Пита спешл» (рецепт его приготовления остается в тайне).
Владельцами ресторана являются русские ребята, которые с особым радушием встречают гостей со своей родины и всегда готовы помочь им в выборе блюд.
Каждый вечер в ресторане играет американский гитарист.
Единственным недостатком заведения является его постоянная заполненность, поэтому посетить ресторан без предварительного заказа столика – проблематично.
Уровень цен ниже среднего, поесть вдвоем можно за 10-15 долларов.
Александр
(автор блога)
Мы иногда просто приезжаем заказать пииту на вынос, очень уж она вкусная.
— Александр (автор блога)
Оцените ресторан:
German restaurant Haus Bremen
It's a little strange to see a typical German restaurant in the middle of a Vietnamese city. At first glance, the prices in the restaurant seem overpriced, but the portion can be safely divided into two. Considering the peculiarities of German cuisine, meat dishes prevail in the menu and here they can cook. Especially the chefs manage to shank, meatballs, sausages and this is in one dish. Garnish with mashed potatoes, pickled cabbage and real, homemade bread. The perfect complement to the main course is a sparing mustard. Unfiltered German beer will be a pleasant addition, it is served in bottles, glasses will have to be requested additionally.
The owner of the establishment is from Bremen, personally meets guests and controls the quality of the prepared dishes. If it happens that you can't eat the whole portion (and this is quite likely), you can always take the food with you, the cafe staff will pack it in boxes.
What else can you eat in the restaurant – breaded chicken, Bavarian sausages, fresh tomatoes and cucumbers under a special, branded seasoning. Delicious cocktails will be prepared for children.
Eating in a restaurant will cost an average of $ 20 to $ 25 for two with drinks.
The restaurant is open daily (except Wednesday) from 12-00 to 23-00.
Address: 24 / 9C Hung Vuong, Nha Trang.
Pham Hong Phuoc Vegan Restaurant
Pham Hong Phuoc Vegan Restaurant is another vegetarian restaurant that I'd like to introduce to this list.
This restaurant is decorated with images of Buddha and a few paintings, bringing comfort to the guests. The wooden tables and chairs are quite eye-catching from the first time you set foot in the shop.
Restaurant review
Bad points:
The restaurant is quite small
The service sometimes is not good and quite slow
Cost: ~ 30,000 VND per dish
Address:
The restaurant has 2 locations:
146/1 Võ Thị Sáu, Phường 8, Quận 3, Hồ Chí Minh. Opening hours: 9 am to 2 pm, 3:30 pm to 8 pm
140 Trường Sa, Phường 15, Bình Thạnh, Hồ Chí Minh. Opening hours: 6 am to 9 pm