Scene
Sleek and modern boutique luxury resort with traditional Balinese-inspired style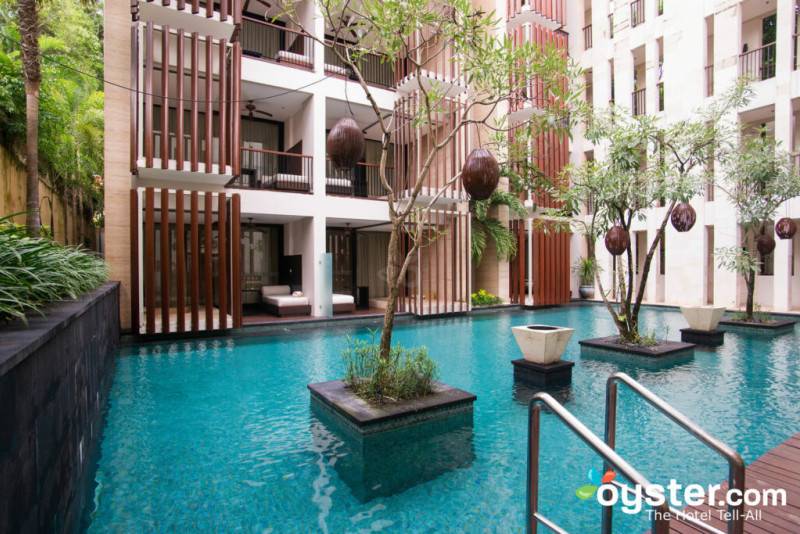 The Anantara Seminyak Resort & Spa is one of Bali's most luxurious resorts, and one of the top places to stay in Seminyak. Located right on the beach –with panoramic ocean views from many rooms, both restaurants, and the infinity pool — the hotel feels simultaneously modern and traditionally Balinese in its sleek, Zen-inspired style with clean lines and natural materials. The airy lobby sets the tone in its spare style and open-plan setup, with polished light wood floors, striped sofas, natural wood beams, and individual wooden check-in desks. Free newspapers are available in the lobby, and the open-air hallways throughout the grounds are decorated with greenery and water features.
MoonLite Kitchen and Bar, the rooftop restaurant and bar, is decorated in an industrial style, with a long wooden bar, black leather armchairs, concrete floors, and metal beams; its open-air deck area overlooks the ocean. The bar is one of Seminyak's hottest nightlife spots. Wild Orchid, the poolside restaurant, also features panoramic ocean views and is done up in a polished take on more traditional Balinese style, with dark wood-beamed ceilings, light wood floors, tan leather couches, brown leather armchairs, and a large open-air patio overlooking the pool. The rooftop Anantara Spa is similarly elegant and Asian-inflected, with tropical flowers, wicker chairs, and wooden floors and accents.
This hotel has two outdoor pools, one infinity-edged and overlooking the ocean, lined with a dark wooden deck and plenty of padded wicker lounge chairs; the smaller courtyard pool is flanked by suites' private terraces, tropical greenery, and a handful of umbrella-shaded loungers.
Bottom Line
The 60-room Anantara Seminyak Resort & Spa, Bali, is a luxury boutique resort located right on picturesque Seminyak Beach. The all-suites accommodations have a clean-lined, Zen-inspired aesthetic that underscores the decadent amenities like iPod docks, espresso machines, and walk-in rainfall showers. The hotel has two pools — one infinity-edge, overlooking the beach and the ocean; the other, surrounded by a lush, serene courtyard. Two acclaimed Thai-Indonesian restaurants include a rooftop that's one of Seminyak's coolest nightlife spots. Anantara Spa is one of the island's most decadent spas, offering a full range of beauty and wellness treatments. Free Wi-Fi, bicycles to borrow, and an area shopping shuttle are available, and both room service and the business center are available 24-hours a day. If there's a downside to this resort, it's that the rooftop can be buzzy late into the night, which can bother those trying to sleep on higher floors.
Overview
Anantara Seminyak Bali Resort is a 5-star resort located in close proximity to the Seminyak Beach and offers stunning views of the Indian Ocean. This boutique style resort is ideal for people looking forward to a relaxing and rejuvenating vacation in the midst of nature. Anantara Seminyak Resort & Spa is perfect for honeymooners, couples as well as families. One can revitalize senses by taking a plunge into the infinity-edge pool or grab refreshing cocktails at the rooftop lounge facility. Treat the mind, body, and spirit by indulging in signature spa treatments and Kerokan therapy. This elegant resort is a treat for sore eyes as it is tastefully designed and is a perfect balance of modern trend and traditional style. Travelers can de-stress by opting for a personal wellness programme offered by the resort. For all the fitness freaks, the resort features a well-equipped fitness center.
Location of Anantara Resort Seminyak
The exquisite property is located at a convenient distance of 30 minutes from Ngurah Rai International Airport. It's location is quite convenient with access to plenty or tourist hubs and dining venues. The Kuta shopping center is a short 20-minute drive from the resort. One can also visit the Seminyak Square Shopping Mall which is situated 900 meters from the property. For those interested in dining out, Ultimo Restaurant is a wonderful dining space 1 km from the resort that offers delectable meals and drinks. Various beach clubs and shopping areas are located within a 5 km radius of Anantara Resort making it an entertainment hub in the city.
Услуги отеля
| | |
| --- | --- |
| Деловой Центр (Business Center) | Обслуживание номеров (Room Service) |
| Высокоскоростной интернет (High-speed Internet) | Гимнастический зал (Fitness Room/Gym) |
| Ресторан (Restaurant) | Парковка (Parking) |
| Плавательный бассейн (Swimming pool) | Трансфер из аэропорта (Airport shuttle) |
| Оборудование для инвалидов (Disabled Access) | Консьерж (Concierge) |
| Услуги по парковке машин (Valet Parking) | Экскурсионное бюро (Tour Desk) |
| Массаж / Салон красоты (Massage / Beauty Centre) | Лифт (Elevator / Lift) |
| Круглосуточная работа рецепции (24 Hour Reception) | Химчистка (Dry Cleaning) |
| Няня / Услуги для детей (Babysitting / Child Services) | Кондиционер (Air Conditioned) |
| Комнаты для некурящих (Non-Smoking Rooms) | Уборка помещений (Housekeeping) |
| Банкетный зал (Banquet Facilities) | Конференц-центр (Conference Room(s)) |
| Обмен валют (Currency Exchange) | Медицинская помощь (Medical Assistance Available) |
| Многоязычный персонал (Multilingual Staff) | Сейф (Safe-Deposit Box) |
| Мини-бар (Mini Bar) | Холодильник (Refrigerator) |
| Кабельное / Спутниковое ТВ (Cable / Satellite TV) | Ванна / Горячая ванна (Bath / Hot Tub) |
| Утренний звонок, побудка (Wake-up Service) | Конференц-залы (Meeting Rooms) |
| Кофеварка / Чайник (Coffee / Tea Maker) | Фен для волос (Hair Dryer) |
| Бесплатные туалетные принадлежности (Complimentary Toiletries) | ТВ (TV) |
| CD-плейер (CD Player) | DVD-плейер (DVD Player) |
| Собственный пляж (Private beach) | Услуги прачечной (Laundry service) |
| Спа / Джакузи (Spa bath / Jacuzzi) | Прокат велосипедов (Bicycle Rental) |
| Магазины (Shops) | Сад (Garden) |
| Пляж (прямой доступ) (Beach (Direct Access)) | Верховая езда (Horse Riding) |
| Компьютер (Computer) | Ксерокс (Photocopier) |
| Письменный стол (Desk) | Прямой телефон (Direct dial phone) |
| Услуги по продаже билетов (Ticket Service) | Факсимиле (Facsimile) |
| Аудио / Видео оборудование (Audio/Visual Equipment) | Доступ для инвалидных колясок (Wheel Chair Access) |
| Тренажерный зал (Fitness Facilities) | Джакузи (Jacuzzi) |
| Массаж (Massage) | Спа и оздоровительный центр (Spa & Wellness Centre) |
| Процедуры для тела (Body Treatments) | Уход за лицом (Facial Treatments) |
| Беспроводное интернет соединение (Internet Connection (wireless)) | Халаты (Bathrobes) |
| Полотенца (Towels) | Душ (Shower) |
| Открытый бассейн (Pool Outdoor) | Детская кроватка (Cots) |
| Завтрак в номер (Breakfast in the Room) | Камера хранения багажа (Luggage Storage) |
| Места для курения (Designated Smoking Area) | Магазины в отеле (Shops in Hotel) |
| Сувениры / Магазин подарков (Souvenirs/Gift Shop) | Ускоренная регистрация (Express Check-In/Check-Out) |
| Бесплатная парковка (Free Parking) | Вызов врача (Doctor on call) |
Rooms & Room Types at Anantara Resort Seminyak
Anantara Seminyak Bali Resort offers a variety of accommodation options to its guests. In total, there are 59 rooms available, which are categorized as Anantara Suites, Anantara Pool Access Suites, Anantara Ocean Suites, Seminyak Suites, Seminyak Ocean Suites, in addition to 1 Penthouse. All the accommodation options feature contemporary decor and are elegantly designed. In addition, guests can avail free Wi-Fi facility within the premises. Some of these spacious suites feature a private terrace or balcony, while some offer sweeping views of the sea and sunset. The Penthouse, which is designed in rooftop style, features a stunning infinity pool wherein guests can relax and enjoy spectacular panoramas. Anantara Seminyak bookings must be made well in advance so that guests can avoid any last minute hassles regarding accommodation preferences.
Summary
For all those who want a break from the everyday hustle and bustle, Anantara Seminyak Bali Resort is a perfect place to plan a vacation. Situated in the midst of nature, the resort refreshes mind, body, and spirit. Travelers can experience world-class services and facilities at the property. Its location near various must-visit places in Bali makes it a favorable destination for those who simply love to explore. The resort, which is a perfect blend of luxury, comfort, and simplicity, offers a fine-dining and gastronomic experience to its guests. One can savor a variety of delectable cuisines or sip refreshing beverages at the roof-top lounge. The Anantara Seminyak takes care of every small detail, thereby making its guests feel extremely comfortable and relaxed. The calm waters of the infinity-edge pool are a sure-shot method to refresh one's senses. In addition, the resort offers stylish rooms, wherein the guests can unwind following a tiresome day. All these features make this resort an idyllic place for a holistic experience in the lap of nature. Anantara Seminyak reviews also praise the hotel for it's convenient location and state of the art amenities, making it a great choice of stay in Bali.
Dining & Cuisine at Anantara Resort Seminyak
Anantara Seminyak Bali Resort boasts of a multitude of dining options to cater to different tastes and preferences of its guests. One can savor scrumptious dishes or sip refreshing drinks at the on-site restaurants and bars. Guests can enjoy delectable Asian dishes at the Moonlight Kitchen and Bar while enjoying the picturesque views of the sea. They can also sip refreshing drinks at the lounge bar while listening to the foot-tapping beats of the DJ. Enjoy the breathtaking views of ocean sunsets and relish a variety of delectable international dishes. Additionally, cool down with a wide range of exotic drinks at the S.O.S Restaurant.
Read More