Other Things to See and Do at Sun World Ba Na Hills
To my surprise, there are many things to see and do at Sun World Ba Na Hills that have nothing to do with the Golden Bridge.
French village
This is almost as impressive as the Golden Bridge, and one of the most authentic French village imitations I've ever seen. There's even a cathedral inside that is every bit as realistic as one in Europe!
You can get a drink at Starbucks and kick back with views of this adorable area when you need a break from seeing the park. There are also many dining options, but none I saw were suitable for vegans. I was glad I brought a banh mi and ate it before entering the park!
Arcade
It was like I traveled 10 years back in time, to middle school arcades and the county fair. In the arcade area of Sun World Ba Na Hills, you can ride bumper cars, soar in the swings, and play arcade games until you drop!
My personal favorite is the dragon sculpture with a disco ball in its mouth. You're guaranteed not to find that anywhere else!
Buddha temple
Not long after exploring the Golden Bridge, I wandered through the winding pathways of the park and ended up at a temple with a large Buddha statue. Along the way, there are dragon statues, gardens, and a gateway with a view of the mountains below. There are also stairs that lead down to a viewpoint of the mountain range in front of the Buddha.
For stunning views and some pristine photos, this is a wonderful place to stop!
Flower festival
I lucked out by visiting the park during its flower festival, which I didn't even know about before! You name it — they had it. Tulips of every vibrant color, delicate roses, plum petaled beauties, and flowers whose names I've never heard of.
For a flower fanatic like me, this was a little slice of heaven in the middle of Vietnam.
Where to Stay Near Golden Bridge
Grandvrio City DanangGrandvrio City Danang is a great option for a night or two in Da Nang. It's located near the city center and is within walking distance of cafes and restaurants. The accommodations are clean, simple, and relatively inexpensive. The hotel staff is also very friendly and helpful.
Hotel Royal Hoi AnHotel Royal Hoi An is a favorite of mine. It's perfect if you're basing yourself in Hoi An. The luxurious hotel has river views and is just a short walk to Hoi An ancient town. Hotel Royal has two beautiful pool areas, a cafe, and a restaurant on-site. The Sofitel-owned hotel would probably be very expensive in many countries but is actually pretty reasonably priced in Vietnam.
Mercure Danang French Village Bana HillsMercure Danang French Village is a French replica village done in a Neo-gothic style. The village is part of Sun World and is situated in the mountains of Ba Na Hills. Cable cars are taken to reach the hotel and it can be a fun experience if you want to spend some time at the amusement park. It's also a great option if you want to be the first to arrive at Golden Bridge in the morning. It is, however, somewhat overpriced in my opinion.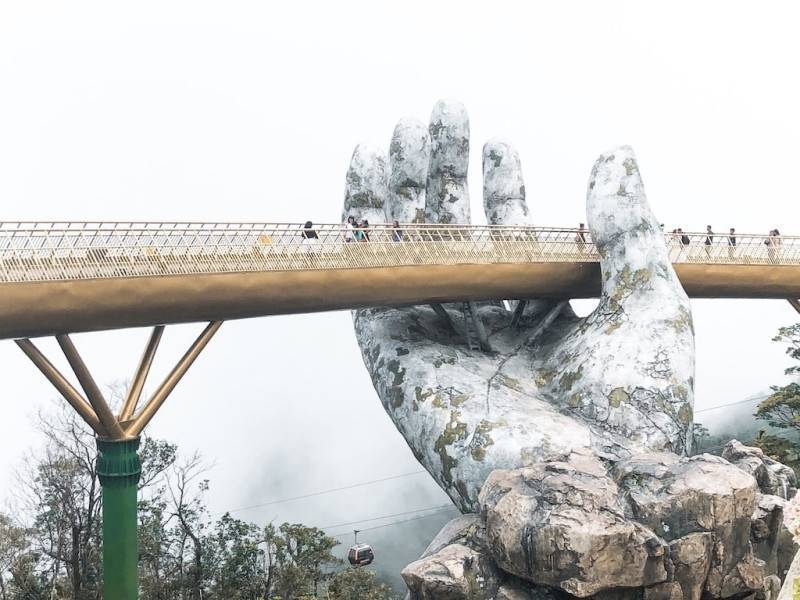 Drive the Hai Van Pass to Lang Co Beach
The Hai Van Pass is one of Vietnam's most famous — and most thrilling — roads. It's often taken as a scenic route when traveling between Da Nang and Hue, to the north. But if Hue is not on your agenda, the pass makes for a wonderful day trip. Use the picturesque Lang Co Beach as your final destination.
The pass itself is steeped in history, once dividing the Cham Kingdom from the Dai Viet — major empires that ruled over much of central and south Vietnam. At the top of the pass, you can stop to take in the panorama. Here, you'll be standing right on the site of a former military base, used during the American War.
Your destination of Lang Co Beach not only offers some of the most beautiful sands to be found in Vietnam, but you can also take a hike to Elephant Falls. A forest walk with some scrambling on rocks, the path opens up with a host of pools in which to bathe. Even in the hottest weather, the water remains cool!
Distance from Da Nang: 40 kilometers
Opening hours: 24 hours
Address: Lang Co, Phu Loc, Thua Thien, Hue
We hope we've inspired you to take some day trips from Da Nang! If you've got a few extra days to spend in Central Vietnam, don't miss our perfect travel itinerary for Hue to keep you inspired.
About TourHero
The suggested route around Sun World Ba Na Hills resort
Arrive & purchase your tickets
When you arrive at the resort you will need to park your bike or car, and then walk across the car park. Before entering the cable car, you will need to purchase your entrance ticket from the ticket office. We arrived at 7:30 am during Vietnam's busiest holiday (Tet) and we managed to get tickets easily without any waiting.
Cable car & Golden Hand Bridge
Similar to the cable car at Tianmen Mountain in China, the cable car at Ba Na Hills is one of the longest cable car rides in the entire world! The ride easily takes 20 minutes to reach the top. There are 5 cable car routes to choose from. Depending on which cable car you choose, you will end disembark at different sections of the park. If you arrive early in the morning, we recommend taking the cable car that leads out onto the Golden Hand Bridge. It's the perfect spot to start the day; catch the sunrise on an almost empty bridge, whilst snapping away at the Insta famous attraction that overlooks the lush green mountainous area.
Feel magical walking around the French Village
Next up, head to the French Village to wander around the French-inspired town. Walking around the area will make you feel like you're in a completely different country or even world! It kind of reminded us of a Harry Potter movie, with the stone Gothic architecture and buildings that resemble minarets.
Relax in the spiritual zone
After walking through the French Village, you will come to a cute little zen zone, dotted with pagodas and temples. It's a lovely place to relax and get some peace a quiet.
Whiz around on the Toboggan
After some relaxing time in the spiritual zone, it's time for some fun. Head back to the French Village and hop on the toboggan to whizz through the twisting tracks. The toboggan is FREE, as it is included with your entrance ticket. The best bit…you can ride as many times as you wish!
Tuck into some delicious food
By now you're probably feeling a little hungry. There are many restaurants to choose from around the French Village. All of them are roughly the same price for the same type of food. We opted for chicken and chips with an extra-large beer, which cost us a little under $8. If you don't fancy chicken and chips, there are plenty of Russian grills to choose from too.
Be a kid again at Fantasy Park (amusement zone)
After food, it's time for more fun! Head into the 3-story amusement to fill your boots with all types of games; computer games, dance games, and more. It's a gamer's paradise down there! Fancy a shooting game? Or a car game? Or even a boogie on the interactive dance floor? There is plenty of choice for all kinds of personalities. You could spend hours playing games and experiencing the 4D and 5D cinemas.
Le Jardin d'Amour – Flower gardens
Finally, after the entertainment and fun, it's time to unwind before heading home. Jump on the funicular to the flower gardens. There are many beautiful gardens and seating areas for you to enjoy the gardens and relax. Wander around and take in nature!
Head home
A day out at Sun World Ba Na Hills Resort can take anywhere from 4 to 8 hours. We went at quite a slow pace, took our time taking photos, played plenty of games, and relaxed in the restaurants and gardens. We arrived at Ba Na Hill at 8 am and didn't leave until 4 pm. After such a long day, we were ready to hop back on our bike and head back to Danang City.
2. Walk along the Golden Bridge.
Who knew that the Golden Bridge would boost tourism to this place? It opened in June 2018 and is located at an altitude of 1,414 meters (4,639 feet). The Golden Bridge is easy to spot when you exit the station as there are two large stone hands holding the bridge right in front of you. The background of the stunning mountain landscape makes this an extra special place.
What surprised us during our visit was that the bridge wasn't that long. If you didn't stop by to take photos, it would take about 2 minutes to walk across. 
Tip: Since the bridge is a popular spot, you'll need to be patient with taking photos at the right time. Stay assertive with your photo spot as groups of people will cut without knowing that you're waiting or photobomb. You may have a few wedding photographers asking you to move. Otherwise, visiting early in the morning or late afternoon will have fewer crowds in your photo. 
While we've heard that people would visit the Golden Bridge and immediately leave, we think the other parts of the theme park is well worth the visit.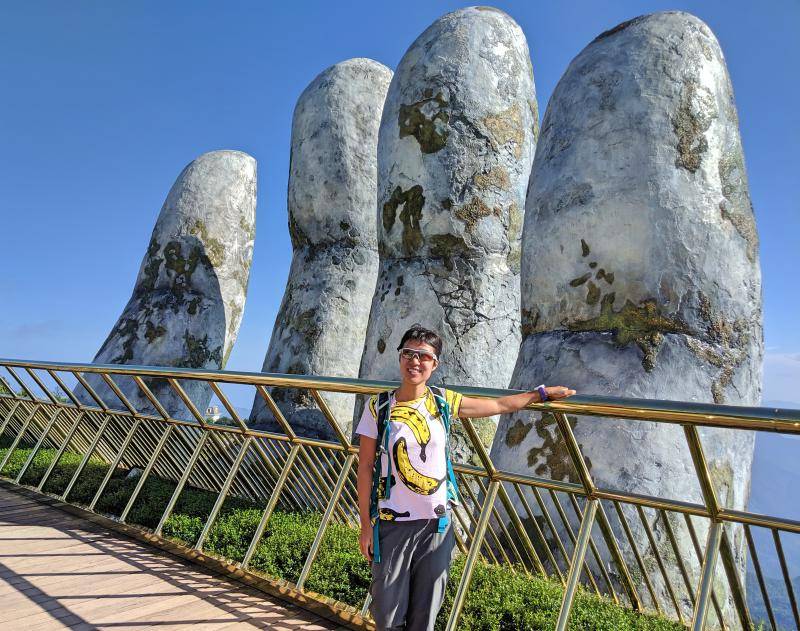 Going banana at Ba Na Hills! Get the joke?
3. Take photos of everything.

Sun World Ba Na Hills did an excellent job creating lots of picturesque spots. Once you leave the Golden Bridge, there are playful statues (more like the hands and heads popping out from the ground), painted staircases, and beautiful flowers everywhere. Around the Le Jardin d'Amour Flower Garden entrance, you can pose with an adorable cable car topiary. 
II. Golden Bridge Danang appeals to tons of tourists
Golden Bridge Danang has been designed by TA Landscape Architecture  and is completed within a year. Danang is no stranger to the world when it comes to unique bridge designs such as the Han River bridge, which is Vietnam's first swing bridge; the Dragon Bridge that breathes water and fire on every Saturday and Sunday night or Thuan Phuoc bridge which is the country's longest suspension one. Therefore, it wouldprobably be no surprise when Danang is gifted with a new bridge. However, with the combination of unique design and poetic scenery around, two gigantic stone hands holding the Golden Bridge actually wonderstruck the entire world at the first sight and you may not stop uttering " Wow, amazing!".
The Golden Bridge Danang has been built at over 1400 meters above sea level, with a total length of 148.6 meters, and was divided into eight spans, of which the longest span was 21.2 meters. As a walking bridge, the Danang Golden Bridge possesses a 3-meter spherical surface with a spherical timber material of 5 cm thick that allows you to play and dance. The special name of the bridge has been derived  from its guardrails painted in shimmering gold.
Golden Bridge Danang is a footbridge that seems to be lifted by two huge hands of god. It is firmly made from two giant mossy stones which have been shaped as hands. This abstract design makes the bridge match the theme of the scenery around. Furthermore, thanks to its great height, Danang Golden Bridge is like a silk crossing the sky to help to touch the flying clouds. Located amid the picturesque backdrop of Sunworld Ba Na Hills Danang, the Golden Hand Bridge Danang evokes a sense of  walking down the mesmerizing way of paradise. No matter how people imagine about this bridge, it is undeniable that Golden Bridge is one of the most spectacula rand magnificent sites to visit in Vietnam.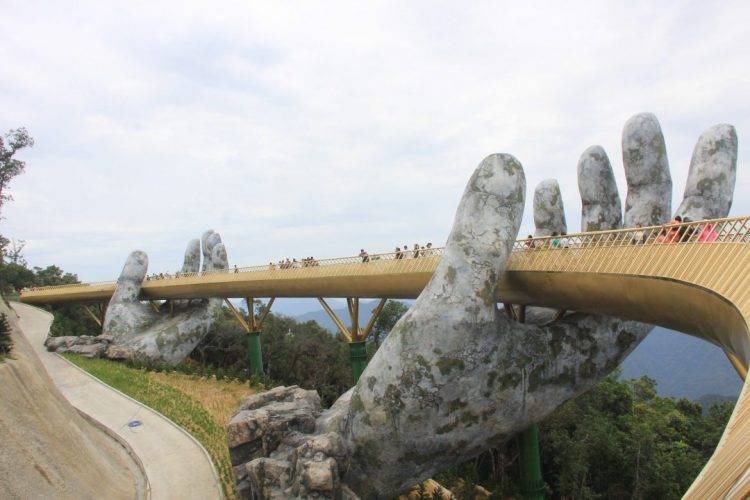 Source: vietnammoi.vn
Suggested Schedule Options When It Comes To Bana Hill And The Golden Bridge
More than just a recreational center, Bana Hill Complex is home to a top star hotel brand which is Mercure Danang French Village, a luxurious accommodation modeling after authentic villages of France during the 19th century. This gives you two options to fully discover Bana Hill: a day tour and an overnight trip.
We will look at the details of each choice and meticulously discuss about both options.
Explore Bana Hill Within One Day
Your trip fbegins with a car transfer to the cable car station operating from 7 AM to 10 PM everyday. So, the earlier you go, the more you can visit. The most ideal schedule is you wander around Bana Hill, joining in most of the games you would like to play in the morning. Then having a buffet lunch with a tranquil cup of coffee in the French village before traveling back to Danang downtown in the afternoon.
The biggest merit is you can take advantage of the sparse tourist population in the morning, avoiding all the waiting or lining up. Your photos are also far more perfect as there is no much human disturbance. In addition, you can spend the rest of your day discovering other tourist attraction in Danang, tasting many other local dishes which are not featured in the French village of Bana Hill.
The downside of this option is it may be a little to rush for you if you desire to try everything within the playing complex. Especially when you are traveling with kids.
Get The Real Vibe Of Ba Na In An Overnight Trip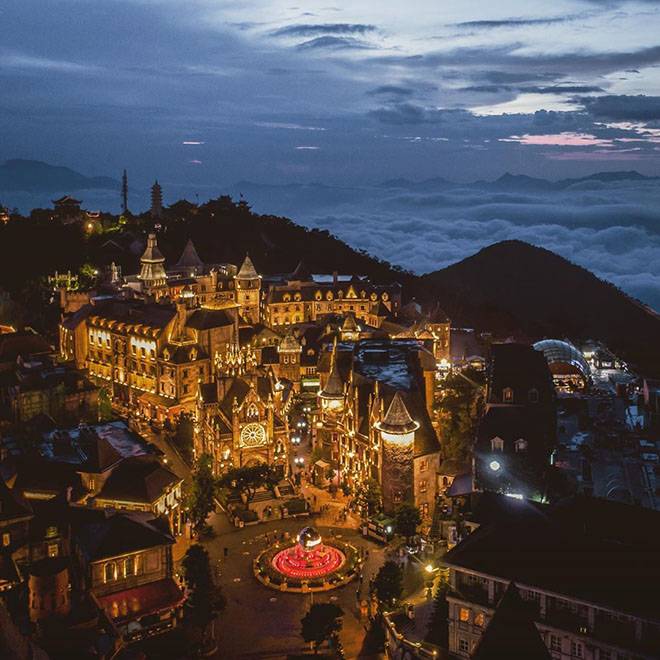 Bana Hill by night. Photo by @songwit_photographer
If you love the serenity, you should properly spend a night in the Mercure French Village. When the sun begins to set, most of the tourist will travel back the city center. Leaving the whole dynamic area a deserted place with only a few guests left and the employees of the Mercure Resort. The French village puts on its genuine clothes, which is quiet and calm.
This is exactly what you need when you are struggling with all the hustle and bustle in daily routines. A chilling night out in a picturesque and ancient place will breathe a new life to your soul, refreshing your mind and releasing all your tension.
Still, if you are very energetic, you want to emerge in vivid nightlife, it can be boring to stay overnight in the Mercure French Village. There are not many things to do besides wandering around abandoned stone streets. 

Experience with us: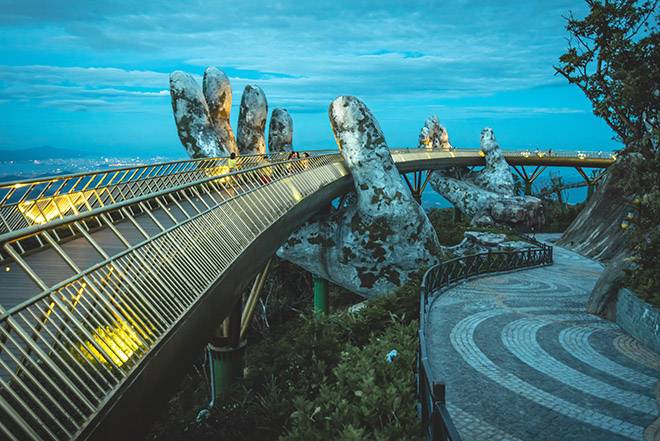 This 4-day tour will offer you to the most famous highlights in the Central Vietnam. You enjoy the beautiful My Khe beach in Danang city, which is one of the most famous one in the world and spend time enjoying the atmosphere of Hoi An ancient town. Especially, it offers you a day to Bana hills, where you take a long journy on cable car. Definitely, walking along Golden Bridge around this Bana area will be a wonderful experience that you never forget after the trip.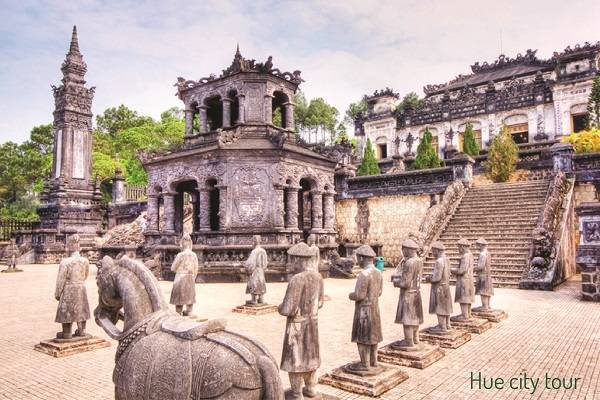 Devote yourself to the highlight of the tour — the half-day experience at traditional handicraft village in Hoi an. Enjoy breathtaking mountainous scenery and historical sites in the way from Hoi An to Hue, taste the exquisite life style by wondering in beautiful town, along Dong Ba rivers. Finish this comprehensive Vietnam journey by immersing yourself into the glory history and stories of imperial family in a historic citadel.
What is Sun World Ba Na Hills Exactly?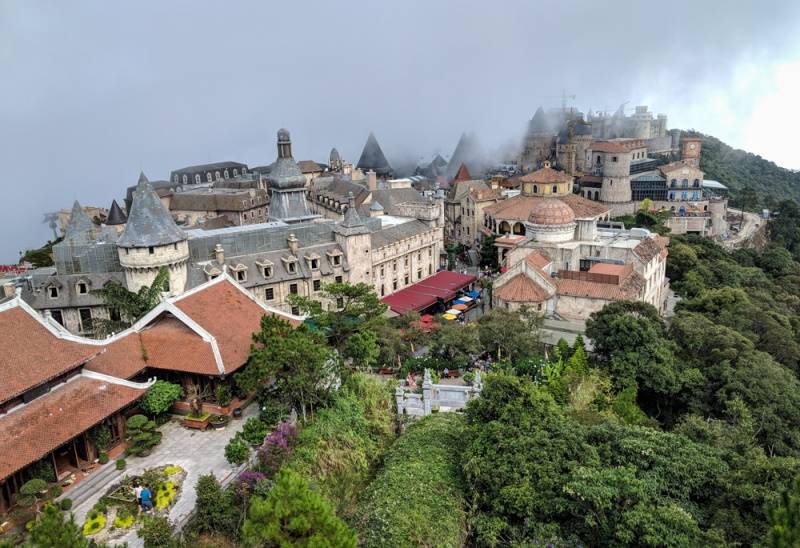 Sun World Ba Na Hills is a little difficult to explain. It's a theme park, a bit like Disney's Epcot, but way more confusing and strange. The park sits at the top of a mountain and you'll need to take a cable car (or two) to get there.
There are several different areas of the park. You can explore a French chateau with a wine cellar and a garden (these are an extra fee to enter), then wander through a French town with gothic-style architecture, complete with a large cathedral.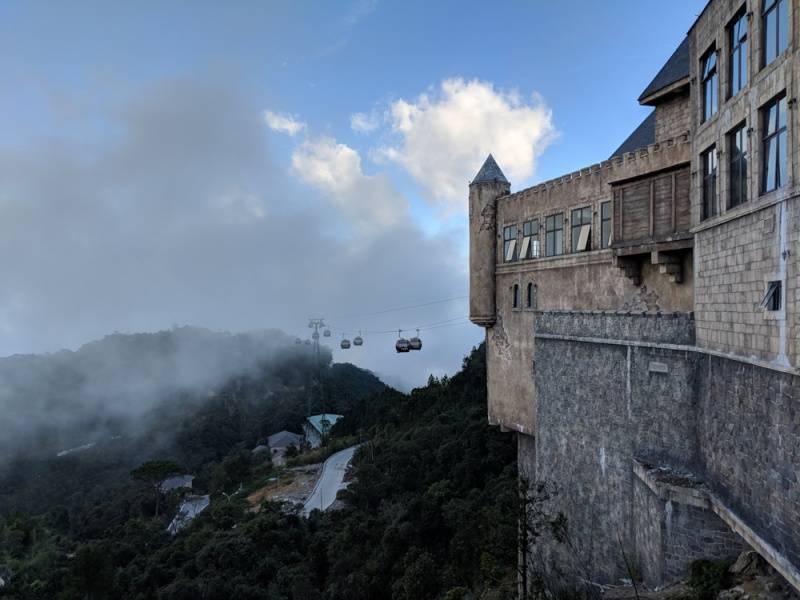 There's a "spiritual zone" area with pagodas and Buddhas for worship. There's a massive beer garden and a Fantasy Park filled with video games and roller coasters. And foreigners are employed all over the park so that Vietnamese tourists can get their photos taken with them.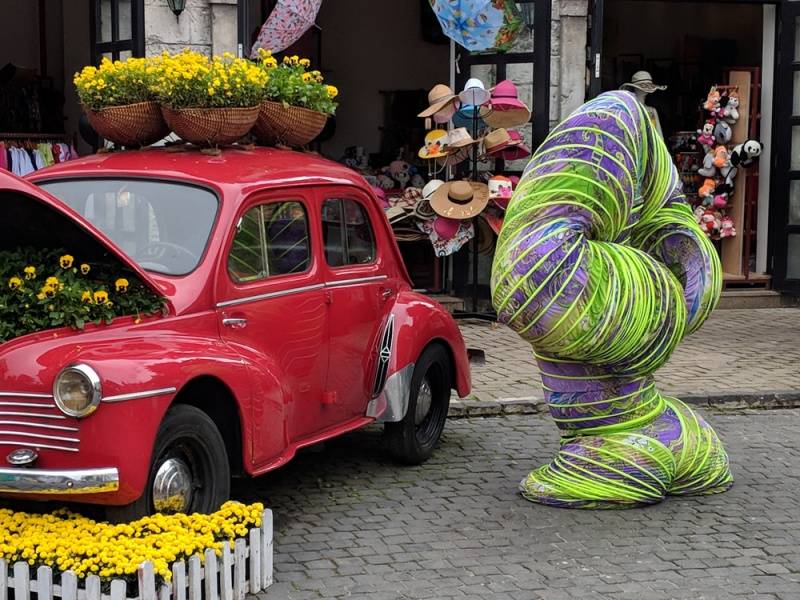 Check out this crazy foreigner!
Oh, and of course, there's the giant hand bridge. It looks ancient but it was only just completed in the summer of 2018.
If you're thinking "um, what?" trust me, it's 100 times weirder once you see it in person.
Not to Miss Highlights of Sun World Ba Na Hills in Vietnam
The Golden Bridge (AKA "The Hand Bridge")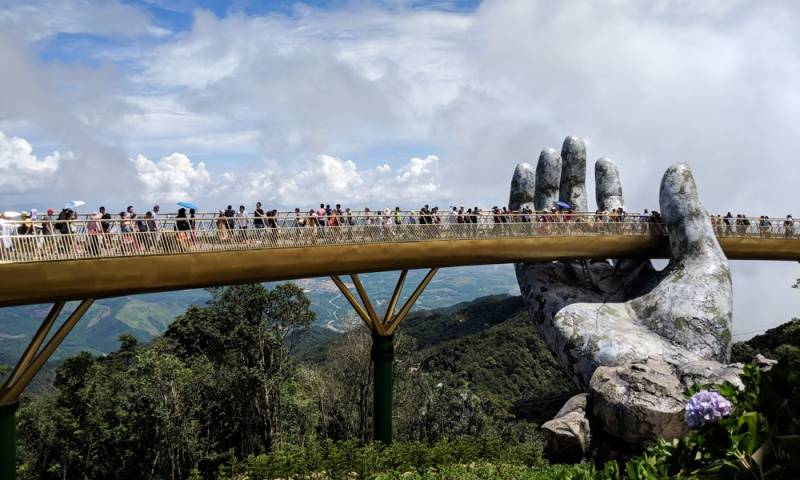 The Golden Bridge is certainly a highlight and not to be missed! Plus, it's huge and pretty impossible to miss. If you want to snap some photos with fewer tourists in them, head to the bridge around 5:30 pm. You'll likely only have to share it with a few others.
From the Golden Bridge, you can continue up another cable car to the Mercure Banahills French Village. It is filled with gothic-style architecture with the highlight being the large cathedral in the center. Most of the other buildings are restaurants serving a variety of different cuisines. The restaurants are pricey but the food is better than you'd expect.
From the French village, you can walk up to the "spiritual zone" where there is a pagoda with lovely views of the park.
Fantasy Park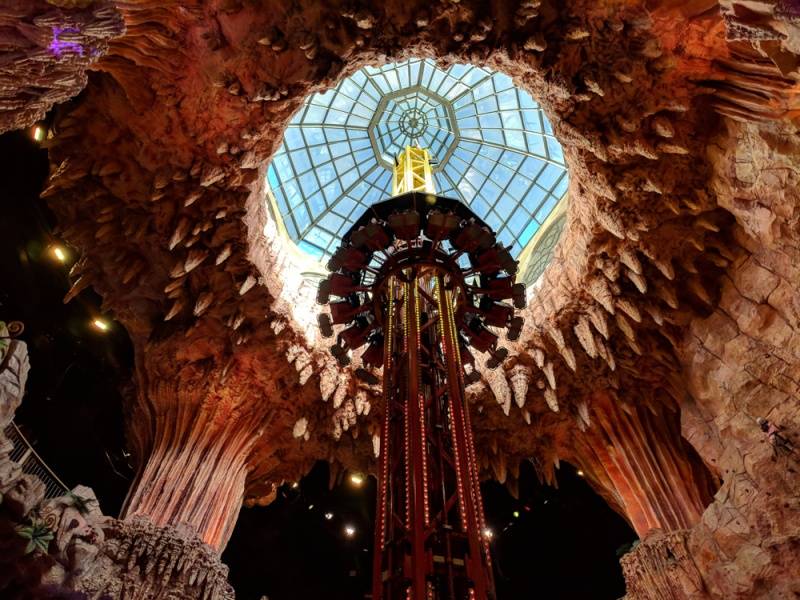 Fantasy Park is pretty much a run-of-the-mill video arcade. Except that most of the games and the rides are covered in the price of your admission to the park! You can spend several hours here – playing the arcade games and enjoying the interactive rides. Be sure to try the bumper cars and try the ride in the center of the arcade that raises you to the ceiling and drops you back down!
Keep in mind that most of the rides feature really outdated animatronics. But considering that they're free, it's worth trying them out for a few laughs.
Near the entrance to the Fantasy Park is the alpine slide. It's also included in your entrance fee but expect to wait in line.
Beer Plaza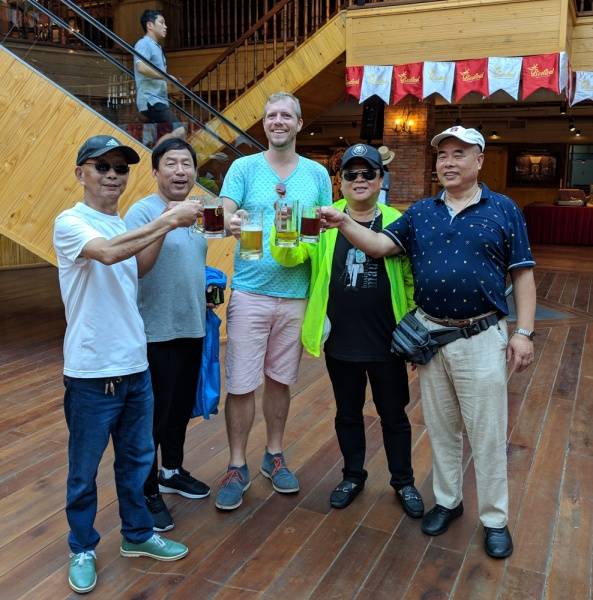 The Beer Garden actually looks quite similar to the one that you'd find at Oktoberfest in Munich. But not quite as lively. If you visit from April 30 to December 31, you can catch the B'estival celebration. It's not exactly a festival but you'll find both Vietnamese and foreign employees dressed up in typical Bavarian attire in the giant enclosed beer garden. It's a fun place to eat, drink, be merry, and watch the performances on the main stage.
Planning a trip to Vietnam? Check out our favorite books and travel guides!
Top Ba Na Hill Atractions To Check In Beside The Golden Bridge

Ba Na Hill map
Don't worry that you would have to travel a lot because all the destinations are linked together.
Le Jardin D'Amour Flower Garden
At the end of Golden Bridge, you will reach Le Jardin D'Amour Flower Garden. It is comprised of nine distinctively decorated gardens. Each has its own bizarre architectural styles. If you are a big fan of flower, prepare for an awe-inspiring experience in the huge area of the gorgeous Arapang and the elegant Daylily. 
Debay Wine Cellar
Your next stop will be a 100-year-old Wine Cellar built by the French in 1923. The wine cave is 100 meters long with a temperature of 16 to 20 degrees Celsius on average to store the highest quality wine in the best condition. 
Buddhism Architecture
As a sacred land of the Vietnamese, there is an abundance of religious traits on Ba Na Hill. One of them is Linh Ung Pagoda located at an altitude of around 1500 m above the sea level. Here you will notice a giant Buddha statue of about 27 m high in a meditating position on a lotus. Linh Phong Bao Thap is a Buddhist tower having nine floors, from which you can gain a panoramic view of Ba Na complex and the religious area.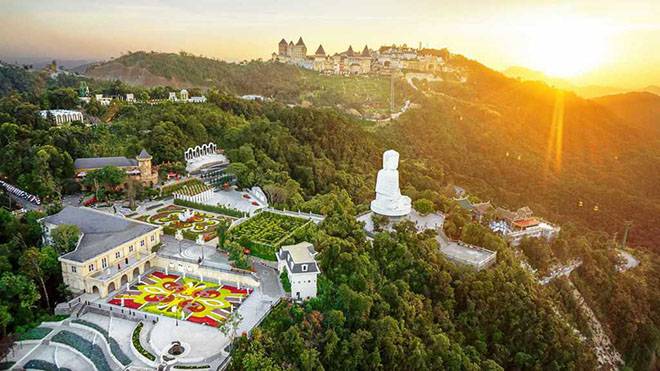 Photo by @mercurebanahills
Fantasy Park
For kids and adventurous souls alike, Fantasy Park is more than fantastic. The park covers an area of more than 20,000 m2, including a great variety of entertaining and adrenaline boosting games. Such as ghost house, free fall, king crash,… There are also plenty of gaming machines for smaller kids and the ticket price is super affordable.
Wax Museum
Another place that withdraws the youngsters' interest is the Wax Museum. You can find a myriad of wax figures depicting top stars in multiple fields like sports, music, cinema… Many people love taking photos with such sculptures because they are so real.
The French Village
Finally, don't forget to have a leisurely walk in the French Village, a majestic place with enchanting palaces and Gothic styled adjacent fences. If you have time, stop by a restaurant or a coffee shop to taste the French authenticity. That's when you know your excursion at Ba Na Hill has been completed.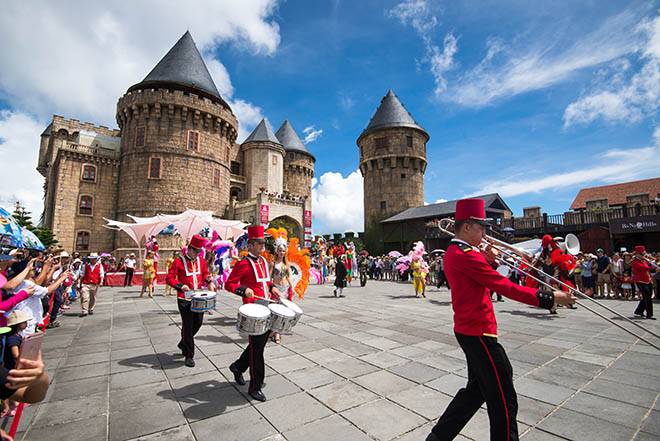 Must-visit Attractions in Ba Na Hills
There are lots of things to see in Ba Na Hills, but you should NEVER pass the names in the list below:
First, Of Course, the Golden Bridge.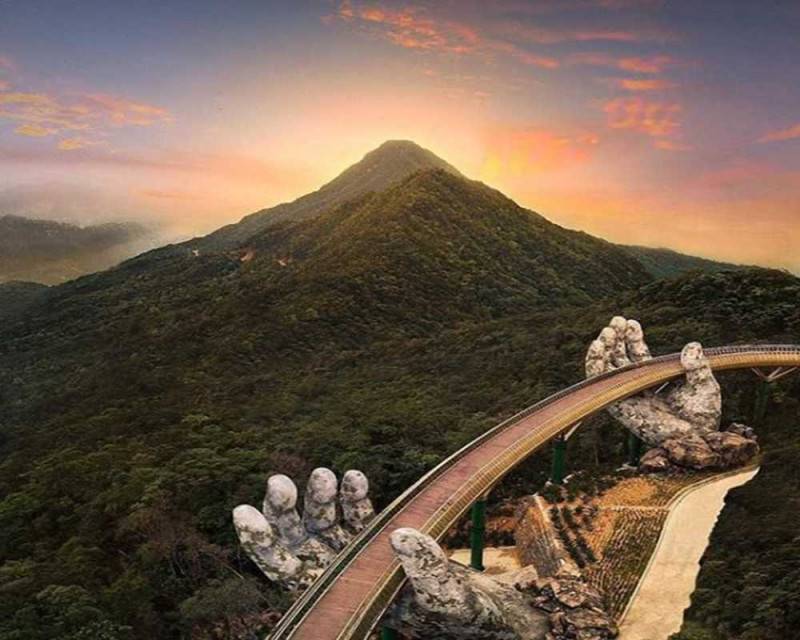 Thee golden bridge
Located in Thien Thai garden, the Golden Bridge is regarded as the connection from this side of the station to the French village and the Le Jardin D'Amour flower garden. It is 150 meters long and 12.8 meters wide with eight apertures of which the longest one is 21.2 meters. And we cannot forget to mention the handrail – which is beautifully gilded. What impresses the travelers the most is the giant hand covered in moss lifting the bridge. According to TA Landscape Architecture – the company that designed the bridge, the giant hand alludes to the mountain god, and the bridge represents the yellow silk that helped the villagers find Thien Thai garden. Thien Thai in English means heaven, so it is quite an implication, isn't it?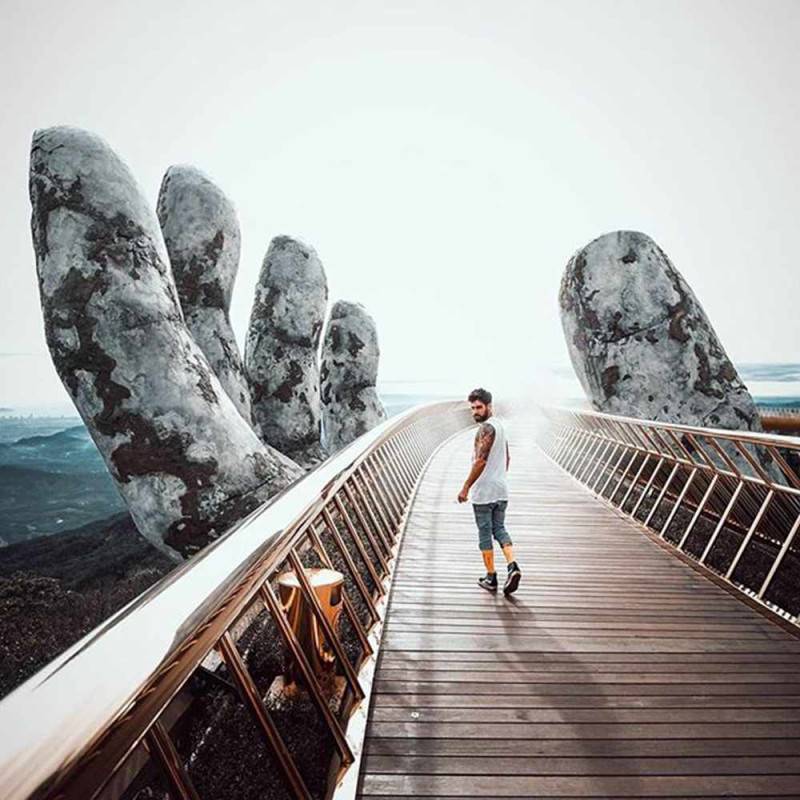 Golden Bridge overview
You may not know this, but the Golden Bridge was already famous before its inauguration. Many couples choose this place for their wedding photos. People say that there are days that you can even touch the clouds from the bridge! It's even more stunning in real life, so don't wait to see it!
Second, the Le Jardin D'Amour Flower Garden.
Discovering the romantic and dreamy Le Jardin D'Amour is a must-do activity when you visit Ba Na Hill station. Nine different gardens will tell you nine different stories behind the architecture and the flowers. Trust me, you may not be a fan of flowers, but when you encounter the lovely Arapang or the lively Daylily, your heart will skip a beat. And don't forget to stop by the 100-year-old wine cellar nearby. You'd better prepare yourself, because you may get drunk not only on the beauty of the flowers but also on the finest wine.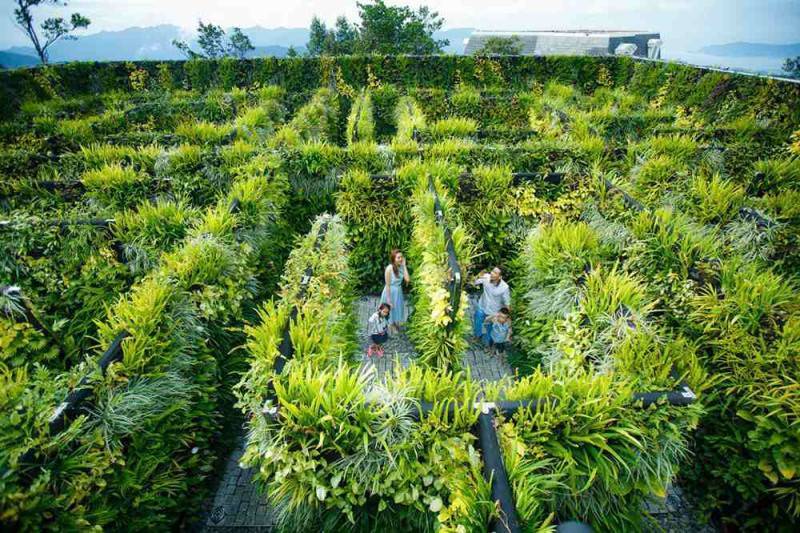 Le Jardin Damour flower garden
Third, the 100-year-old Wine Cellar – Debay Wine Cellar
Debay wine cellar, a one-of-a-kind structure built by the French people, was created and dug through Ba Na mountain in 1923. It is 100 meters long and in good condition with the continuous temperature of 16 to 20 degrees Celsius. But what makes it unique are the components that created the cellar. One of them is the litsea cubeba resin – which is found only in this area. This cellar challenges time every year, and it will continue to do so for centuries to come.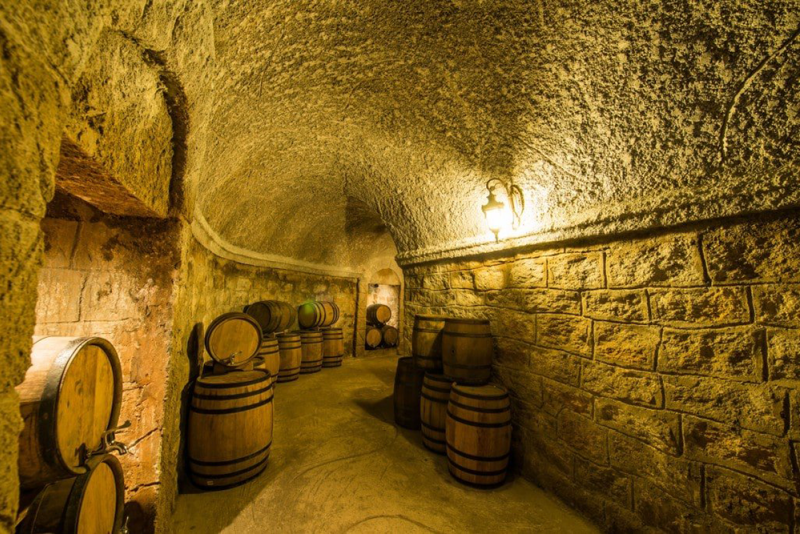 Wine cellar
Next, A Little Touch of the West in Vietnam – The French Village
The French Village in Ba Na Hills Resort is a unique architecture illustrating the ancient French villages, such as lofty churches, charming hotels, and traditional cottages. This place will help you travel back in time without a time machine.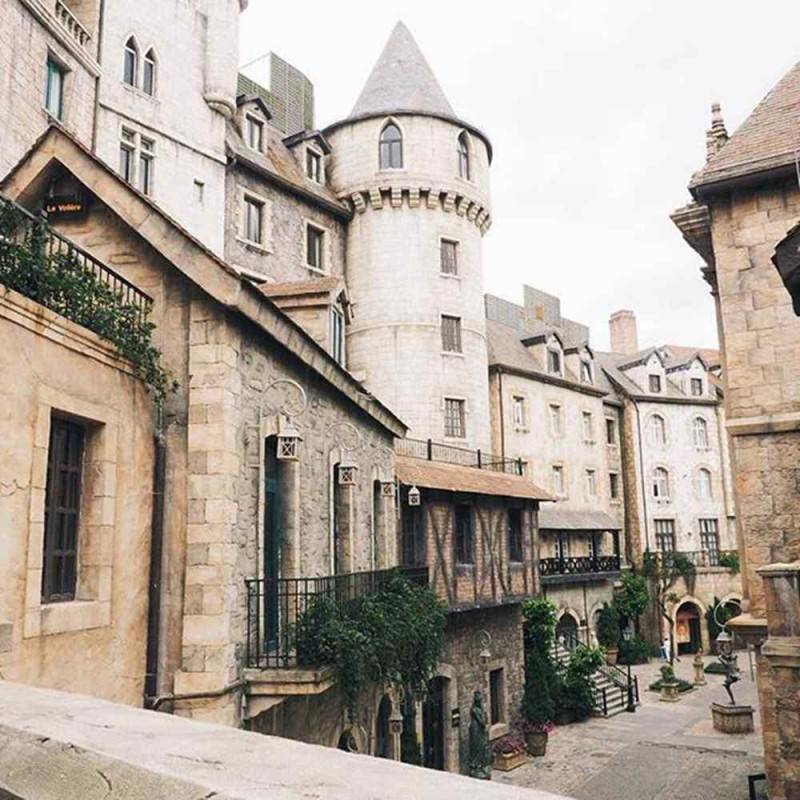 French village in Ba Na Hills
Don't Forget to Visit Linh Ung Pagoda – the Most Impressive Pagoda in Ba Na Hills
Linh Ung, one of the most remarkable pagodas in Vietnam, is located in a poetic and sacred terrain at the altitude of nearly 1,500 meters. At the front of the pagoda there is a Benguet pine – an endangered species in the country. But what makes this place like-no-other is the 27-meter tall statue of Shakyamuni Buddha that looks forward to the city.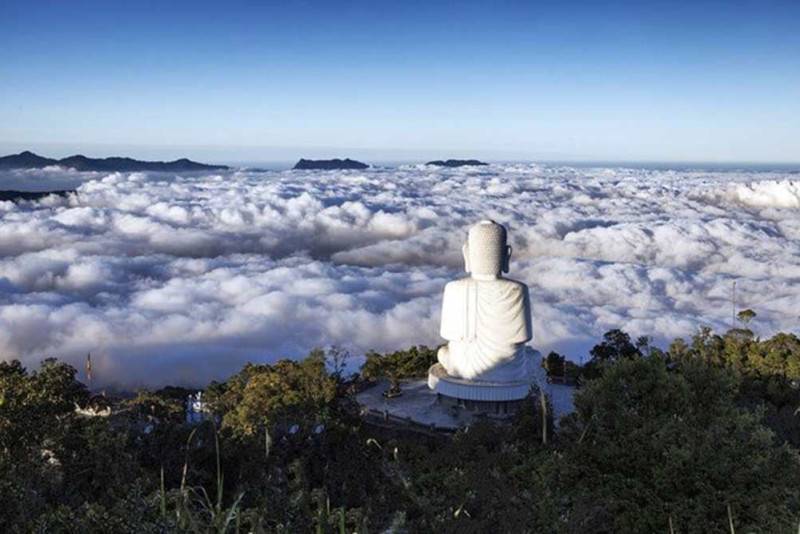 Linh Ung Pagoda
Last But Not Least, the Fantasy Park
The Fantasy Park is the ideal entertainment destination for the whole family. It was built and designed with the inspiration from two famous novels "Journey to The Center of The Earth" and "Twenty Thousand Leagues Under the Sea" by the French writer Jules Verne. The area will open a world of amusement with lively and attractive games and activities, from wandering in the forest, exploring the dinosaur park to conquering the 29-meter tall Freefall summit and 5D cinemas. Not to mention that you will get access to over 90 free exciting games here!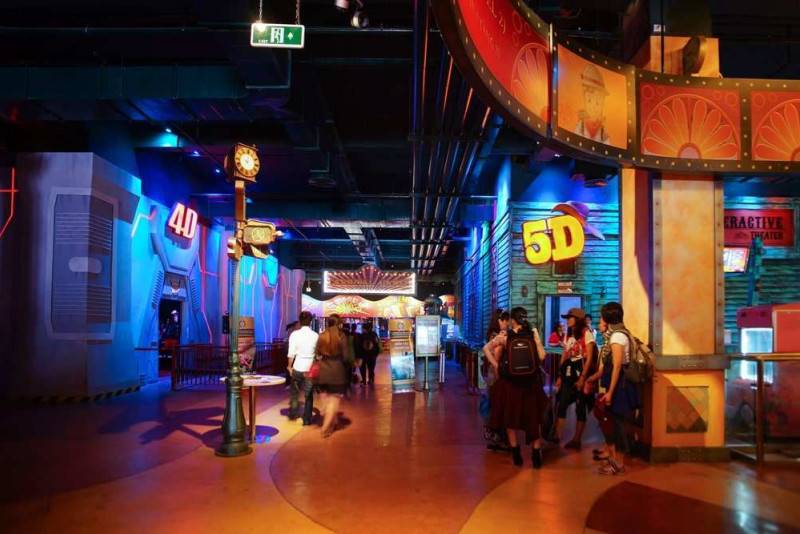 The Fantasy Park
Finally, Ease Off at Tru Vu Tra Quan Tea House.
Tru Vu Tra Quan tea house was built based on the traditional architecture of northern Vietnam, of which the interior is decorated with short square wood tables. It gives visitors the feeling of peace and tranquility thanks to its combination of great architecture, background music, and natural scenery. You will love observing the beauty of the sky, the immense primitive forest, and the splendor of the French village while sipping a cup of hot tea.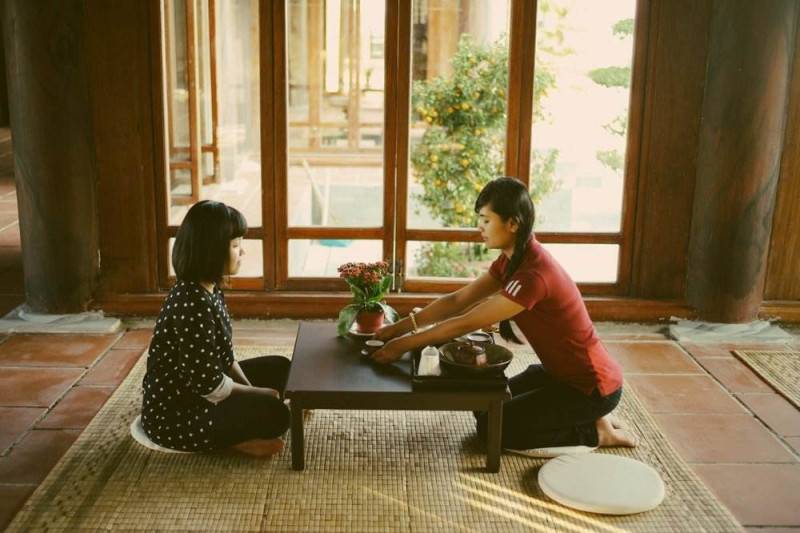 Tru Vu Tra Quan tea house
Step 3 – Head out onto the Bridge
From the circlular arrival room of the Marseilles Station, you can exit directly onto the Golden Bridge and begin your walk along its 150 metres of wooden walkways, flanked by lavender and coated from the bottom and the handrails in a royal gold. After getting your pictures of the fabulous bridge, its magnificent hands and the uncompromised view of Da Nang with its beach and mountains from high above, you can take in the rest of the Ba Na Hills at your leisure. There are a multitude of activities for you to enjoy before you take a cable car back from any of the stations to the entrance of the park, and onwards to Da Nang via your return transport.
Where Is The Golden Bridge?
If you look up the bridge on Google Maps, you'll see a lot of green surrounding it, with the Sun World resort, a few restaurants, and scattered tourist attractions in the area, too. But when you zoom out, you'll see that the bridge is smack dab in the middle of Vietnam, near the South China Sea coastline.
In terms of major Vietnamese cities, the Golden Bridge is closest to Da Nang — about 90 minutes away — but is also reasonably accessible from Hoi An, which is about two hours away by car.
The bridge is 4,600 feet above sea level and stretches 500 feet long, combining eight sections together into one gloriously bright vision with the stunning backdrop of the Truong Son Mountains.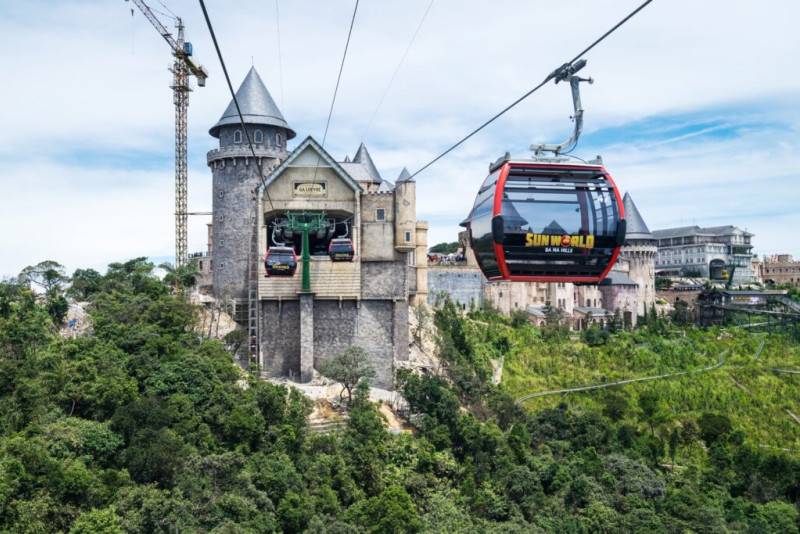 kitzcorner / Shutterstock